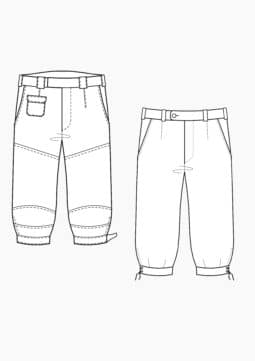 Download M. Müller & Sohn - Pattern Making - Men - Grading Breeches & Worker Breeches
Instruction on pattern construction for worker breeches for men and on grading breeches for men.
Grading of Pattern Constructions for Menswear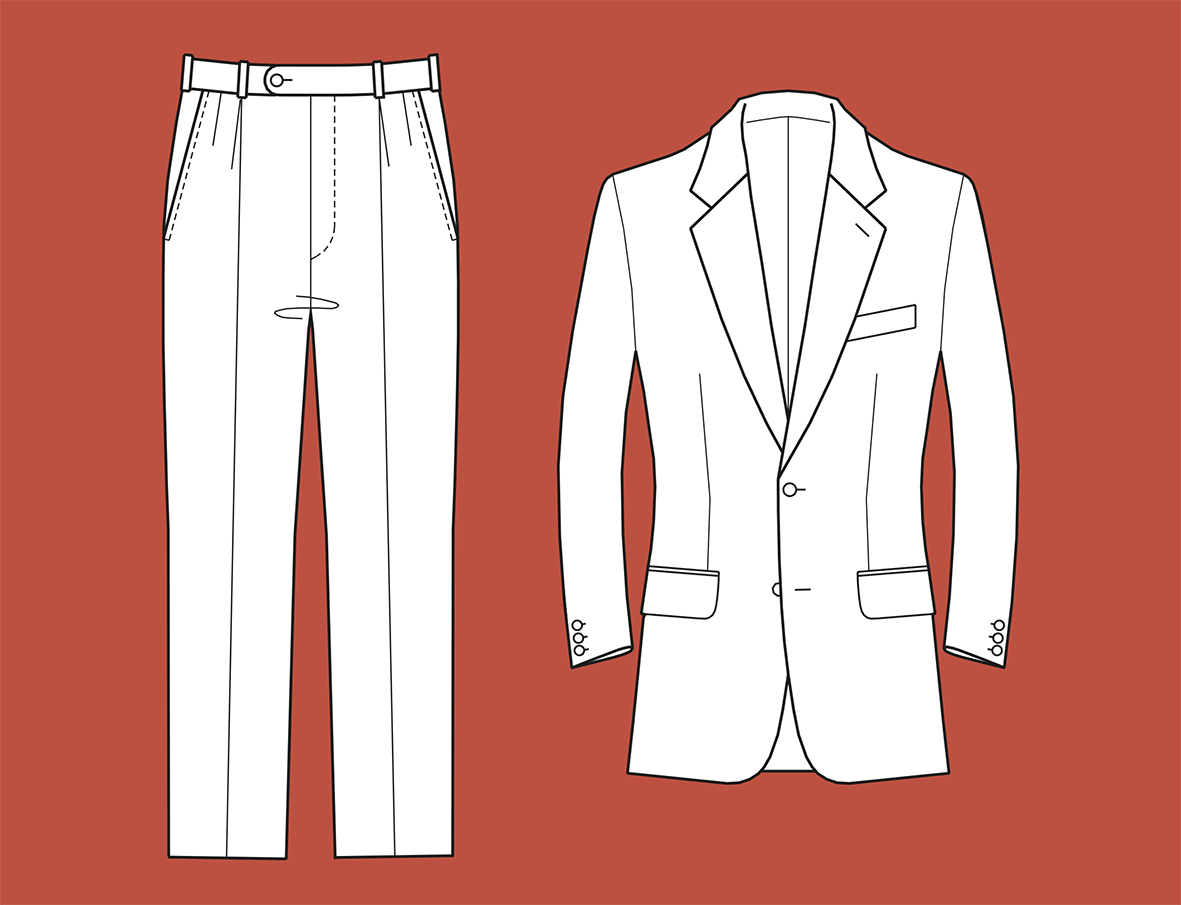 Grading or pattern grading is the process of creating a range of sizes by enlarging or reducing patterns. This technique is mainly used to increase or decrease the size of tried and tested patterns for the industrial production, but it can also be interesting to the tailor who wants to create a pattern set in order to make cutting more rational. A tried-and-tested, production-ready pattern with seam and hem allowances, notches, as well as correct increments and transitions is ideal. Increments are distributed to the nearest millimeter according to the proportions of the body, so that the fit and styling of the model are retained. The used increments are based on the new M.Müller & Sohn measurement chart – but the scheme can also be transferred to a company-specific gradation chart. This article is an excerpt from the e-dossier Pattern Making Grading Jacket and Trousers. In this e-dossier you will find detailed instructions on grading a men's jacket and matching suit trousers, grading tables (grade rule tables) and important information on grading men's clothing. In this article we show you an excerpt of the grading of a trousers.
PDF Download: Pattern Making Grading Jacket and Trousers
Instructions for grading a suit - jacket and trousers for men.
TOC
Grading of a Trousers
The grading scheme shown below is valid for all long trouser styles, with or without pleats. Special model lines are to be moved proportionally. Grade from the base pattern in size 50 to the marginal sizes 44 and 58 and redrawn with the base pattern. The sizes 46, 48 and 52, 54, 56 are equally divided (= interpolated). For the trousers grading, the construction lines of the centre, as well as the knee, hip and thigh lines are required. If they no longer exist in the design pattern, they must be reconstructed. On the basis of M. Müller & Sohn or the company's own measurement chart, the dimensional differences between the sizes are calculated in millimeters and given in a gradation chart (The dimensions listed in the gradation chart are body or base dimensions and may vary depending on the model). The difference amounts from the gradation chart are used to calculate the grading increments for the individual positions on average.
PDF Download: Pattern Making Suit Jackets for Men
In this e-dossier you find instructions for the pattern construction of five different suit jackets for men.
TOC
You will find many more pattern instructions and patterns for sewing men's clothing in our online shop.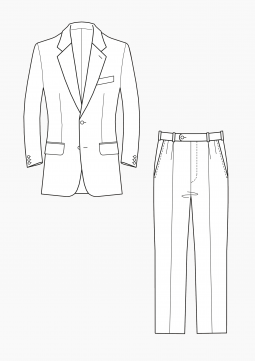 Download Pattern Construction Men: Grading Jacket and Trousers
Instructions for grading a suit - jacket and trousers for men.
You may also be interested in