The classic Tailcoat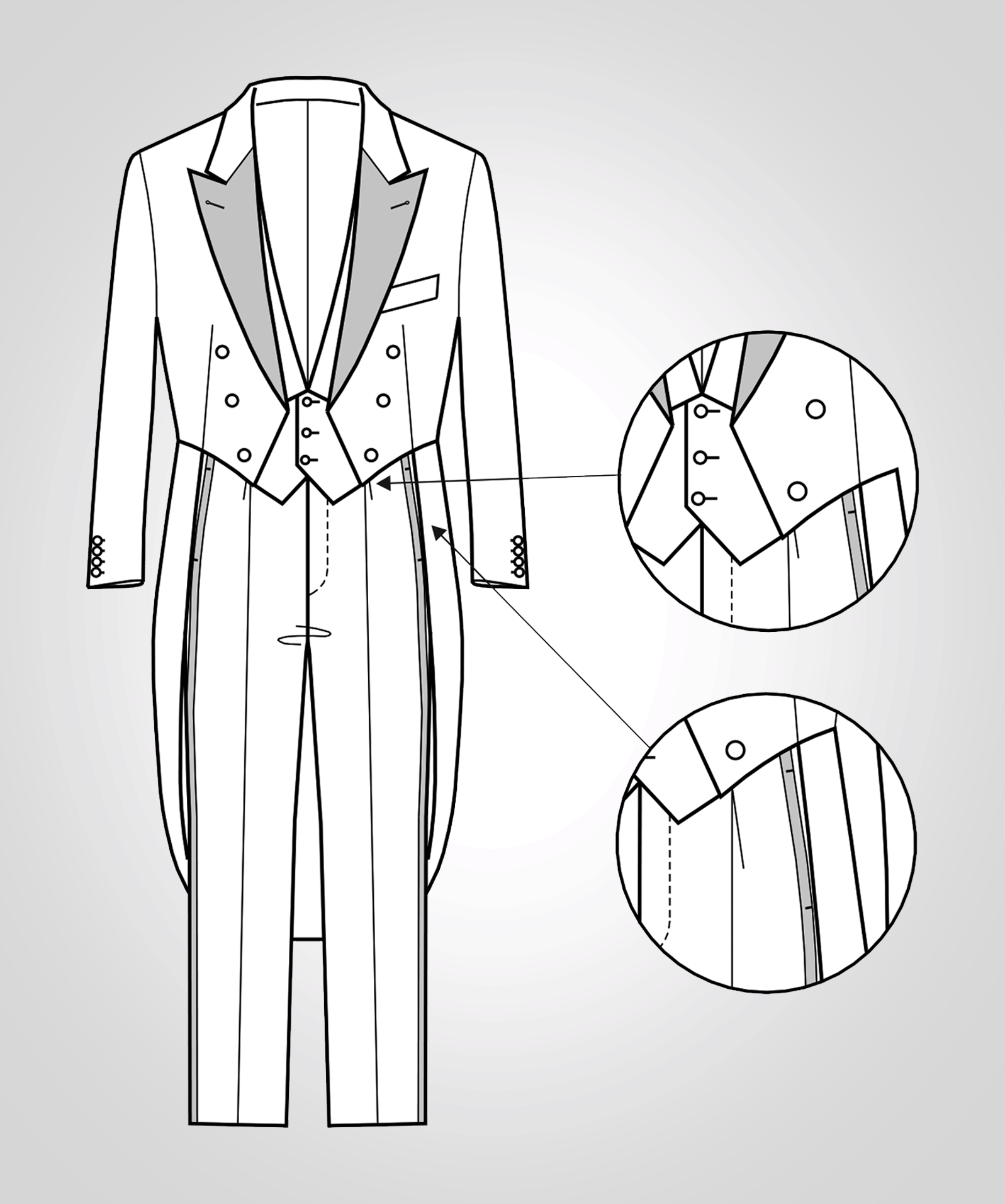 This article from Mastertailor Manfred Seidl is an excerpt from the book HAKA Meisterschneider
When designing and fitting the tailcoat suit, it should be noted that in addition to the fit, all the parts harmonize with each other: The hem of the vest (aka. waistcoat) must align with the hem of the tailcoat. The vest or tailcoat shall be shortened or lengthened appropriatly. It is also important to ensure that the trousers do not flash out from the waistcoat cutout, therefore the trousers are cut too high (or the waistcoat is cut too long). The edge of the tail is right when it touches the side seam of the trousers, therefore an intervention in the trouser pocket is possible. The edge of the tail can be varied if necessary, it can also continue into the torso part behind the dart.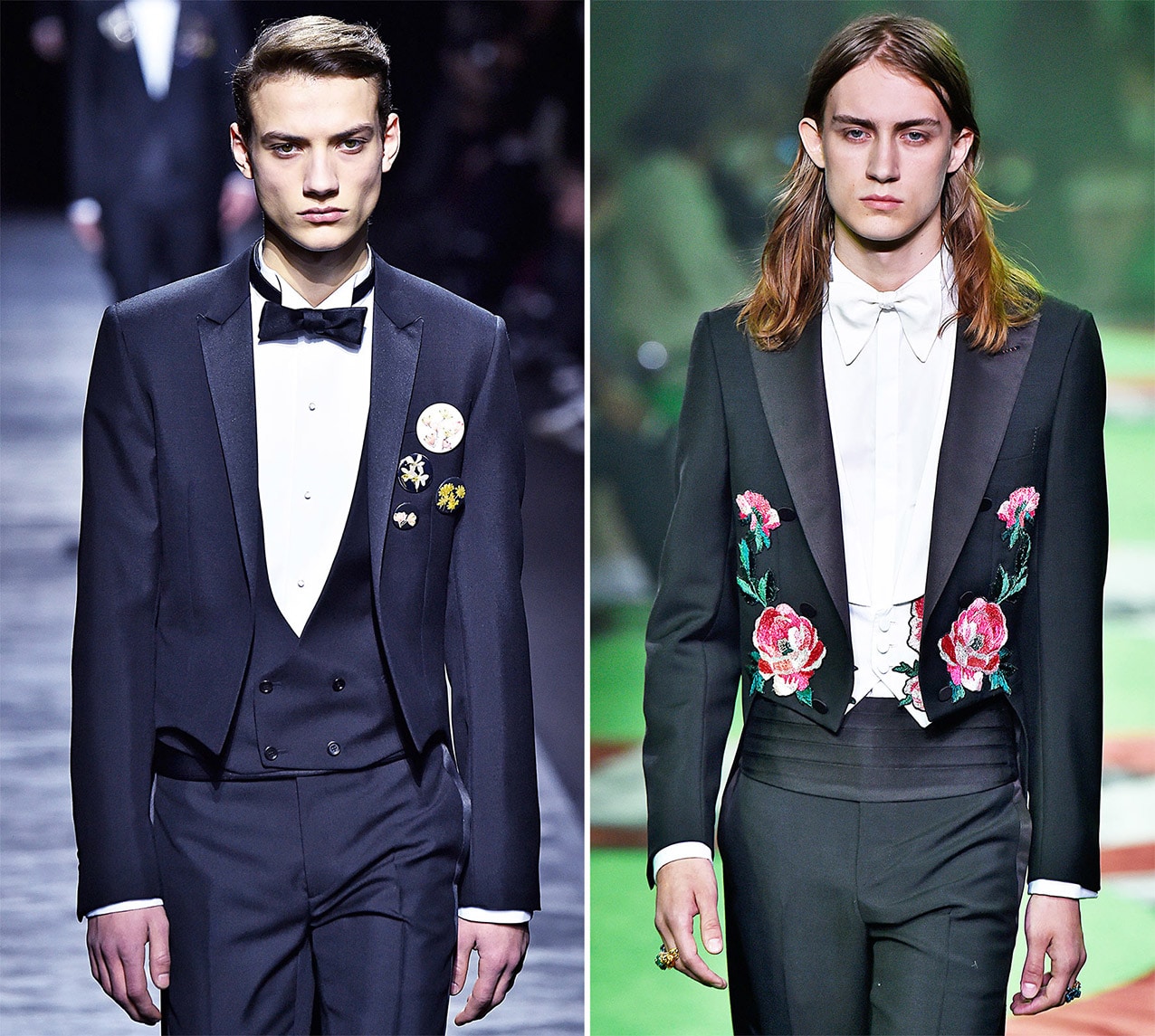 The tailcoat suit contains of:
Tailcoat, black with silk facing on the lapel.
Tailcoat trousers, made of the same fabric as the tailcoat with two galon stripes at the side seam.
Tailcoat vest, made of white cotton piqué (backless).
Dress shirt with reinforced/starched front insert, stand-up collar with short points.
Bow tie, "Butterfly" style
Dress coat with tippet/cape.
Pocket watch, attached to a loop at the waistband on the left side.
Pumps with grosgrain ribbon bow, conditionally patent leather shoes.
Top hat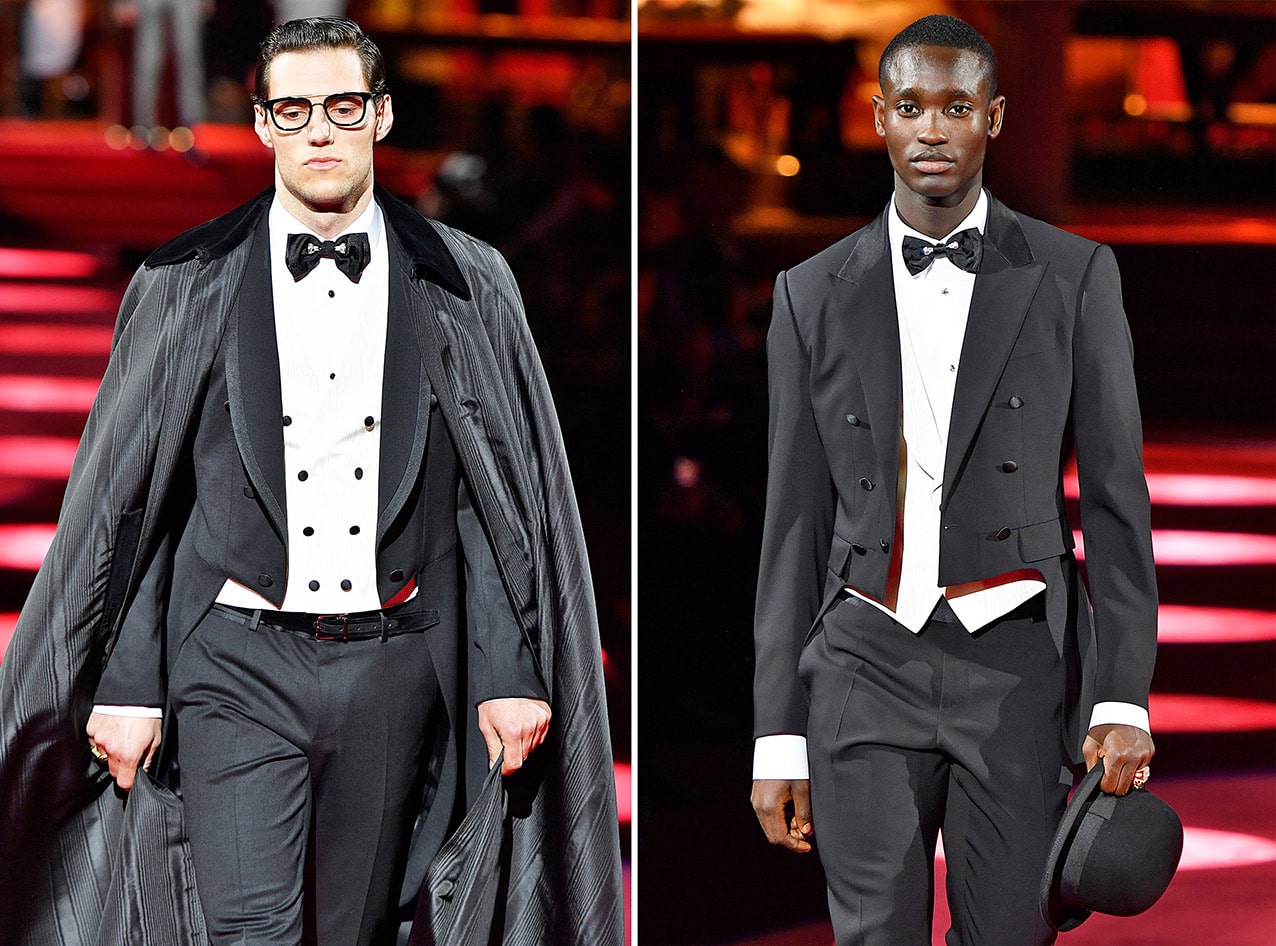 The first tailcoat fitting:
For shaping the tailcoat, which is especially tailored to the waist, it is the most important step during the construction process. The tailcoat has a front lining like a jacket, to emphasize and shape the shoulder and chest area. The following steps in the construction process play a crucial role in the first sample:
The shaping (= applying shape to the pattern pieces, stretching and easing in using an iron)
The fabrication of the front interfacing
The concealment (= connecting the front insert with the outer fabric)
The preparation of the tails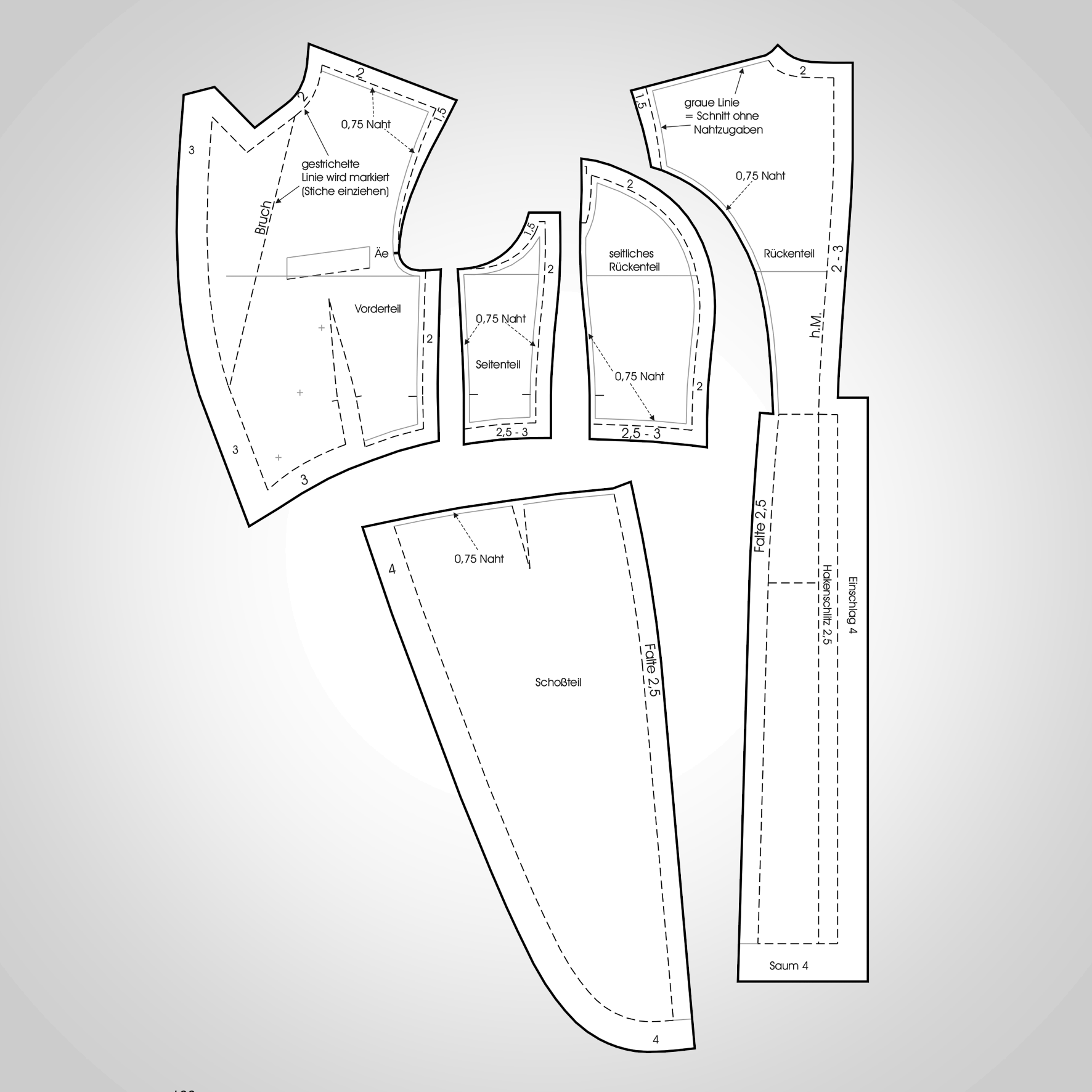 The shaping/molding
The molding is a process of applying a certain form to the individual pattern pieces such as stretching or easing in the fabric using an iron before it is further processed. The shaping/molding adds a perfect look and supports the fit of the garment. Both parts lie right sides together on top of each other and are successively shaped from both sides. The molding must be exaggerated, because the fabric goes back again. The manipulated pattern pieces must be able to set and completely cool off before further processing.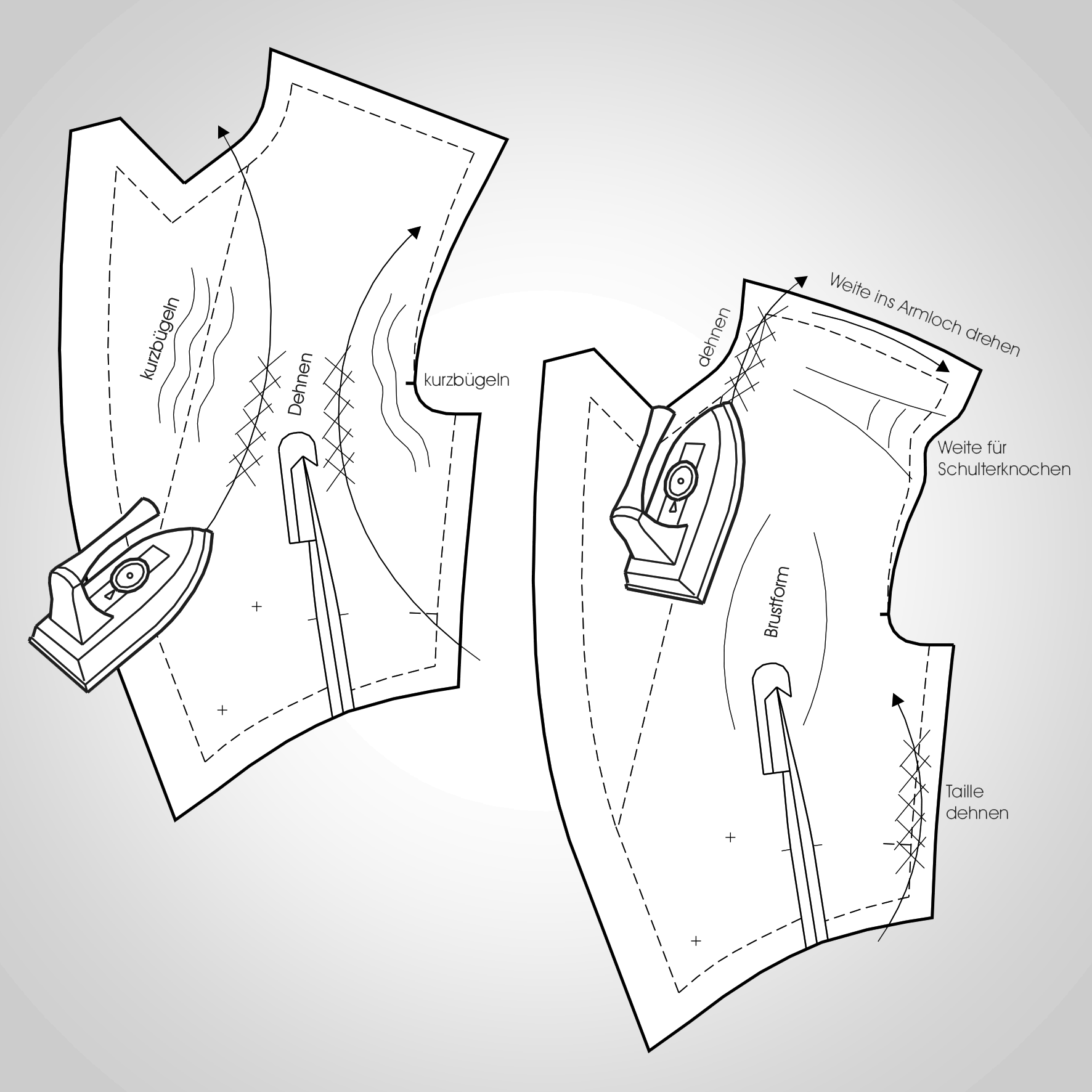 Sewing Pattern Tailcoat
You can find an overview of the pattern tailcoat in the article > Schnittmuster Frack
Other articles for this subject