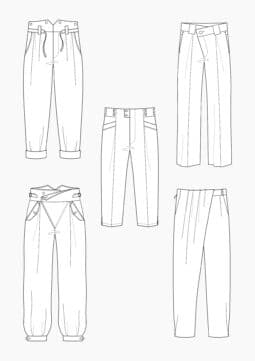 muellersohn/downloads/schnitttechnik/Pattern_Making_Men_Pleated_Trousers.pdf
Instruction on pattern making for five different pleated trousers for men
Pattern Construction for Pleated Pants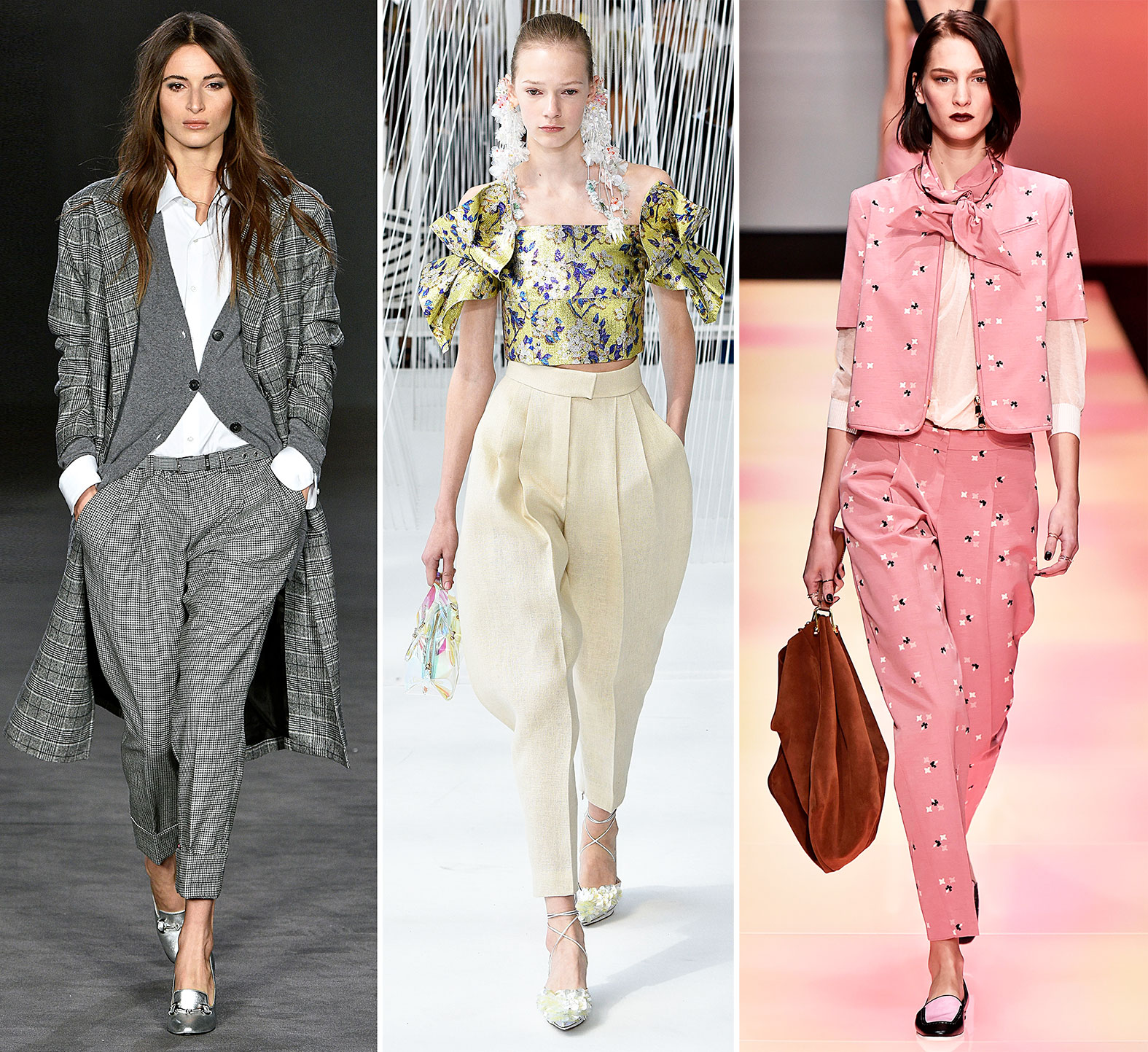 The pleated  trousers are trousers with pleats inserted in the seam below the waistband. The shape of the trousers is therefore more stressed in the hips and buttocks. Depending on the silhouette, two to four  pleats are usually inserted in the front trousers. There are also less frequent pleats on the back side of the trousers. The pleats provide more comfort and freedom of movement. Depending on the pattern, the trouser leg can be straight up to the hem or even flared (Marlene trousers) or tapered, as with the carrot trousers.
Pattern Construction MarleneTrousers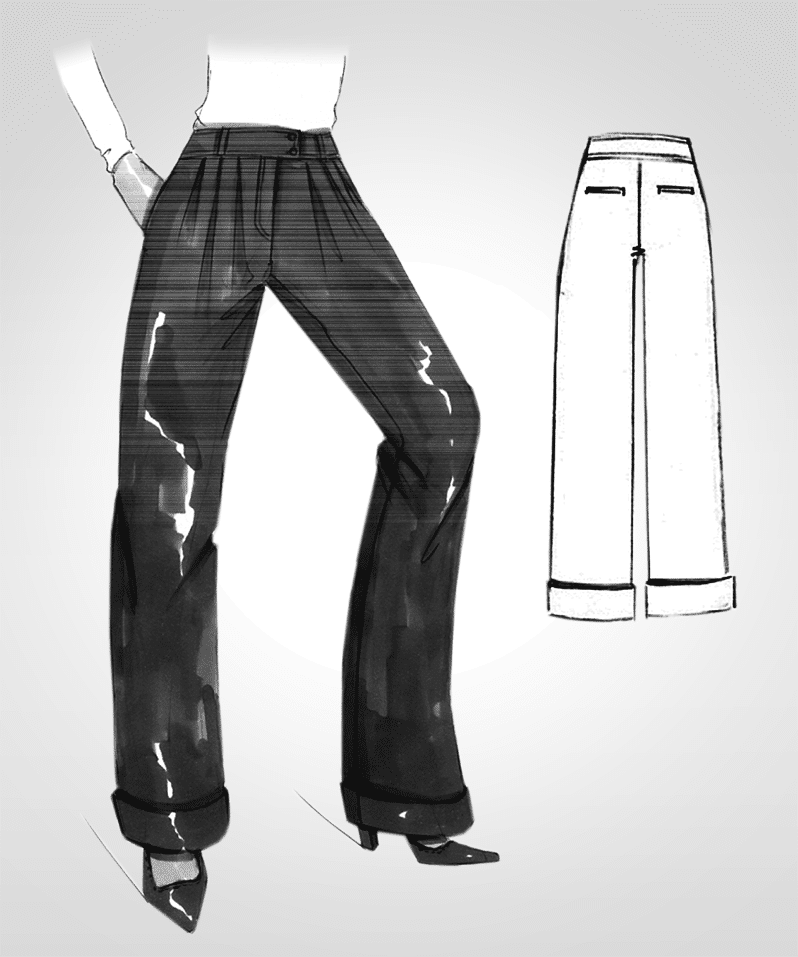 (Photo Credit: Drawing E. Kreienbühl)
You find the cpmplete article in the journal Rundschau for women 6.2011, more pants pattern are available in our textbook Metric Patternmaking for Skirts & Trousers.
Basic Pattern: Pleated Pants Block (available as a pattern sheet, please contact our customer service: kundenservice@ebnermedia.de
Front and Back Pattern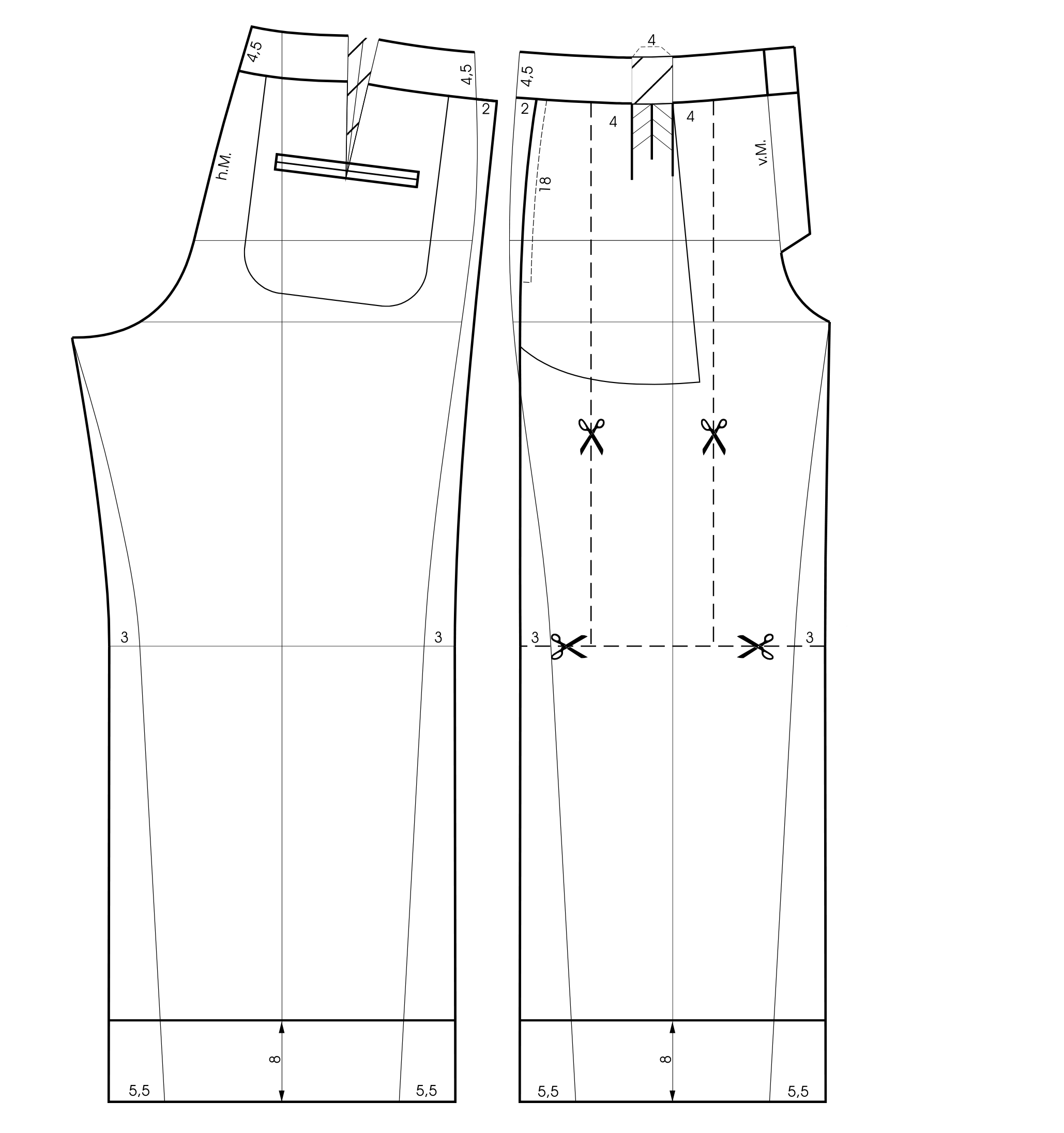 Use a pleated pants block in size 40 as a foundation. Draw the contoured waistband 4.5 cm wide parallel to the waistline. The pants are designed with side seam pockets. Shift the side seam 2 cm to the front so that the pocket is not too far back. Extend the outseam and inseam 5.5 cm at the hem and 3 cm at the kneeline each on the front and back pattern. Draw the new outseam and inseam according to the illustration. Draw the new hip curve as flat as possible at the pocket entry.
Mark the pocket entry and draw the pocket bag. Draw the cutting lines for two additional pleats 4 cm right and left of the existing pleat from the waist to the kneeline. Mark the kneeline as cutting line. Mark the dart intake and the pleat depth as the pinching amount on the waistband pattern. Drawthe cuffs 8 cm wide parallel. Draw the double-welt pocket and the pocket back on the back pattern. Add the front fly facing parallel to the centre front.
Finished Pattern Pieces
Separate all pattern pieces. Join the waistband pieces together at the side seams. Close the front and the back pinching amounts. Blend the seam lines and the waistline. Remove the remaining intake of the back dart at the centre back and at the outseam. Cut through the front pattern from the waist to the kneeline for the additional waist pleats.
Then cut along the front kneeline. Open the cutting lines around the pleat depth. Add twice the cuff width parallel to the hem and mirror the seam lines. Mark the zipper at the centre front. Blend all seam lines. Mark the grainlines.
The pattern sheet contains a classic jeans and a mom jeans in size 36-46.
TOC
Many more pattern instructions and patterns for sewing trousers can be found in our online shop.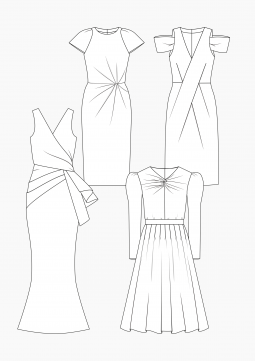 Download Pattern Construction Women: Evening Dresses
In this e-dossier you find instructions for the pattern construction of for different evening dresses.
You may also be interested in