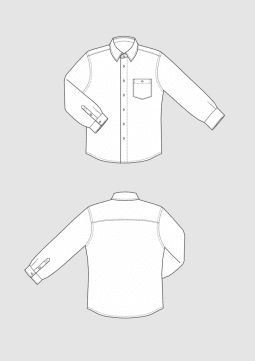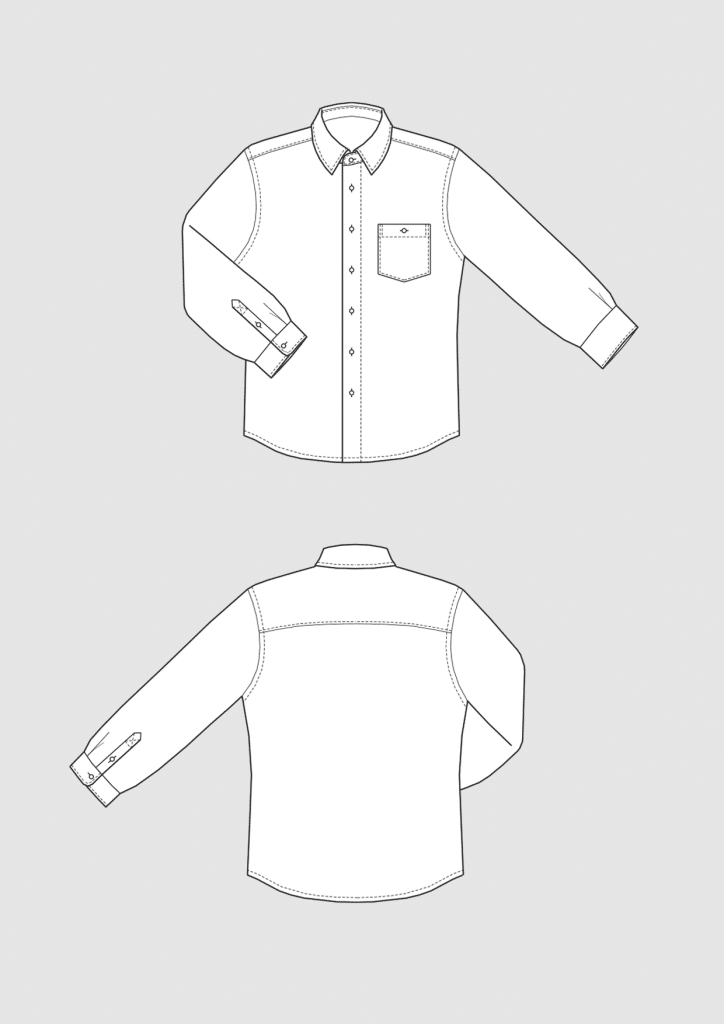 Schnittmuster HAKA Regular Fit Hemd
In Sizes 39, 41, 43 and 45.
Sewing a T-Shirt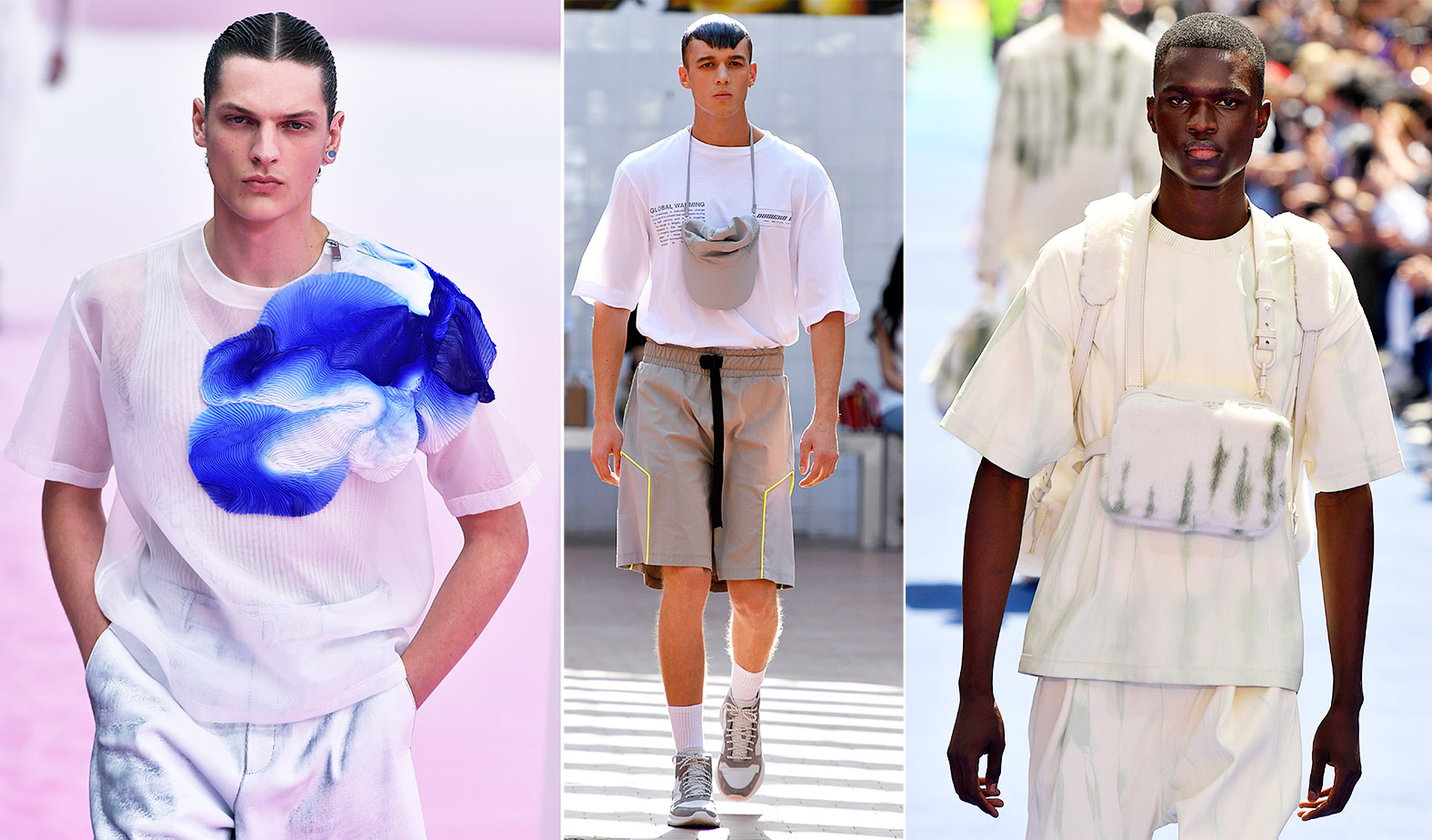 June 21 is not only the longest day of the year and the official beginning of summer, it is also International T-Shirt Day. The universal and at the same time fashionable garment has become so popular that it has been honoured worldwide every year since 2008. Around two billion T-shirts are sold every year. Every German has an average of 23.4 of these versatile tops – men about three times as many as women.
Pattern Basic Shirt and Top Block
in European sizes 46 - 56
TOC
History of the T-shirt
Where does this short-sleeved shirt actually have its origin? Similar shirts can already be seen on the pictures of the ancient Egyptians. But the actual predecessor of today's T-shirt dates back to the 19th century: English sailors wore short-sleeved, scratchy shirts under their navy shirts to cover breast hair and tattoos, and the US Navy also introduced these shirts with a round neckline. After the First World War, wool was replaced by models made of light cotton. Much to the delight of the GIs, who immediately took advantage of the abolition of scratchy underwear in favor of comfortable T-shirts to wear the new undershirts solo in their leisure time. The typical T-shape gave the garment its present name. The American writer F. Scott Fitzgerald was the first to write down the word T-shirt in his debut novel "Diesseits vom Paradies" in 1920.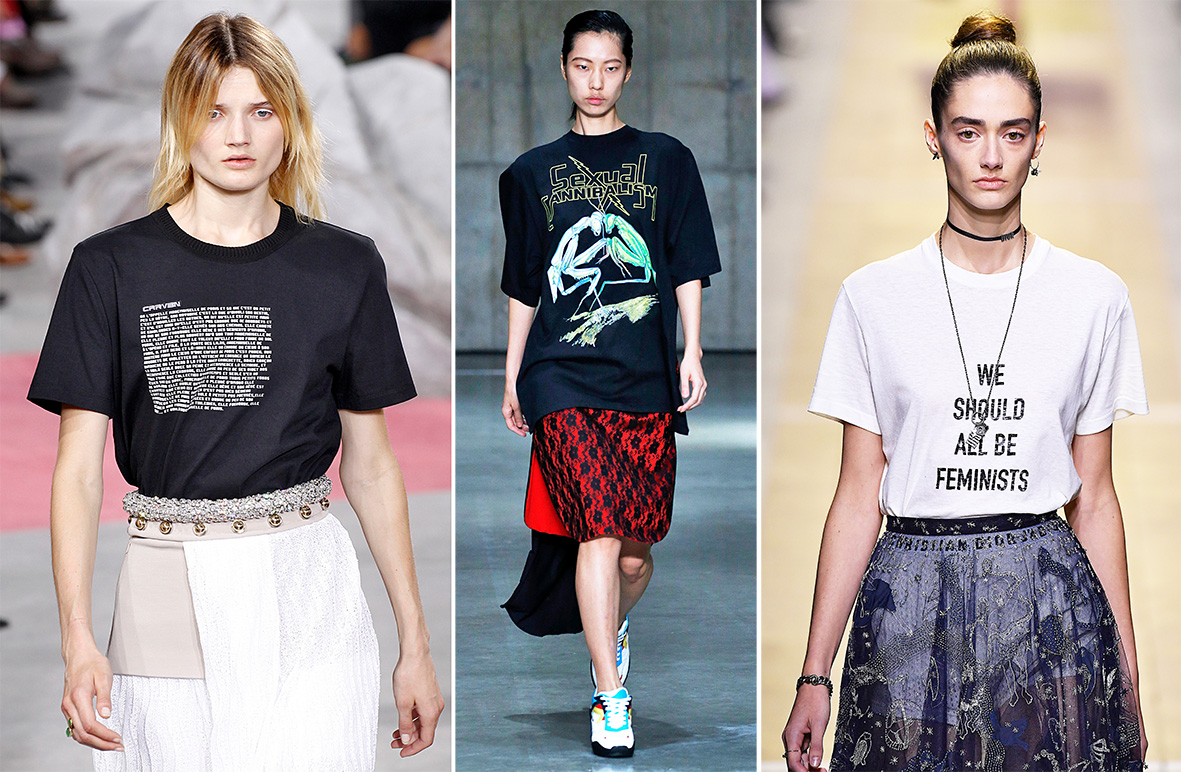 At about the same time, the name was also listed in the dictionary for the first time. In the German spelling dictionary, however, the term T-shirt has only existed since 1980. The fashion breakthrough came in the fifties when Hollywood stars Marlon Brando and James Dean captured the hearts of their fans in the white, tight-fitting top. From then on, the white T-shirt was considered a symbol of rebellious youth culture. Today, the most popular T-shirt color is black, followed by white. The colourful batik variant became part of the hippie movement. In the 1960s, the T-shirt became a medium of freedom of expression and wearable art.
Currently, printed shirts are also used as signs of protest and for advertising purposes. Whether plain or striking, long or short, narrow or wide, today's T-shirt designs are anything but boring and have something for everyone. You will find the technical basis for your own shirt creations in the basic cut listings for ladies in the book DOB Anleitungen zur Grundschnittentwicklung and for men in our the Issue of Herren-Rundschau 07/08.2019 . Please contact our customer service for an english translation > kundenservice@ebnermedia.de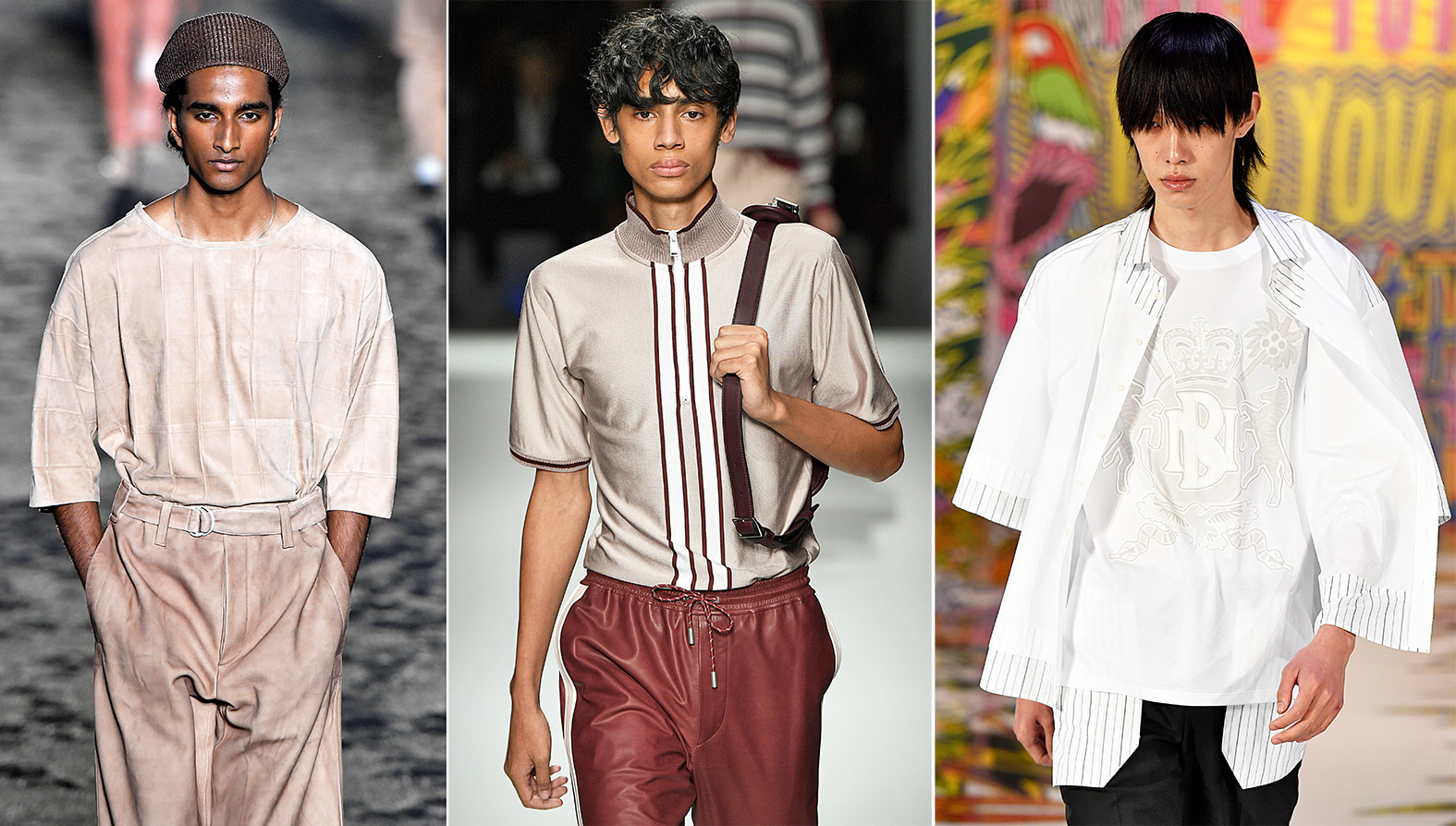 T-Shirt Shapes
The T-shirt is an absolute basic in women's and men's fashion. It has developed a lot in recent decades and is available in a wide variety of cuts. Here are the most common shapes: Slim Fit, Regular Fit, Wide Fit, Longshirt, Shirt with V-neck, Shirt with U-neck, Longsleeve, Polo-Shirt, Tank Top.
Trend Tip: T-shirt with rolled hem and open hem and sleeves.
How to draw a T-Shirt pattern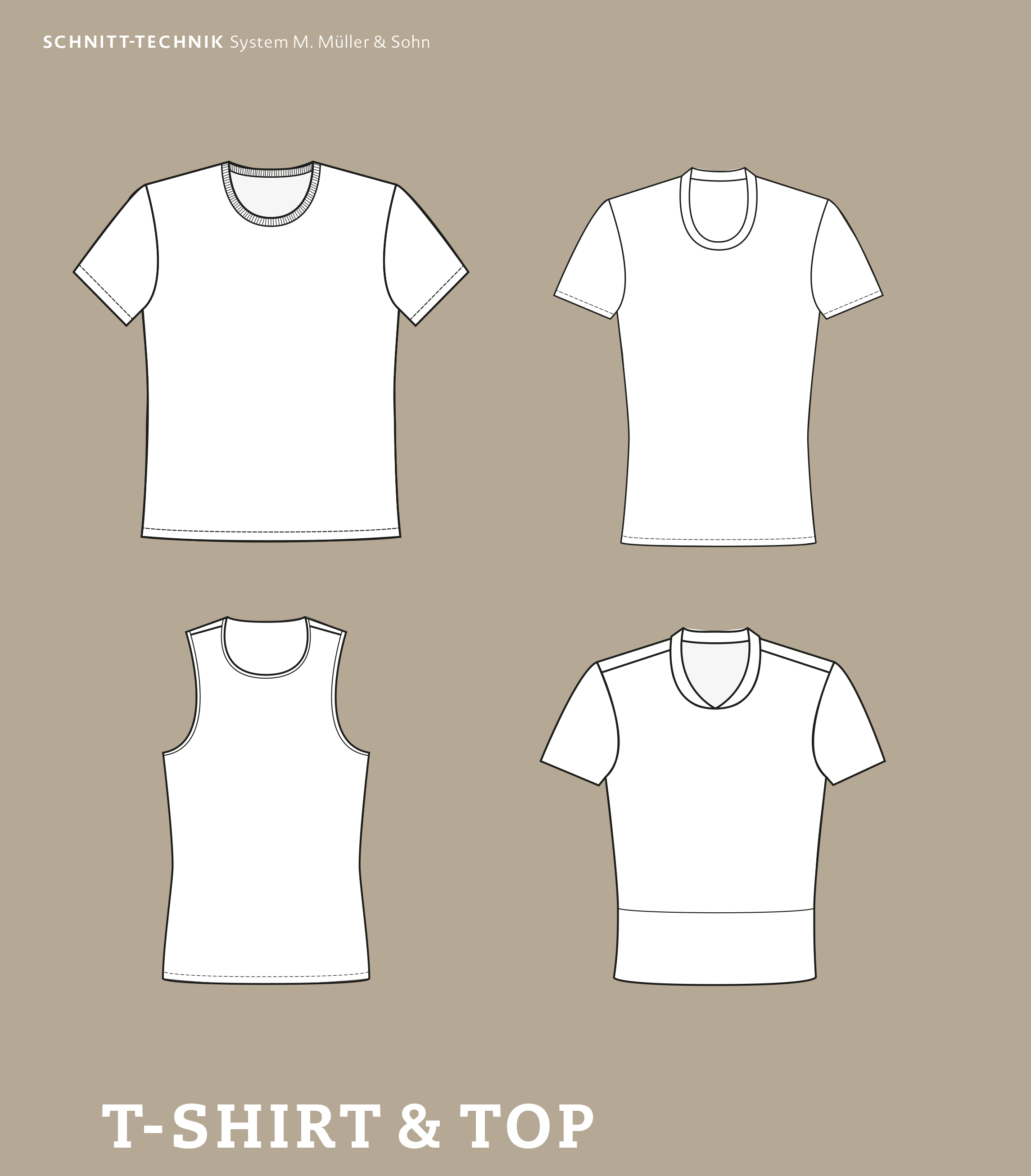 In our E-Dossier T-Shirts und Tops für Herren (E-Dossier T-Shirts and Tops for Men) we show the instructions for drawing a pattern for four t-shirt cuts (three basic cuts and one model cut): the classic t-shirt cut, a tight t-shirt, a tight top and a short, tight shirt with hem. The pattern for the T-shirt can of course be varied according to your wishes, fashion and purpose. In order to get a tight/sporty look, you can construct with a percentage amount of stretch that is deducted from the body measurements (only recommended for highly elastic fabrics). With a classic T-shirt, you tend to work close to the body measurements.
PDF Download: Pattern Making T-Shirts and Tops for Men
Instructions on how to construct basic pattern blocks
TOC
Sewing fabrics to the T-shirt
T-shirt fabrics (jersey) are mostly fabrics made of pure cotton or a cotton blend (BW/PES) without elastane. For tight shirts and tops, a synthetic fibre is recommended, usually polyamide with an elastane content. These highly elastic fabrics, which are used in sports fashion, have also been used more frequently in leisure fashion for some time. In order to make the search for the right fabric easier, our industry guide #FindtheCompany lists fabric dealers.
How to sew jersey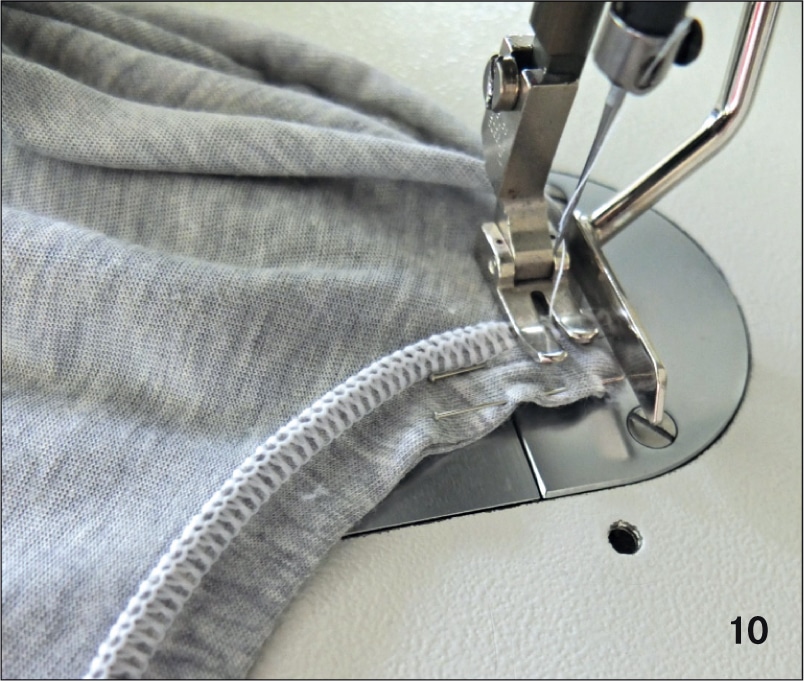 Jersey can be sewn in different ways. Ideally, elastic fabric should be sewn with an overlock / flatlock sewing machine. It can also be sewn with a household sewing machine and zigzag stitch. When sewing, make sure that the fabric does not stretch too much and wear out. Both procedures should be carried out with the correct choice of needle (jersey needle) and thread in mind. The ribbon can be sewn from the same jersey at the end of the neckline and at the sleeve. The tape can also be inverted. > Nähanleitung Jersey Top 
Further pattern constructions and sewing patterns for Jersey fashion can be found in our online shop.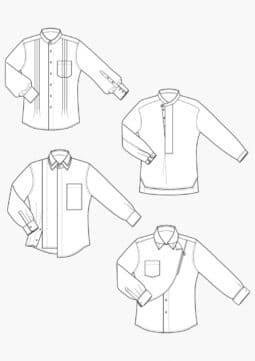 Download M. Müller & Sohn - Pattern Making - Mens - Shirts
In this e-dossier, you will find the instruction on pattern construction for four shirts for men.
You may also be interested in