How to make Dresses for Plus Sizes
Raglan Sleeve with Shoulder Pleat
Front and Back Pattern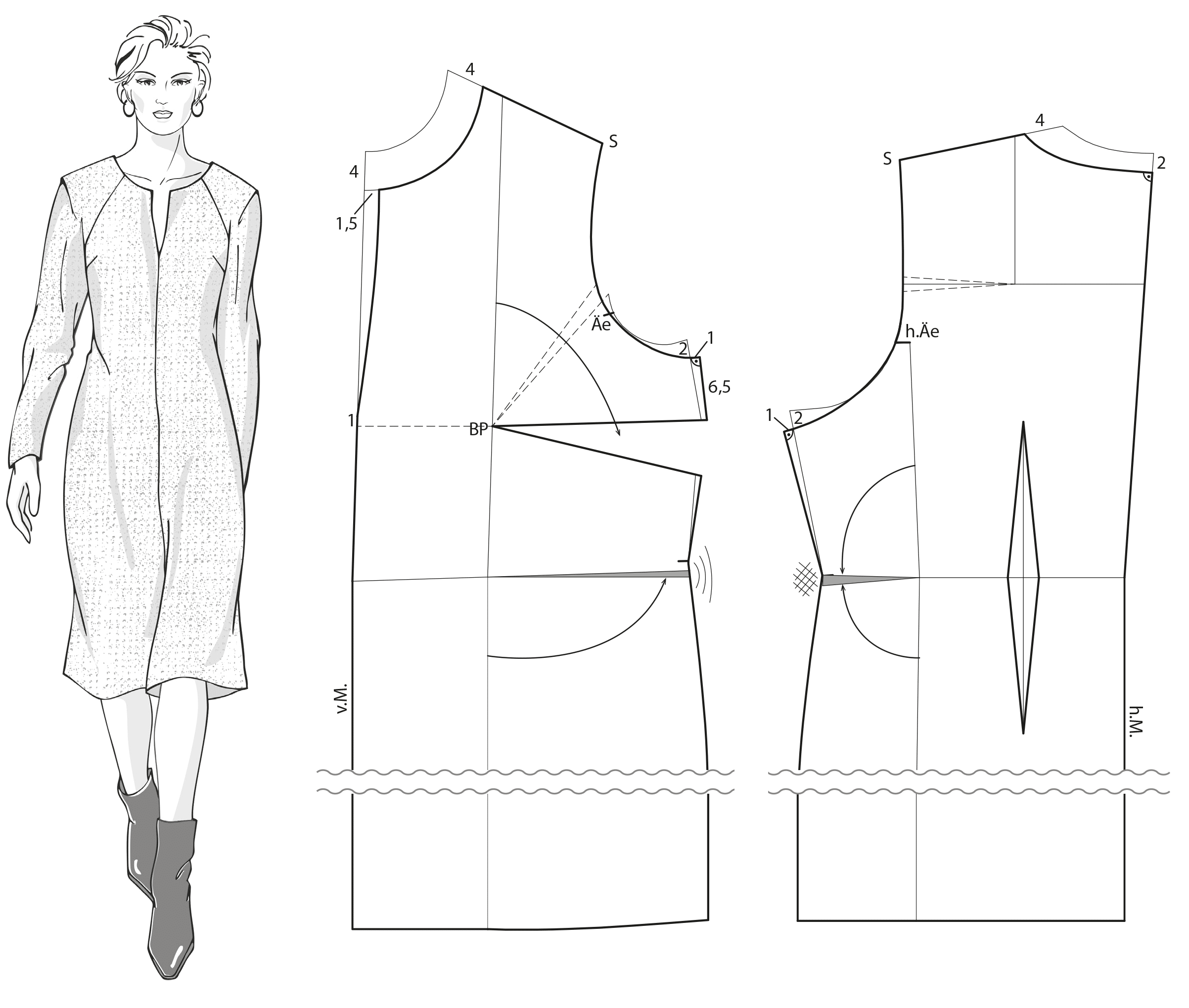 Cut along the waistline from the sideseam to the dart and close the dart intake at the front hem. The sideseam slightly opens and the extra length must be worked into the seam when sewing. Place the front pattern on the straight grain along the lower part of the centre front. Close the intake on the back pattern from the back armhole notch to the hem. The pattern overlaps slightly at the sideseam. The back sideseam must be stretched to receive the necessary length. Lower the armhole 2 cm and extend the sideseam 1 cm. Draw the new armhole and the new sideseam.
Measure 6.5 cm from the armhole along the new sideseam for the new dart position. Cut from this point to the bust point and close the bust dart. Lower the neckline 4 cm at the shoulder and at the centre front. Lower the shoulder2 cm at the centre back. Draw a horizontal guideline from the bust point to the centre front. Mark the neckline 1 cm above this line and end 1.5 cm away from the centre front. Blend the seam transitions at the hem and at the shoulder seam..
Preparation Sleeve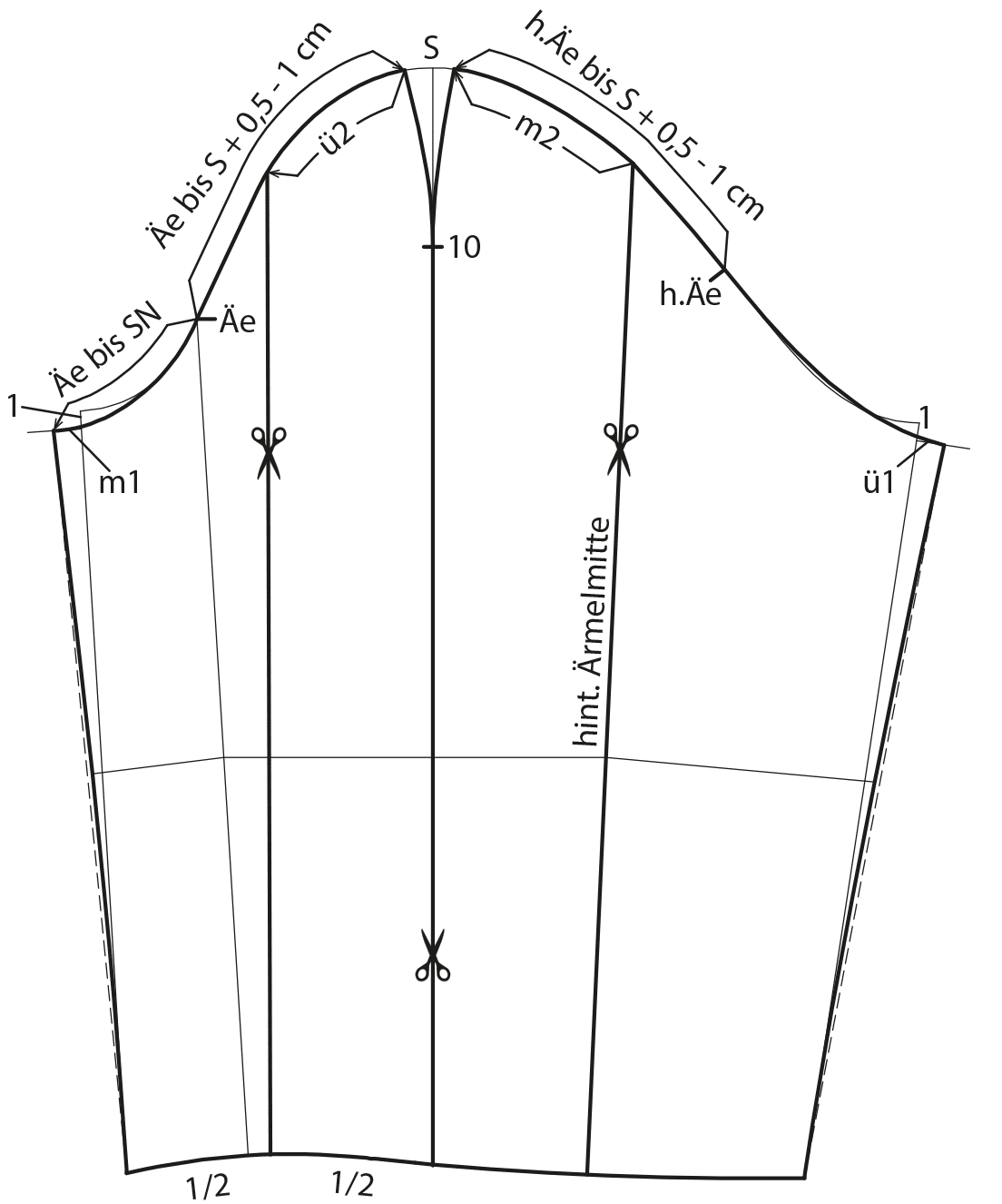 Measure 1 cm downwards along the sleeve seam and square out at each side. Trace a copy of the lower front armhole from the sideseam to the front armhole notch and transfer the copied curve to the sleeve pattern from the armhole notch to the short perpendicular line. Measure the sleeve extension at the front sleeve seam (m1) and transfer amount to the back sleeve seam. Draw the back sleeve extension and the new back sleeve curve. Draw guidelines for the sleeve seams from the extended sleeve width to the hem. Then draw the sleeve seam slightly curved.
Draw a vertical line from the shoulder point to the sleeve hem for the overarm seam. Measure the distance from the front armhole notch to the shoulder point and from the back armhole notch to the shoulder point. Transfer these measurements plus 0.5 cm to 1 cm to the sleeve cap. Draw the overarm seam slightly curved as shown in the illustration. Equalize the seam length. Mark the back sleeve fold as cutting line. Measure the distance from the back cutting line to the shoulder point and transfer this distance to the front. Mark the front cutting from this point to the hem as shown in the Illustration.
Finished Pattern Pieces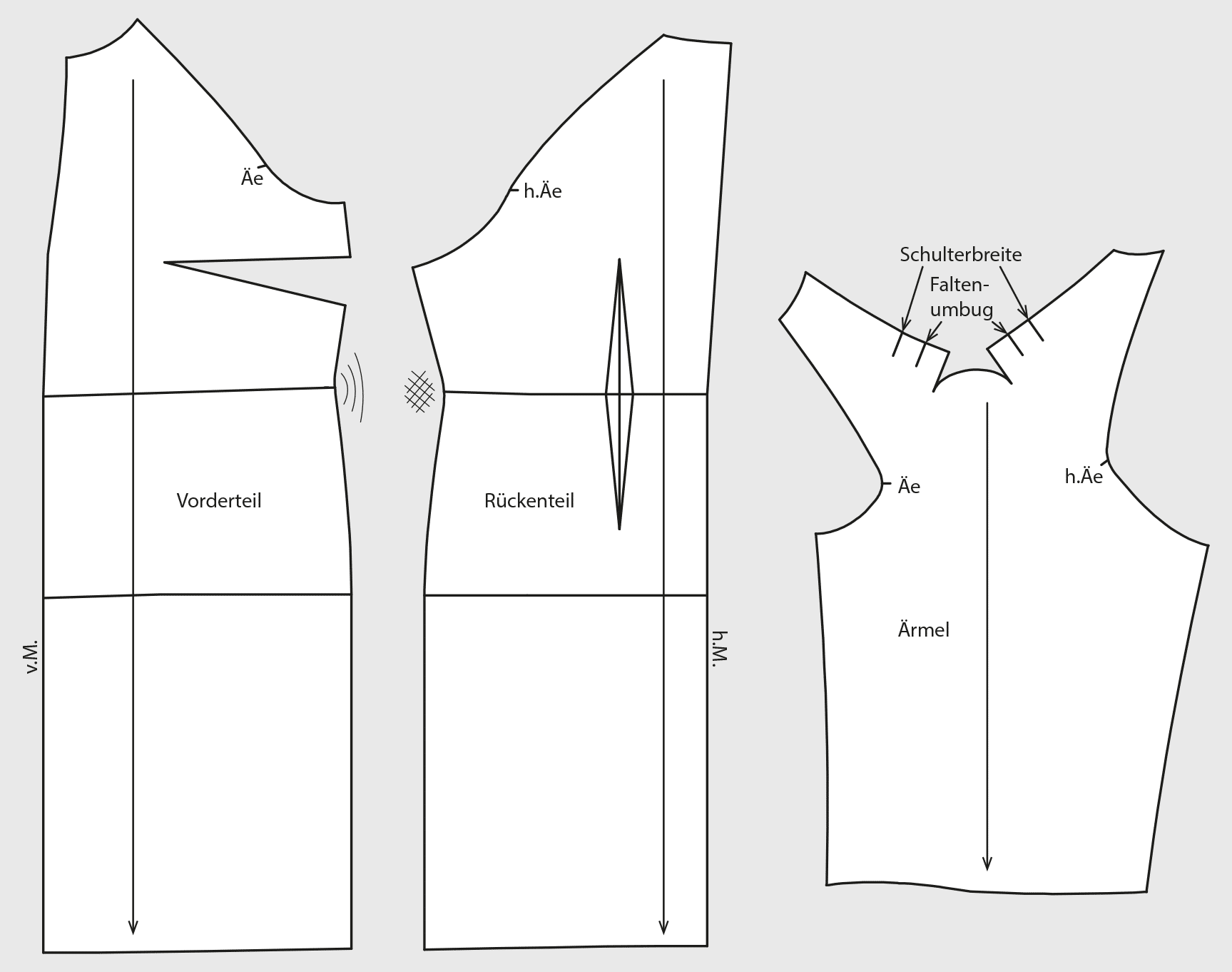 Copy all pattern pieces and mark the grainline.
Sleeve with Shoulder Panel
Raglan Yoke
You may also be interested in