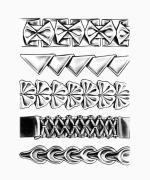 Download Processing Ruffles and Ribbon Trims
Sewing instructions for twelve different fabric ribbons trims and ruffles
DIY baby shoes

A pair of cute baby shoes are always a great gift for the birth and can be sewn very quickly even by beginners. Baby shoes keep Baby`s little feet warm on the way and at home. To sew the shoes, a solid and warming material such as felt, leather, knitwear, nicky fabric is ideal. The baby shoes shown here can also be used as crawling shoes and support the baby during the first crawling and walking attempts. You should use a non-slip leather instead of fabric. Alternatively, you can also apply a rubber coating or anti-slip paste for stopper socks on the sole and shoe shaft. For crawling shoes you should replace the ribbon with an elastic band or Velcro fastener sewn on from the inside. In this article you will find step by step instructions on how to design and sew the pattern for the baby shoes.
PDF Download: Pattern Making Maternity and Baby Clothes
Instructions for the pattern construction of maternity wear and baby clothes
TOC
Drawing pattern for baby shoes
Pattern construction for sole, heel, toe
The pattern construction shown here has been constructed with a foot length of 8.5 cm (size 56 of the children's measurement chart). This is equivalent to shoe european size 15 for newborns aged 0-3 months. The construction can also be designed with a longer foot length for older babies.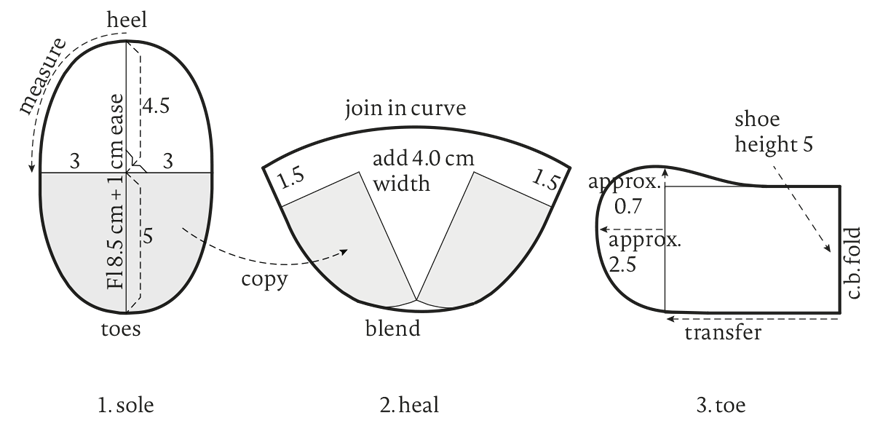 On vertical baseline mark the foot length (here 8.5 cm+ 1 cm ease). Mark a point at 4.5 cm on this line and square out to both sides (here 3 cm wide). Draft the sole and trace a copy of the grey marked heel pattern. Cut and raise according to the illustration. Redraw the heel pattern. Draft the toe pattern with the shoe height of 5 cm, slightly raise the front and finish the toe pattern as illustrated. The shoes are closed with a ribbon in the front.
Sewing instructions baby shoes
Design the pattern according to the instructions and transfer the finished parts of the pattern onto pattern paper or cardboard.
Draw pieces of the pattern plus 0.5 cm seam allowance on the desired fabric with chalk pen. Mark the centre back and centre front with a small notch. Depending on the material and design, a lining can be sewn into the shoe or a panel into the heel flap or the edges have to be trimmed.
Fix all pattern pieces with pin needles (for leather best with leather sticky tape) right side on right side. When fixing, always start at the front or back centre. Then carefully sew everything together with the sewing machine and turn over.
PDF Download: Pattern Making Baby Clothes
In this E-Dossier you will find instructions for the pattern construction of baby clothes
TOC
Pattern instructions and patterns for sewing baby clothes can be found in our online shop.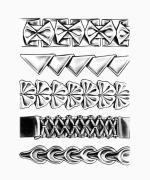 Download Processing Ruffles and Ribbon Trims
Sewing instructions for twelve different fabric ribbons trims and ruffles
You may also be interested in