Fitting Problems – Too much length in the buttock area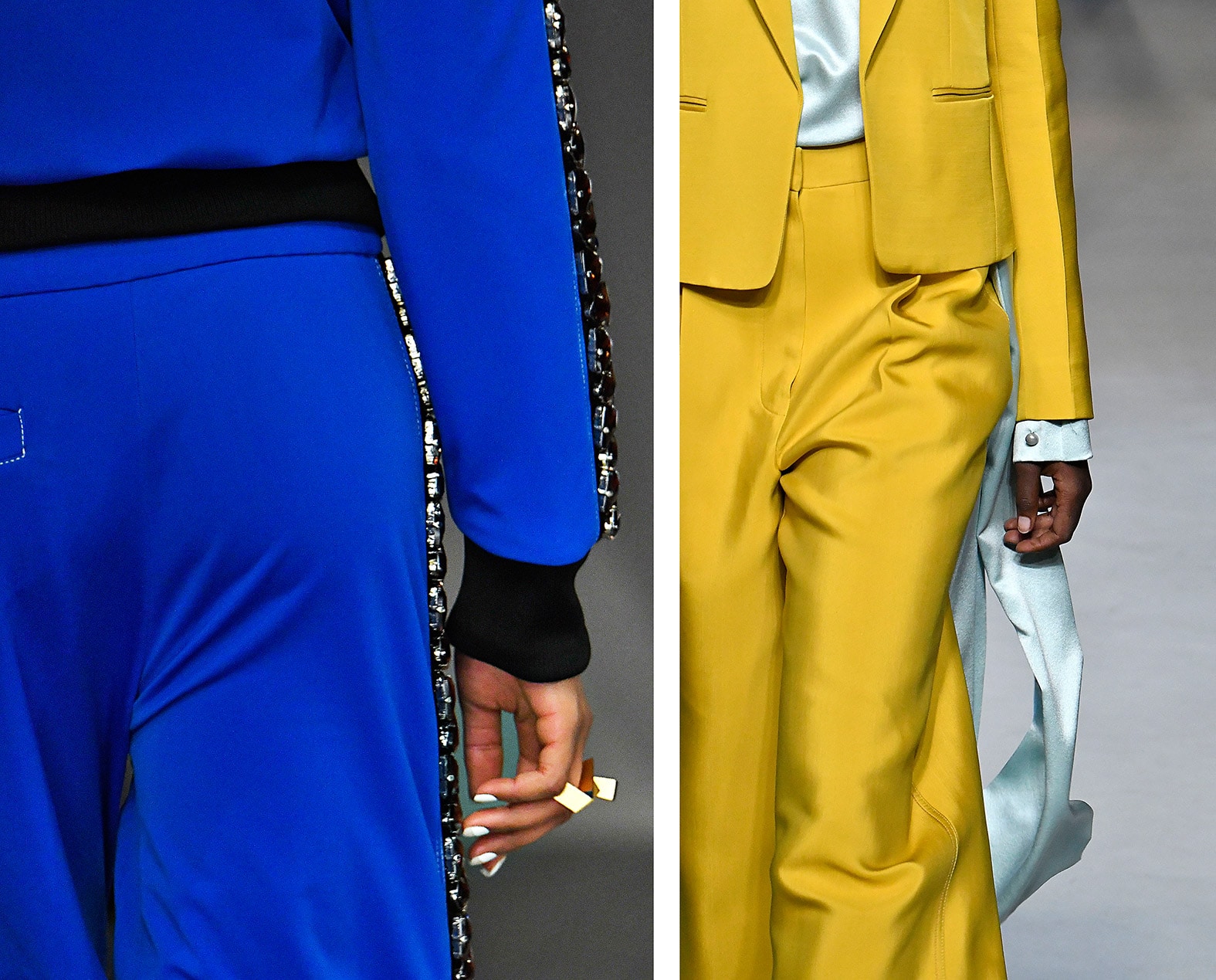 (Photo Credit: © CATWALKPIX.COM)
Fitting problem
➜ With the back trousers, the length accumulates below the buttocks.
➜ During the pattern construction, the seat seam on the back trousers was slanted too much.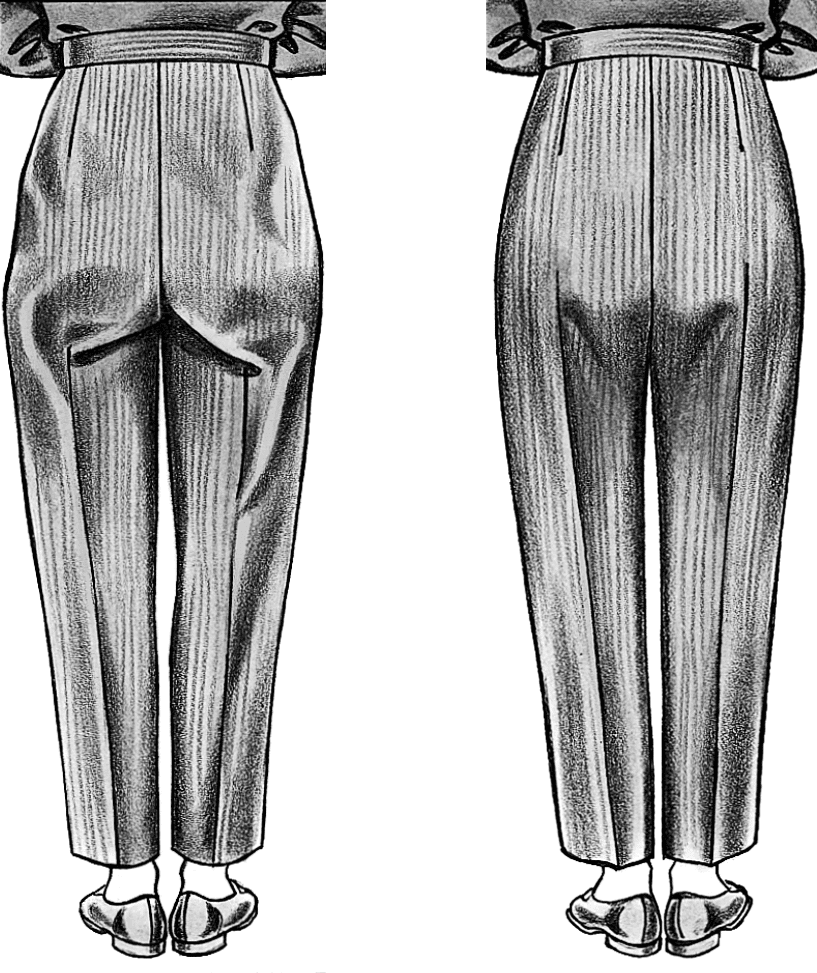 Cause of error
With these ladies' trousers, the buttocks show a very ample length, which does not look nice. In this case, the pattern construction of the back trousers or the seat seam is too slanted and thus causes unnecessary length. With the placement of the seat seam the position of the upper back trousers area and thus the length of the seat seam is influenced.
Position of the seat seam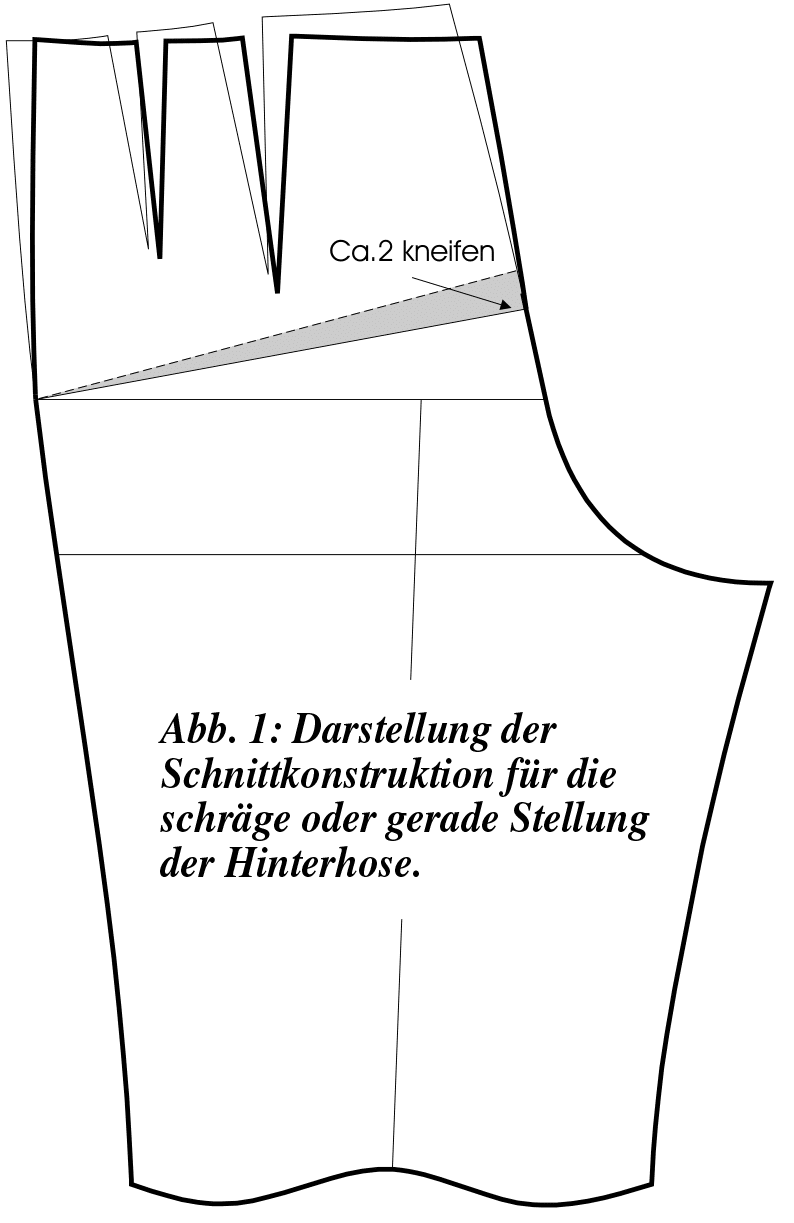 This change results in a favourable fit.
The criteria for determining the position are the shape of the buttocks and the model as well as the comfort requirements and the material used.
The illustration shows what has to be taken into account when designing the pattern. If the seat seam is more in the direction of the centre line, the back of the trousers is sloped, and vice versa. The dotted line indicates the correct slanting position required for this figure. The more slanted the seat seam, the longer the seat area.
At the side seam of the front trousers, 3-5 cm are measured upwards from the waist height line (point 27). This measurement influences the slanted position of the seat seam at the back of the trousers. The larger the measurement amount, the straighter the seat seam becomes.
Achieve a straighter back trouser with a smoother fit in the buttock area: The back trousers hip fracture is laid 1-2 cm at the buttock height line of the front trousers (point 25).
From the back trouser break, 1/4 of the rear trouser width to the right is measured for a normal figure (point 26). Connect points 27 and 26 with a straight line. From this line, draw an angled line upwards at point 26 (seat seam).
Change of cut
If a back trouser is too slanted during the cut arrangement or if the figure of the customer requires it, the model can be modified according to this sketch.
Cut the hind trousers at the buttock height line. Pinch the cut pieces at the centre back approx. 2-3 cm and lay them on top of each other until the side seam is reached. This change makes the seat seam straighter.
Eliminating the fitting errors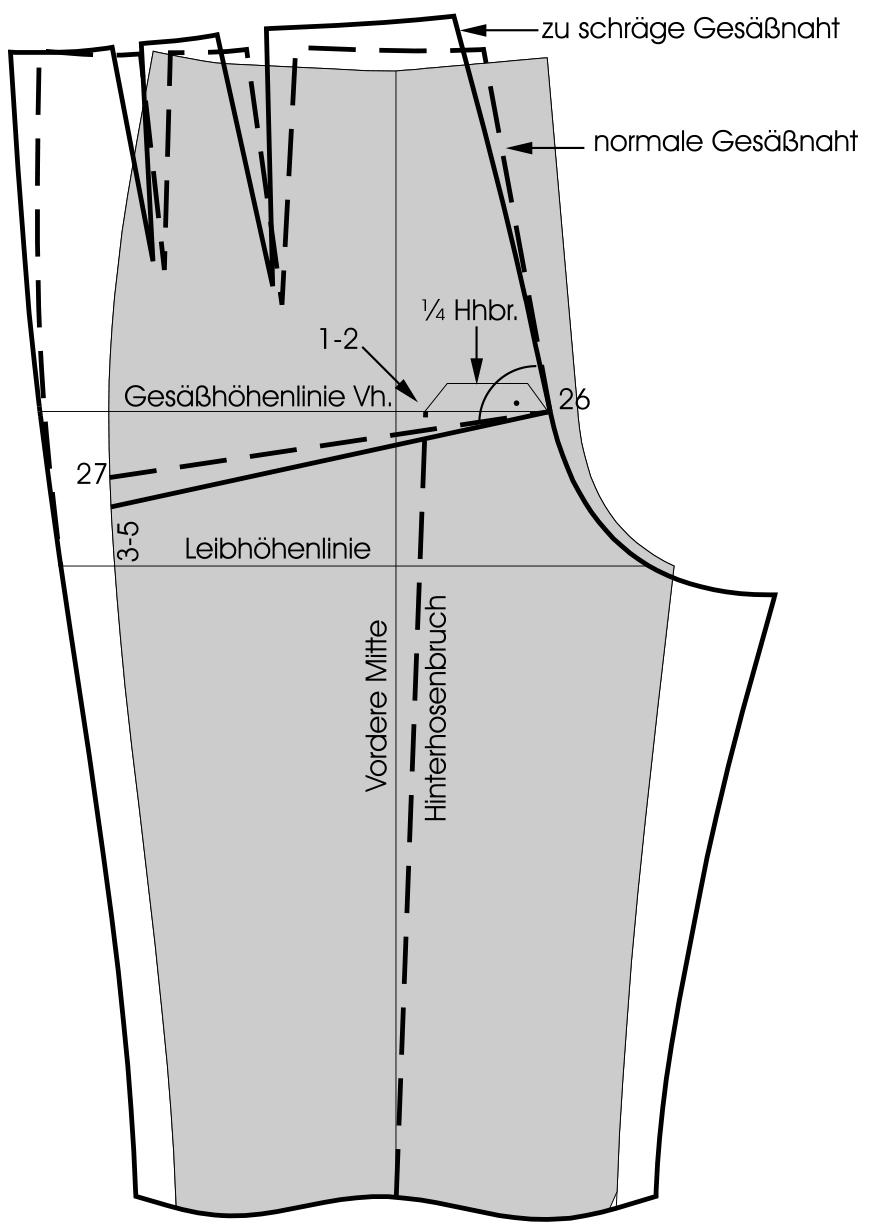 The following modification is necessary for the finished trousers. The seat seam is extended upwards by 2-3 cm, i.e. straightened, as shown in the illustration. In order to maintain the same waistband or waist width, the amount widened at the seat seam has to be reduced at the side seam in an arc shape. In addition, the waistband height at the seat seam is shortened by approx. 1-2 cm and lowered down to the side seam.
You may also be interested in