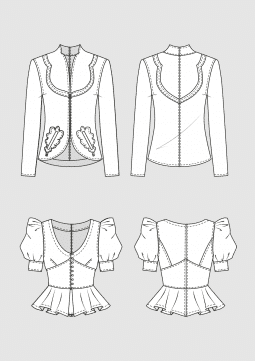 Download Schnittmuster DOB Trachtenblazer mit Bluse
In sizes 36 to 46
Sewing a Bow Tie Blouse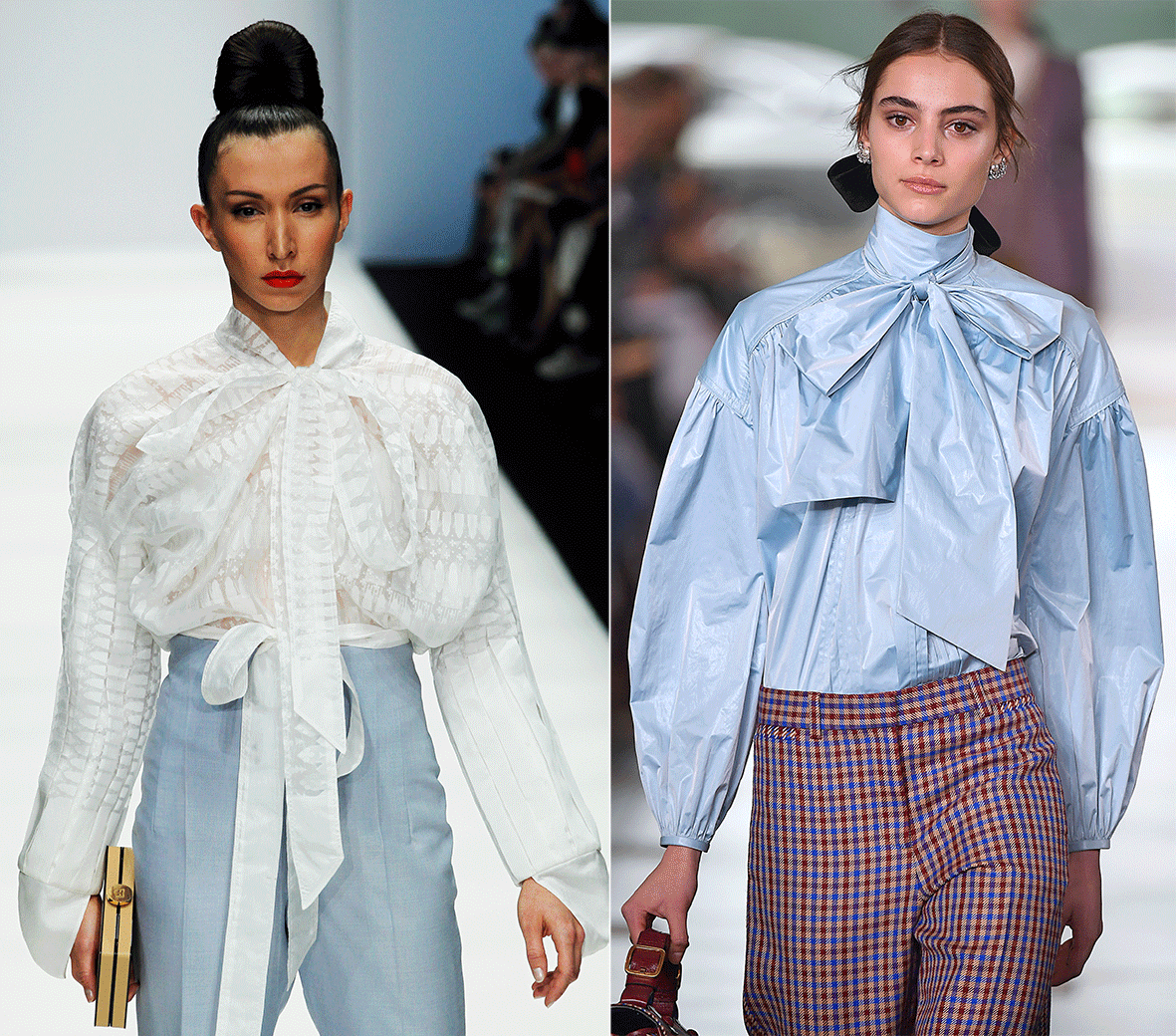 The bow tie blouse is a real classic. This elegant blouse with a bow gives every look that certain something, a touch of nostalgia and is a great eyecatcher. The bow tie blouse looks particularly beautiful with narrow skirts or trousers such as Culottes or Marlene trousers.
Inhalt

This article is an excerpt from the book  DOB Schnittkonstruktionen Modell & Schnitt Band 2. Here the author Elisabeth Kreienbühl shows the model modification of a bow tie blouse (Fig. right) according to Schweizerischen Schnittsystem.
Pattern Construction Bow Tie Blouse
Preparing the Pattern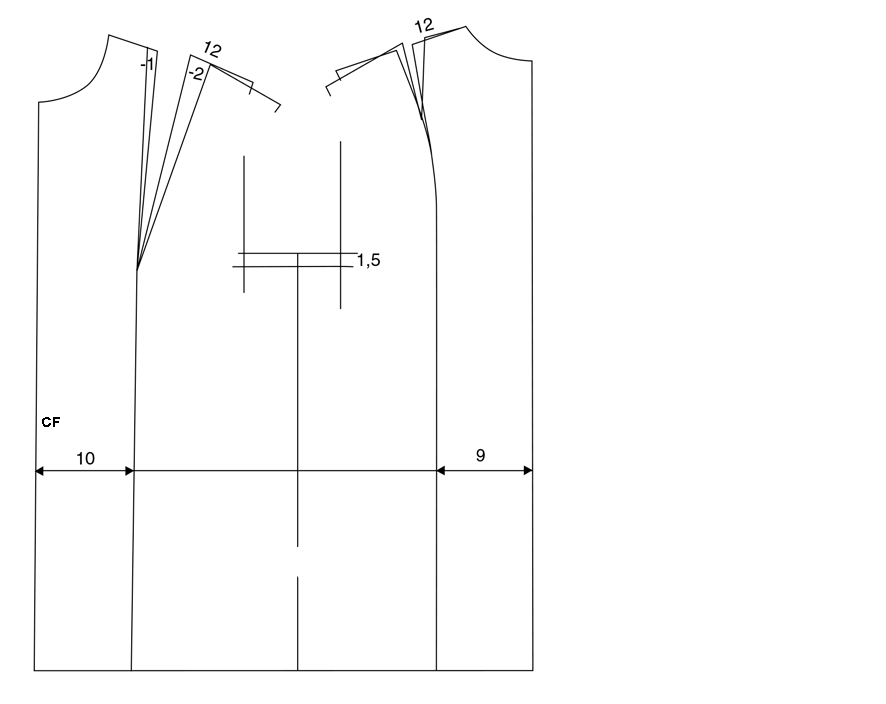 A basic pattern is copied without extension.
The breast dart is reduced by 3 cm, the back dart by 1.5 cm.
The armhole is 1.5 cm deepened. The longitudinal seams are drawn in.
The shoulder is set to a width of 12 cm.
Pattern Construction Blouse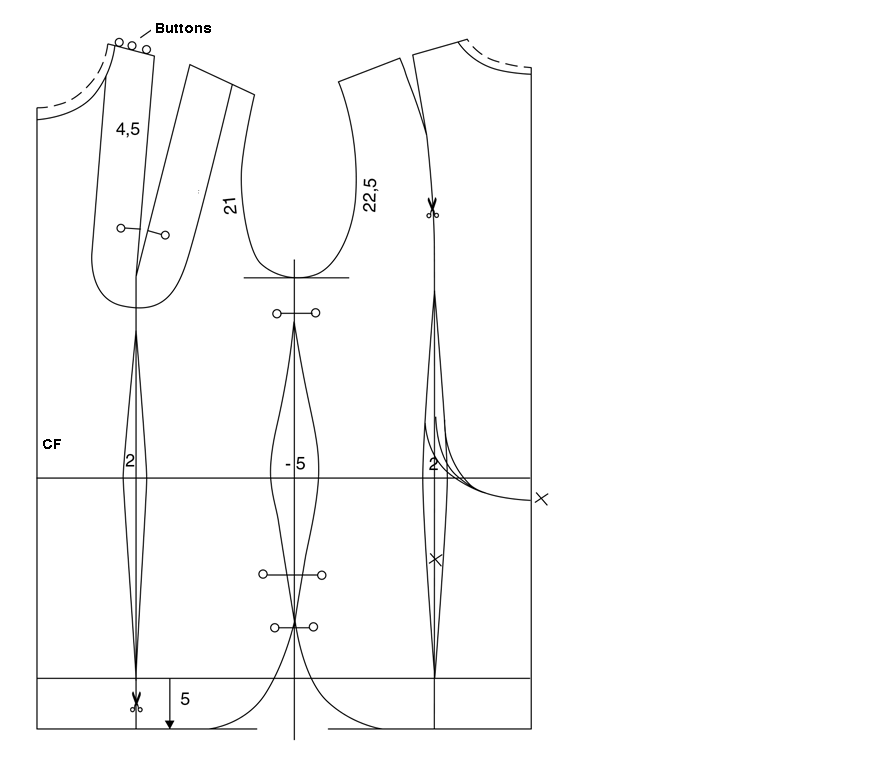 The neckline is slightly enlarged.
The armhole is drawn in, the side and longitudinal seams are waisted so that the waist is only slightly oversized.
The hem is extended by 5 cm and rounded off at the sides. A zipper is to be placed in the side seam on the left.
The one-sided slot opening is determined and the flap abutment line is drawn. A buttoned opening is made on the armpit.
The panel is cut individually, the slit is inverted and the panel is finally sewn on with a narrow edge.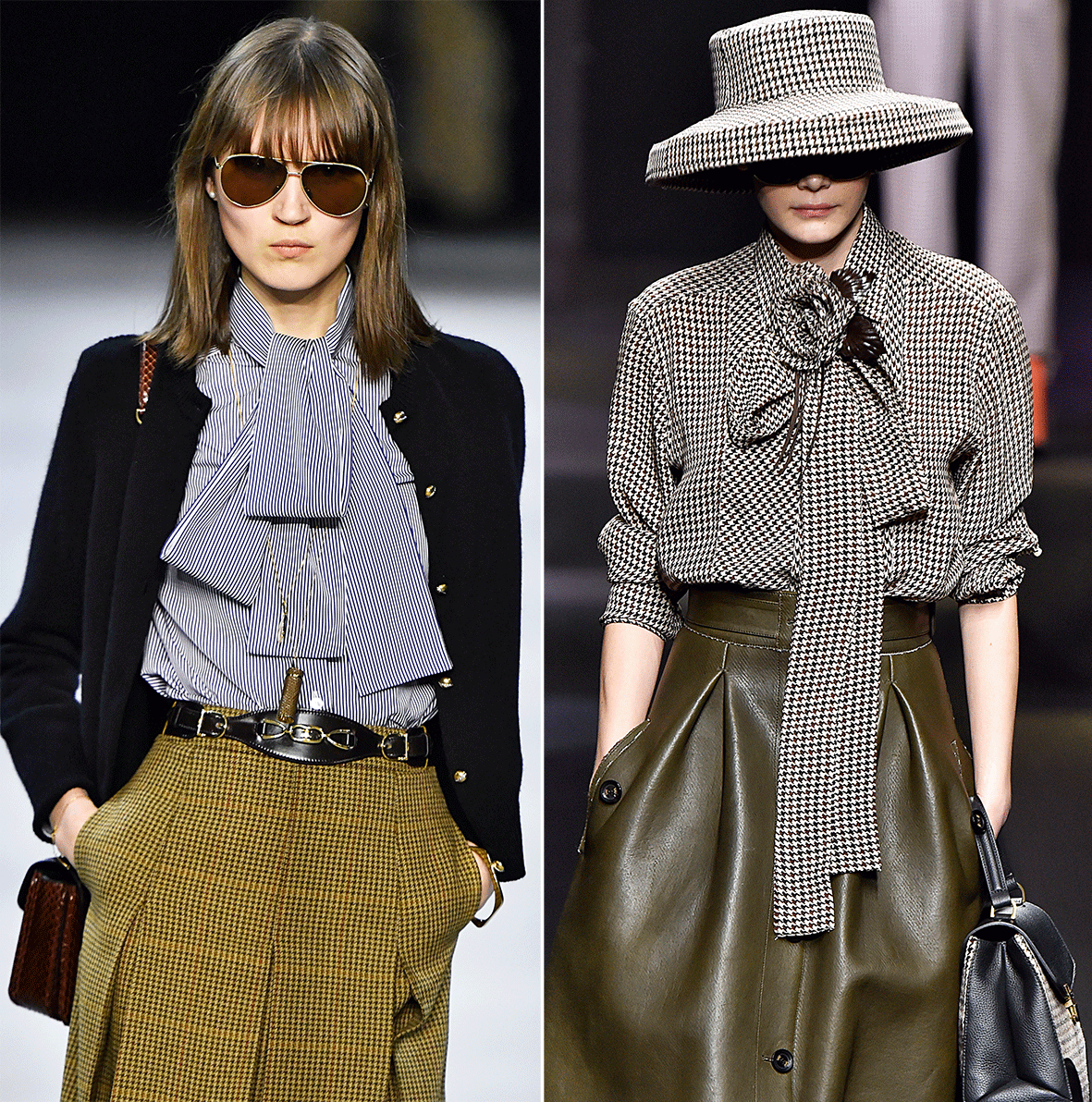 Collar / Bow
The volume of the bound slopper collar depends on the material and the wearer. Here I recommend not to cut the collar twice and only trim it narrowly to keep it light.
Sleeve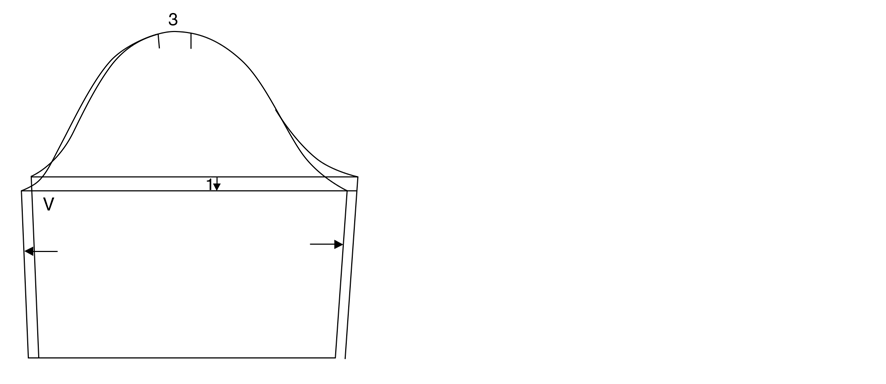 The sleeve cap is deepened by 1 cm and adjusted with 3 cm oversize to the armhole. The sleeve is elbow-length.
Then the sleeve is cut open, as shown in the sectional view, and the sphere is enlarged so that a puffed sleeve is created that can be placed in a row. The cuff is prepared.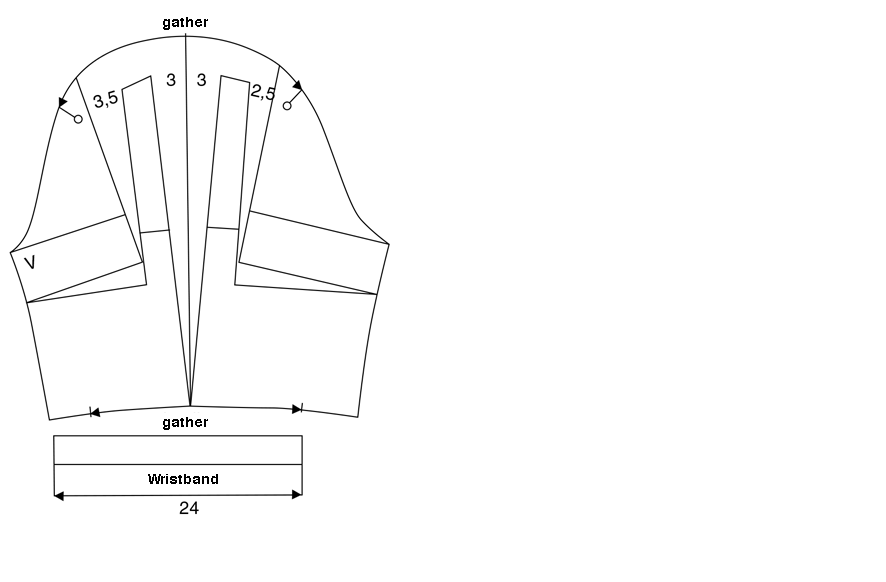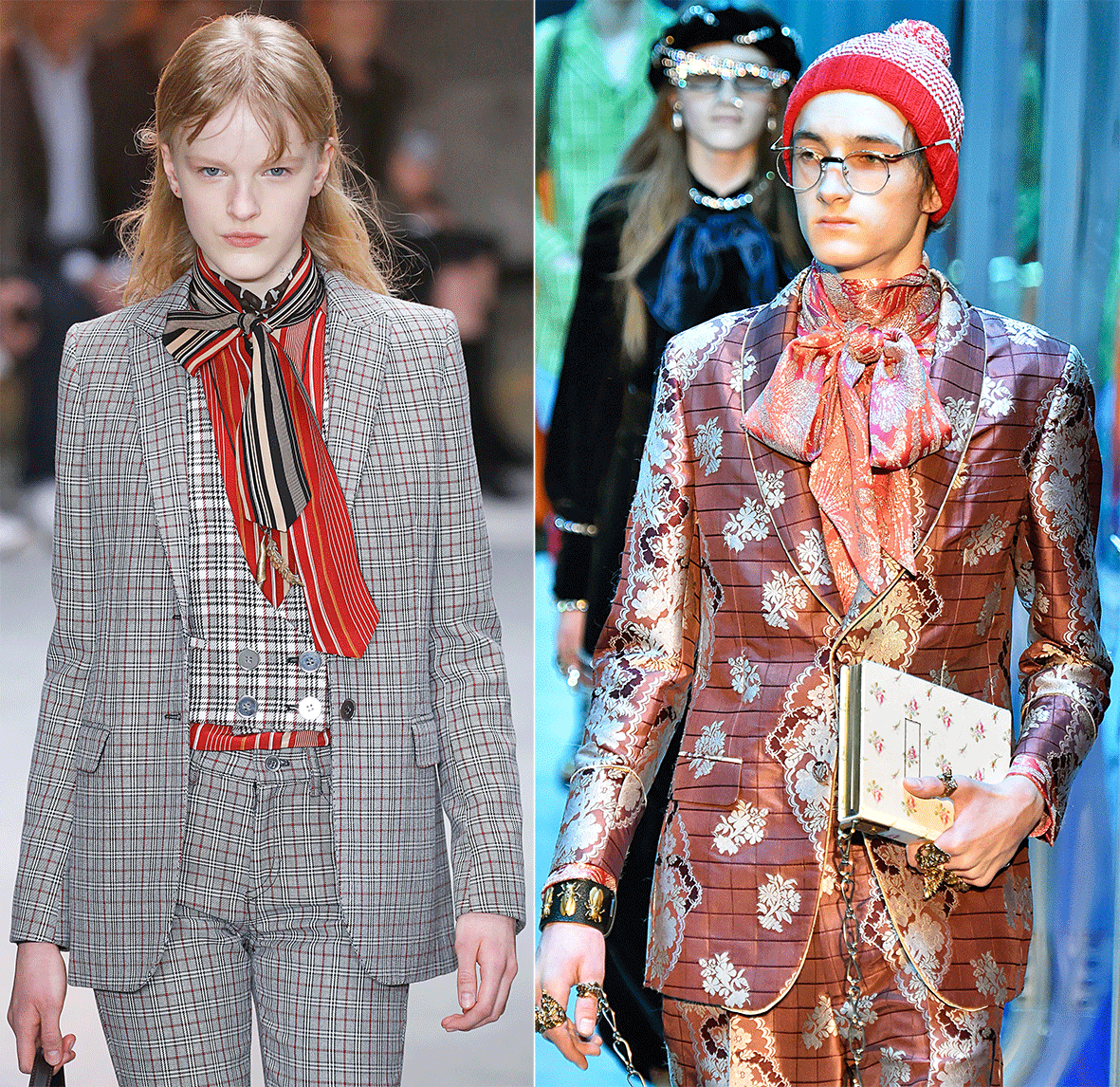 Tip for the design for special figures
Strong upper arms
Cuffs slim the arms.
Decorative button strips direct the eye to the centre.
Flowing fabrics surround lush musculature.
Unfavourable are short sleeves, shoulderless and stretch materials.
Wide waist
Straight pattern, narrow blouses laminate.
Empire blouses or slightly flared blouses accentuate the bust and conceal the belly.
Avoid frills, darts, belts, extra-wide blouses.
Large bust
From cup size C, make sure that the blouse is loose in the chest area and tight at the waist.
 deep V-neck stretches, visually reduces the bust and directs the view to the décolleté.
Vertical seam lines under the breasts give shape.
Wrap blouses emphasize a narrow waist.
Double-row button strips that apply are unfavourable.
Large collars and heavy fabrics create a voluminous look.
PDF Download: Pattern Making Blousons
Instructions for the pattern construction of four different blousons jackets.
TOC
You can find many more pattern instructions and patterns for sewing blouses in our online shop.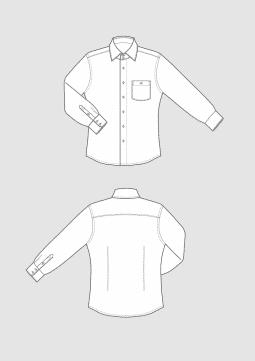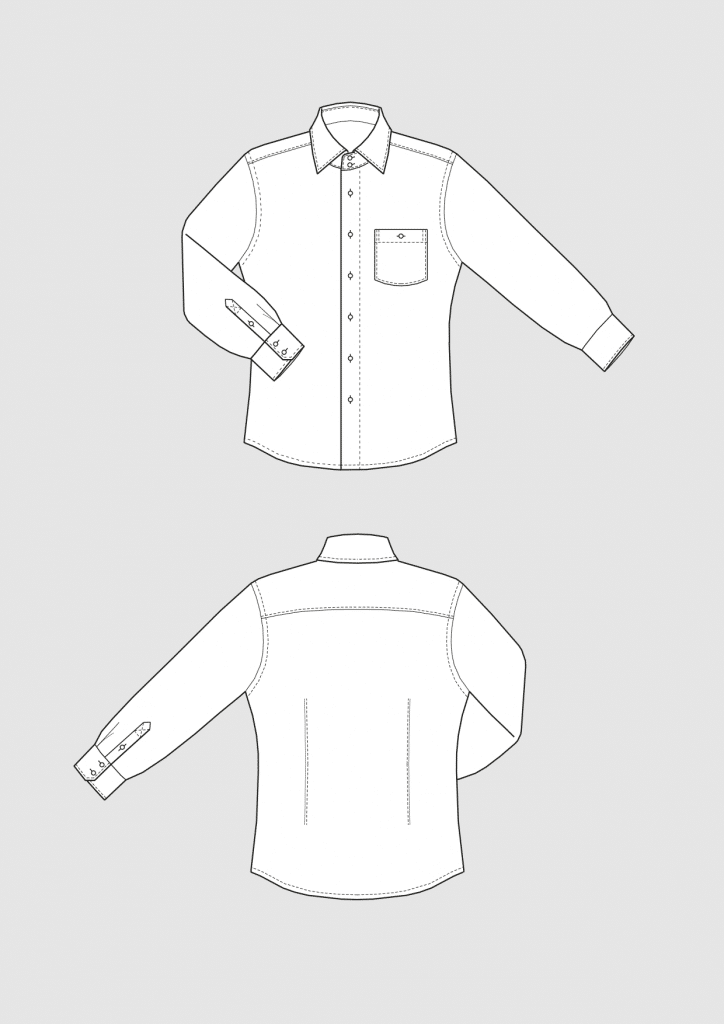 Download Schnittmuster HAKA SlimFit Hemd
Sizes 38, 40, 42 and 44
Other articles for this subject