Pattern Construction for Negligees
(Photo Credit: © CATWALKPIX.COM)
The article includes three different Negligee designs. You find the complete pattern construction in our journal Rundschau for women 7/8.2015.
Halter Negligee
Template: Basic Body Block, Size 40 (Rundschau 2.2015, page 20)
(Photo Credit: Technical Drawing A. Wenzel)
Front and Back Pattern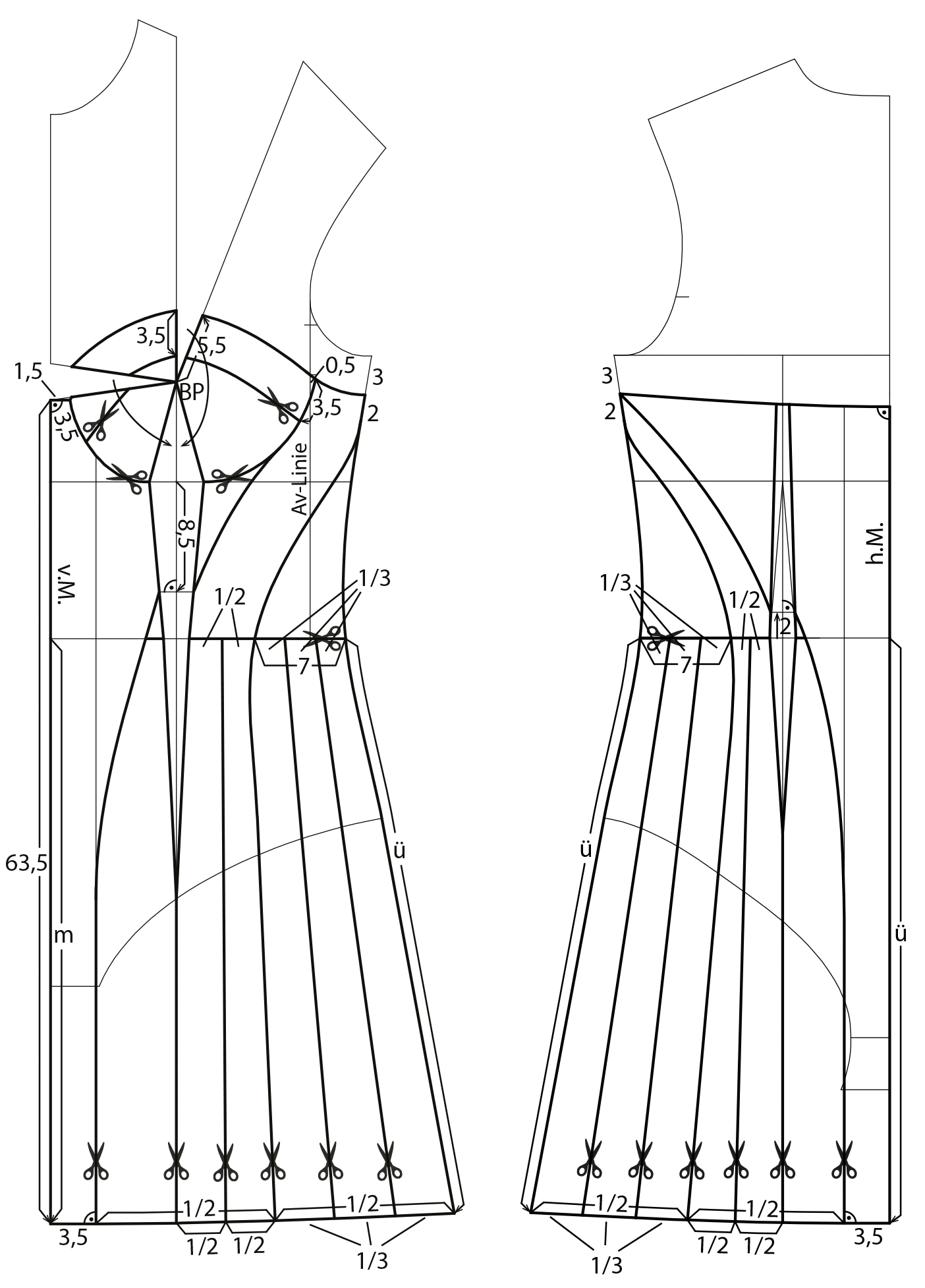 Front Pattern
Square out 1.5 cm from the intersection of the centre front and the lower dart leg to the right for the new neck line. From the new neck line, measure the length at the centre front with 63.5 cm downward. Measure the front length below the waist and lengthen the side seam accordingly. Draw the front part of the under wire seam from the neck line to the dart as shown in the illustration. The seam line for the back part of the under wire begins at the dart leg and ends 0.5 cm beside the front pitch line. Measure 5.5 cm from the bust point upwards along the bust dart legs for the cup height.
Lower the armhole 3 cm. Close the front and bust dart temporarily and draw the cup shape according to the illustration. Draw the style seam on the cup piece 3.5 cm parallel to the neck line. Draw a parallel line with 3.5 cm distance to the centre front. On the dart centre line, measure 8.5 cm from the under bust line downwards and square out to the right. Draw the front style seam from the hem along the parallel guideline to the cup seam as shown in the illustration. On the waist line, measure 7 cm from the side seam to the left. On the hem line, mark the halfway point between the front style seam and the side seam and draw the side panel seam over these two points to the side seam. For more width at the hem, mark four cutting lines as shown in the illustration.
Finishes Pattern Pieces

Trace a copy of all pattern pieces. Close all darts and blend the seam lines. Slash and spread the pattern pieces 8.5 cm at
the hem at each cutting line. The pattern pieces overlap slightly at the waist. Blend the seam lines and the hem lines. Mark the grain line.
Short Negligee
Template: Basic Body Block, Size 40 (DR 2/15, page 20)
(Photo Credit: Technical Drawing A. Wenzel)
Finished Pattern Pieces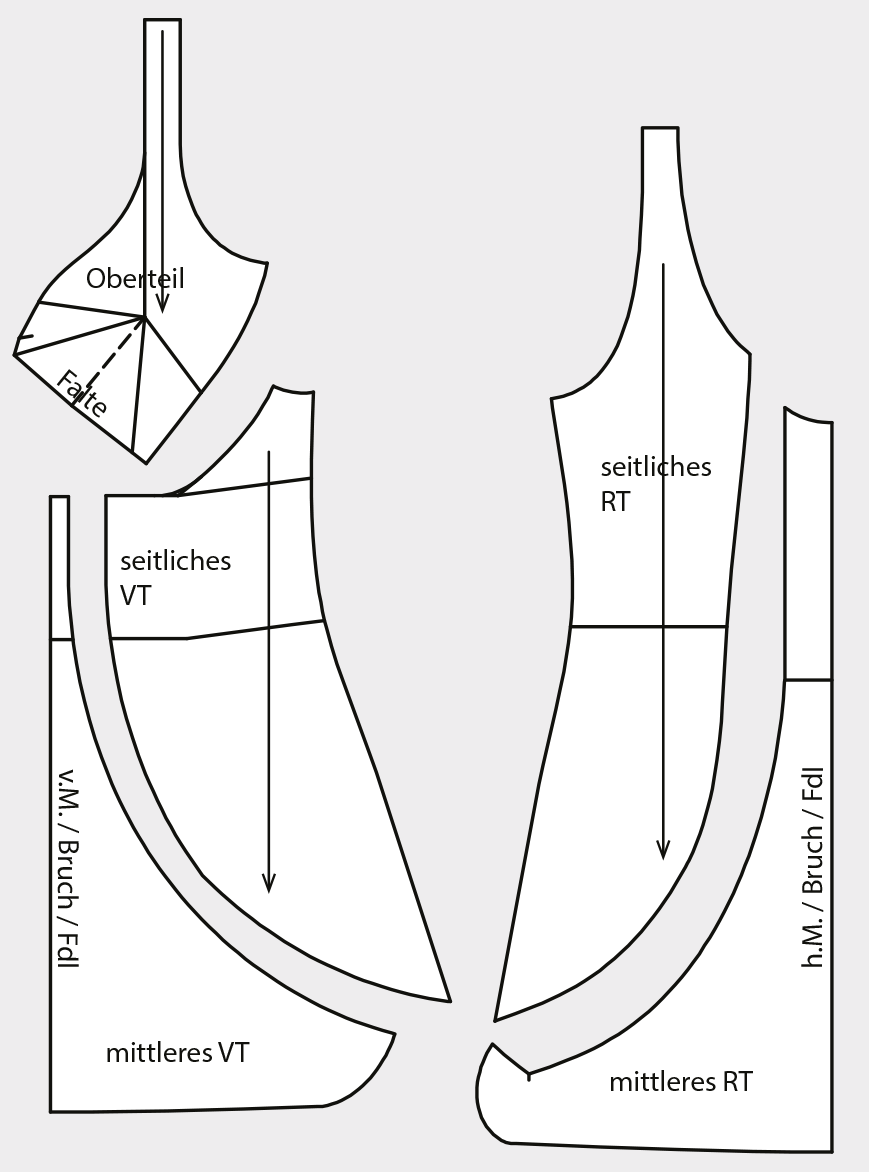 Long Negligee
Template: Basic Dress Block, Size 40
(Photo Credit: Technical Drawing A. Wenzel)
Finished Pattern Pieces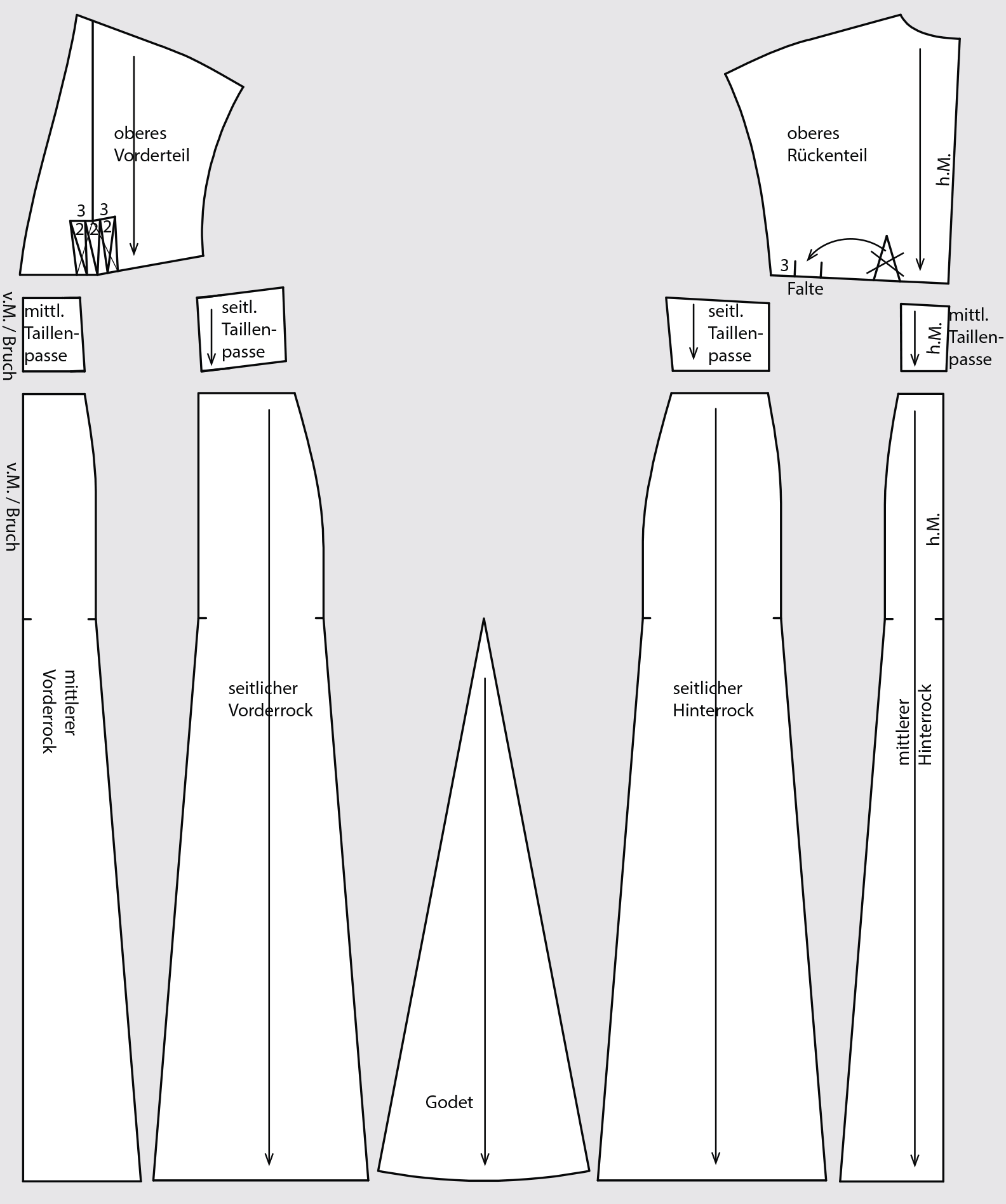 Other articles for this subject