Isabel Vollrath – Fabric Sculptures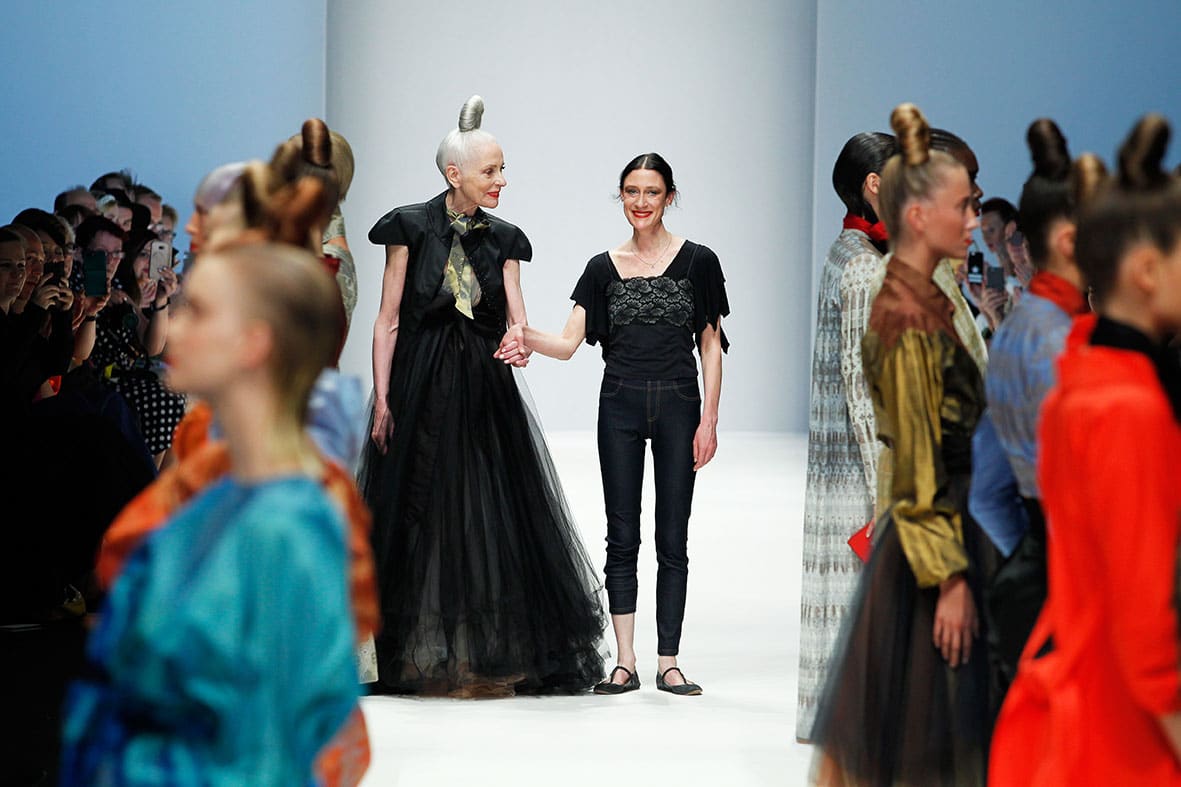 With her sculptural looks, Berlin-based designer Isabel Vollrath moves in between fashion and elegance, art and poetry.
Isabel Vollrath lost her heart to Venice during a six-month internship at the resident couturier Stefano Nicolao: » I have learnt to love the city with all its facets during my daily work life.« So deeply that the lagoon city became her theme for future collections. Even the spelling of her label »I' VR« is Italien-inspired. Vollrath's diploma collection as well as other lines reflect Venice's atmosphere in her language of design and patterns, with multilayer, elaborately printed fabric draperies, bows, puffed sleeves, long, tight-fitting cuffs, voluminous skirts, wide trousers and high-necked tops.
Study in Berlin Weißensee
As a young woman, she wanted to be a sculptor, she admired Henry Moore and even dedicated her high school diploma to him, with success and the highest score for A-levels. Before the planned study of art Vollrath enacted herself to learn the craft and completed a training for men's tailoring in Baden-Baden »as a solid base«, she says. »In a Studio, exactly how you would imagine a workshop of old school kind in England: paper pattern on the wall, bales of fabric on top of each other, large tailor's shears. My boss had wanted me to become a master and take over the studio, but despite my love for the profession, I wanted to go out into the world and study to broaden my art horizon.« For the combination of art and fashion she chose to study at the Berlin Weißensee School of Art. There Vollrath got herself familiar with the basics of drawing, painting, working with clay or screen printing.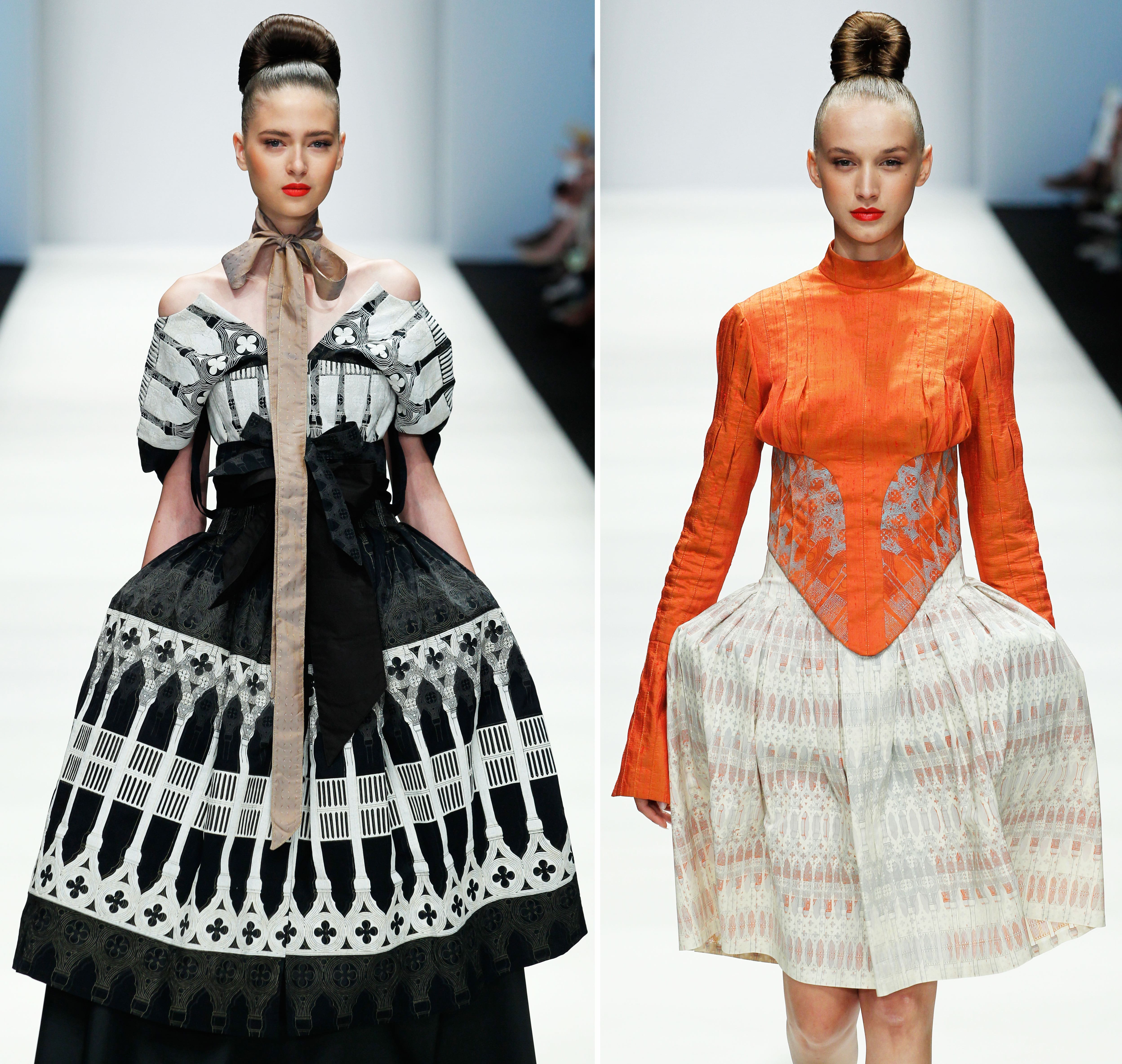 She did not include the things learned earlier at her training in the classic manner of the tailoring, but on a creative level with her own formal language. Within the scope of her diploma collection she researched on Venice's architecture and art world and let this atmosphere flow into her designs. She named the collection »Ca' d' Oro« after the magnificent Venetian Palace. These works already captivate a special sense for the spatial impression. She has developed all prints by herself, referring to Venetian architectural elements and manufactured them with a hand- and screen-printing-technique. Printed once or several times on top of each other, these patterns suggest the surface embossing of the city. Vollrath »That's also when my fondness for pleats began.« For the symbiosis of textile and spatial design she received the best grad – her characteristic style was born.
Jobs in the fashion industry
The diploma was followed by a scholarship in St. Petersburg and the one-year master study in fashion at the KHB Weißensee; she successfully participated in contests and received further scholarships like the coveted Elsa Neumann Scholarship of the federal state of Berlin At the same time Isabel Vollrath worked at the Fashion Institute in Berlin and as a dresser at the State Opera, the Komische Opera and Deutsche Opera. »As a dresser in the opera houses, I learned to change costumes in seconds and to put back the robes of the singers and Dancers in the right spot. Today, at my shows backstage, I'm the one who's got the overview about all the moving, the one who decides the running order, jumps from one rack to another, delegates the team and ties eachbow tie, belt or tie in no time shortly before the models walk in.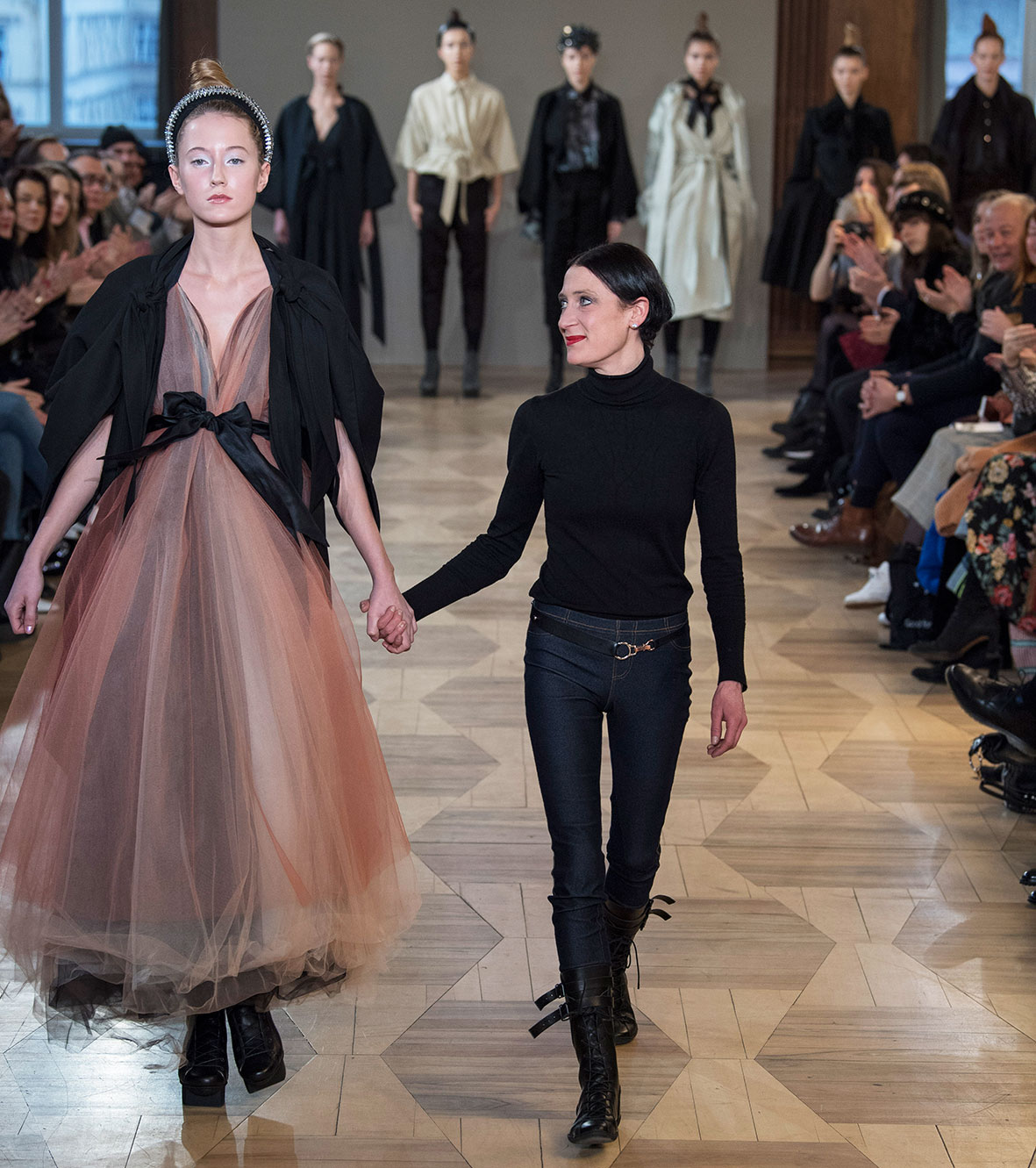 Workwear fabrics and a touch of romance
In 2015, the young fashion designer rented her own studio and relied on her master student collection. Today Isabel Vollrath presents at the Berlin Fashion Week twice a year. »When you have a show every six-month, you have to limit yourself in terms of material and color« she says. »I don't need chichi, I either work plain with solid fabrics or I design my patterns myself. For me, fabrics are pictures, and these pictures then become clothes.« Her preferred materials include workwear fabrics, but she also likes to be a little romantic: »Tulle is an element I like very much; in each of my collections a tulle skirt appears. I like the play of colours and iridescence exciting when sewing the indvidual layers on top of each other.«
Vollrath wants to distance herself from seasonal production. »I create limited editions; »I work as a couturier, each piece is handcrafted.«.« Vollrath says she occasionally accepts customized orders like the one for the artist couple Eva and Adele for a gig in New York where Vollrath adapted pattern of corsage dresses from her collection and tailored them to suit the customers body.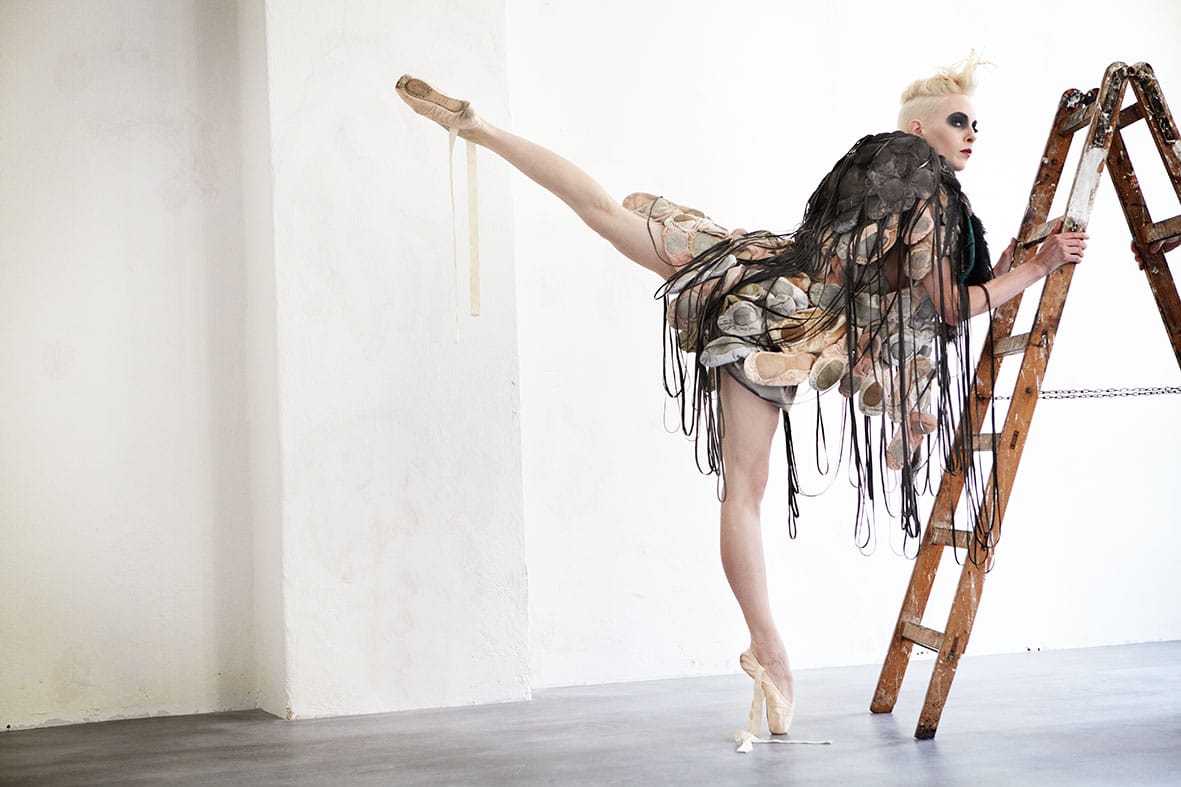 Studio in the galleries district
Her workshop in the trendy former district Scheunenviertel in Berlin-Mitte operates as a studio, showroom and gallery; in the entrance area visitors are greeted by an installation of ballet shoes. An art collector couple bought a bag with ballerina shoes and a crocheted bicycle tube rigth afther Vollrath had started her own business. The drive behind such upcycling projects is socially critical and environmentally motivated. For example in this case she points out »that whoever is involved in bicycle production, inhales the rubber vapours daily«. The hobby ballerina got the worn ballet shoes from the Berlin State Ballet. Because her fashion meets an artistic standard, Isabel Vollrath's works are shown in exhibitions such as Kunst Haus Wien, the BMW Museum in Munich or most recently in the Michael Schultz Gallery in Berlin under the motto »A Tribute to Renaissance«.
Free Play of Shapes
Isabel Vollrath stages her typical sculptural-poetic look by creating pattern based on voluminous interpretations of historical elements, wide skirts, high-cut pumpkin pants, corsages or high-necked stand-up collars. »I just put my patternpieces in a different order, which creates a new garment sometimes.« She explains. »One of my collections contains a shortpleated pants, a pair of short-pleated pants, as it was common in the Renaissance. I placed these pattern pieces against the grain direction and developed a pleated sleeve out of the silhouette of the pleated trousers. I then reinterpreted this new creation by letting the folds reach upwards.« From the free play of textile shapes a blouse was created.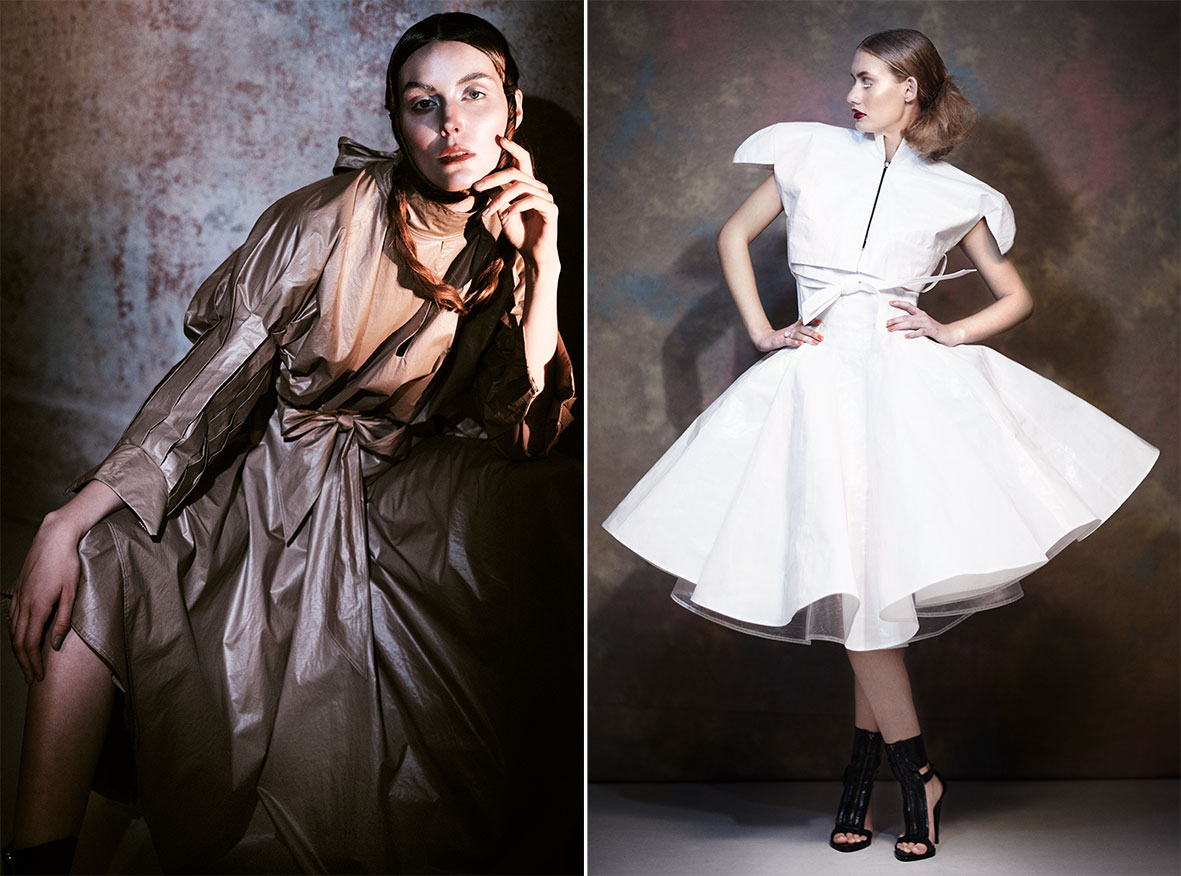 »As you can see from my silhouettes, I like to play with different volumina, for example with folds that open and close again« Isabel Vollrath says. Instead of draping the dummy »I often work with my basic pattern blocks that I have developed in my studies or I draft patterns freestyle with shapes like rectangles, triangles and circle sections, which I'm putting together to function in threedimensional space and to work on the body. For me this is an exciting process.« Isabel doesn't make test models but sews immediately using the original material. The couturiere takes the risk with the often elaborately printed into account: »Either the result looks good or not.«
Conscious branding
The designer has consistently developed her unique design to stand out in the highly competitive fashion market. »I've been thinking: What elements that I want to pursue make me stand out? That is for example the spoon-wing bowl, that sometimes appears on the shoulder, sometimes on the elbow, sometimes on the knee.« In the collection »Traghetto«, for example, she interpreted the forms of the Venetian gondola in the sleeves, hoods, coat lapels and skirt hems. »In my latest edition of »Caravaggio«, the wing-spoon-sbowl-element was for the first time shortened at the sleeve ends and also on the pocket openings . They are rounded like plates and their shape resembles car rims.« The fashion designer says and she adds: »I am also a fan of bow ties; at some point another element will be added, but I'm still attracted to these forms of variations.«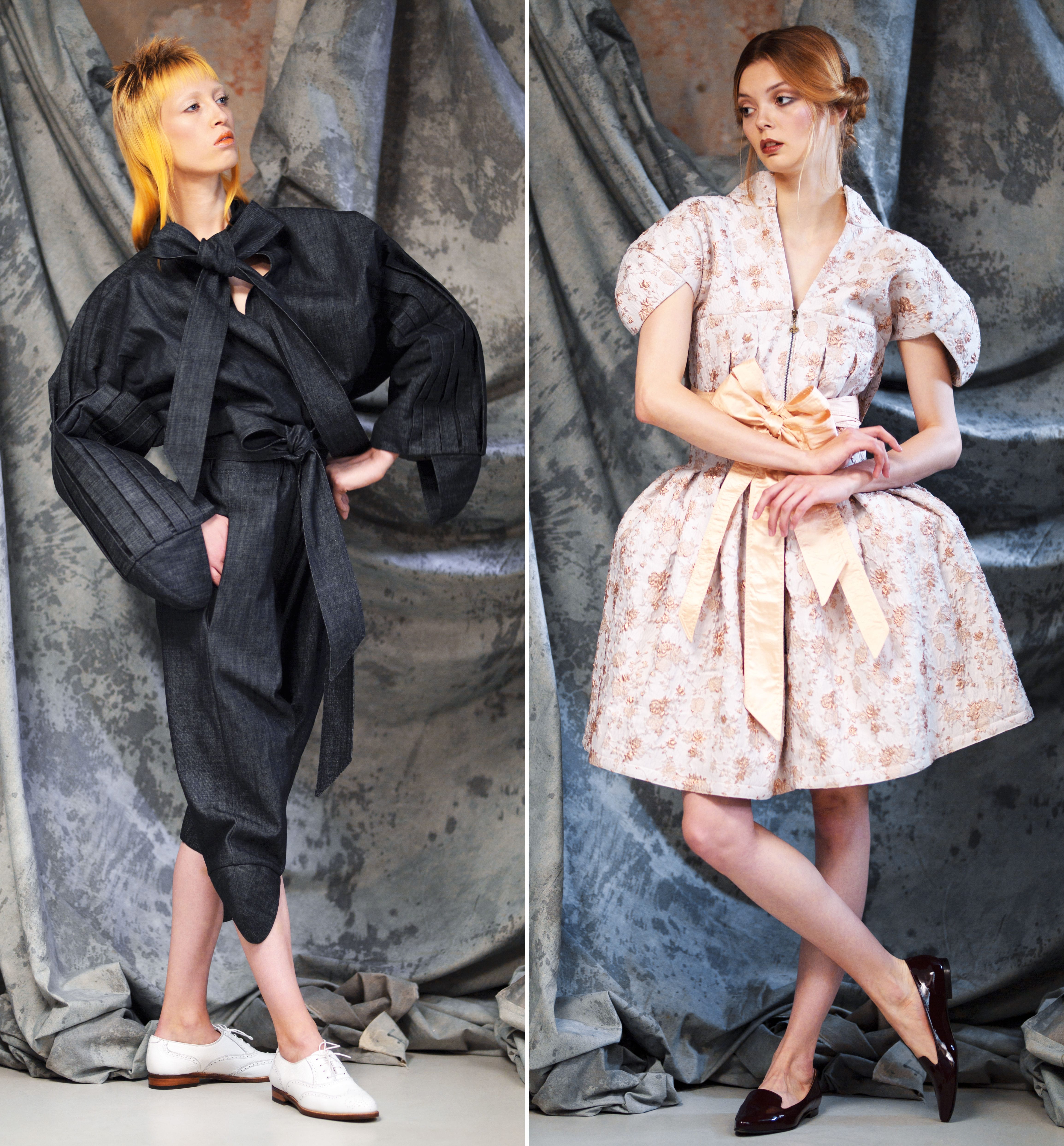 Timeless Collections
»One of the themes has a personal liason with myself« Vollrath explains. In the collection »Shakespeare in Love« (SS 2018) it was love. She expressed her emotions with colorful, sometimes feminineromantic, sometimes androgynous silhouettes. »Generous volumes, playful draperies, sashes, bows and refined folds – in combination with checked cotton fabrics in scarlet, sky blue, delicate green and white, using floral silk brocade, jeans and tull speak of passion and melancholy, elegance and shrewdness .«
Because Vollrath's work always deals with specific topics instead of trends, her collections are classically timeless. For »Poetry of Light« (Spring / Summer 2019) she used the precious textile designs of her diploma collection. In several print layers on top of each other processed with silver and gold pigments, pleats and tucks again create three-dimensionality, which reminds of Palazzi facades.
You may also be interested in