Flower made of ribbon

This decorative rose is made of decorative ribbon. In this example, a ribbon with a width of 2.5 cm was used for the petals and a ribbon with a width of 1.5 cm was used for the inner bud and the green leaves.

Notions and supplies: Ribbon 2,5 cm wide, Ribbon (pink) 1,5 cm wide, Ribbon (green) 1,5 cm wide, Hand sewing needle, Nylon thread, Pins, Scissors
TIPP:  Care should be taken to not choose too thin material. A slightly tighter woven ribbon will facilitate processing.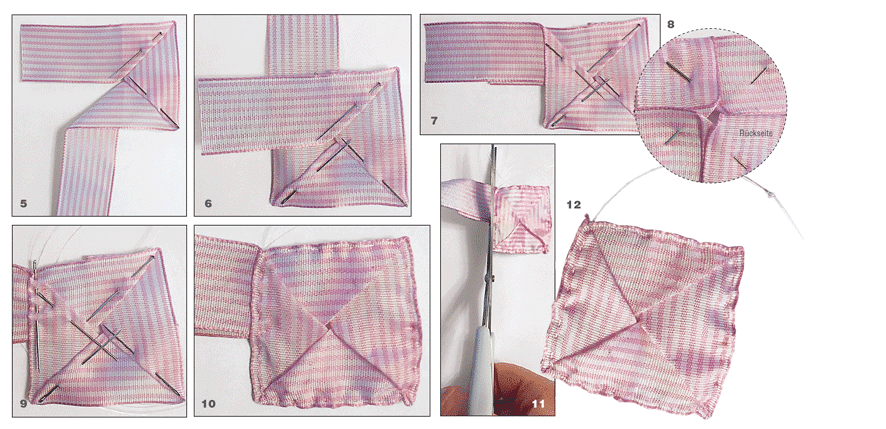 The 2.5 cm wide ribbon is folded as shown in Figs. 1 to 7. After this process, the back of the square should look as shown in Fig. 8. Now baste the folded piece with the nylon thread (Fig. 9-10) and carefully cut off the excess ribbon (Fig. 11).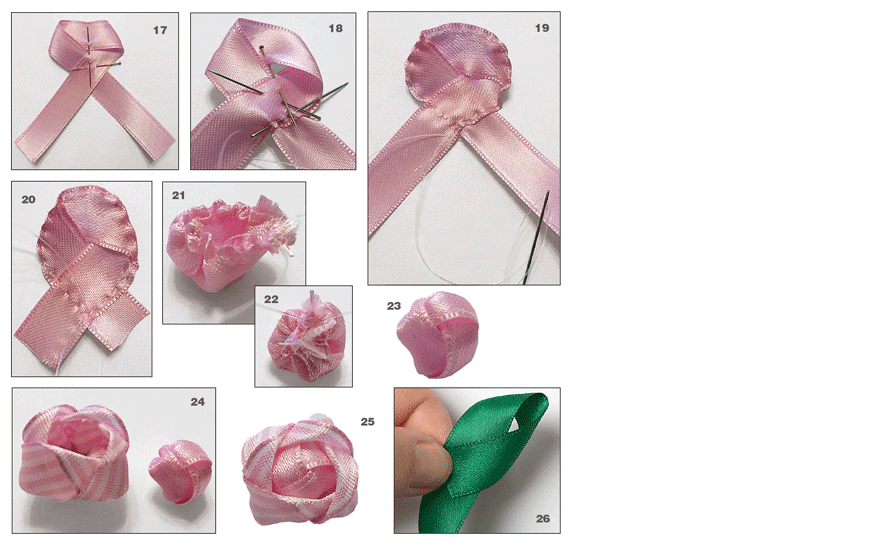 Depending on the material, care should be taken of not to cut the ribbon off too close as the edge will fray easily. If you now pull both ends of the nylon thread, the sides curl and the square slowly forms a calyx (Fig.13-15). The back of the folding mechanism should be on top. When all sides are tightened, the gathering can be tied off. To form the inner bud, loop a 1.5 cm wide ribbon (Fig. 17), baste it all the way around (Fig. 18-20) and, like the calyx, also pull it together and knot it (Fig. 21-23). The leaves are formed from a green 1.5 cm wide band arranged in a figure-eight loop and sewn together (Figs. 26-31). Fig. 32 shows the finished rose.
You may also be interested in