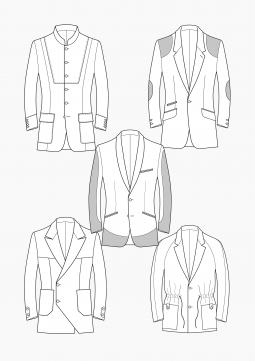 Download Pattern Construction Men: Suit Jackets
In this e-dossier you find instructions for the pattern construction of five different suit jackets for men.
Pattern Construction for Relaxed Pants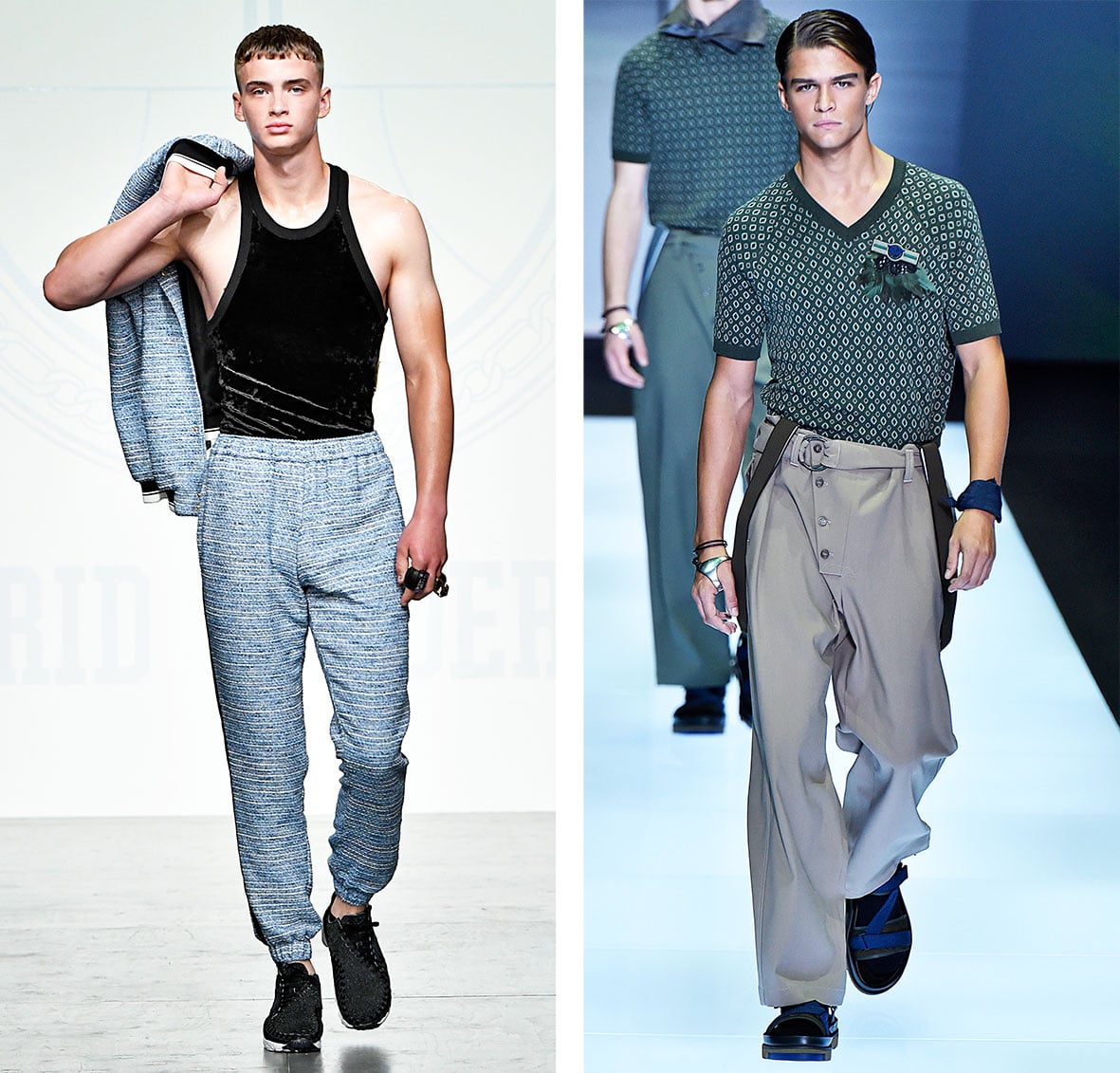 (Photo Credit: © CATWALKPIX.COM)
The relaxed look has become socially acceptable. Functionality and comfort are in demand for the next season. Stretch fabric and Jersey allow a slim silhouette with new proportions. Casual trousers with drawstring waist and rib cuff hem are shown in combination with suit jackets. The following pages illustrate the basic trouser block for stretch joggers and different casual designs.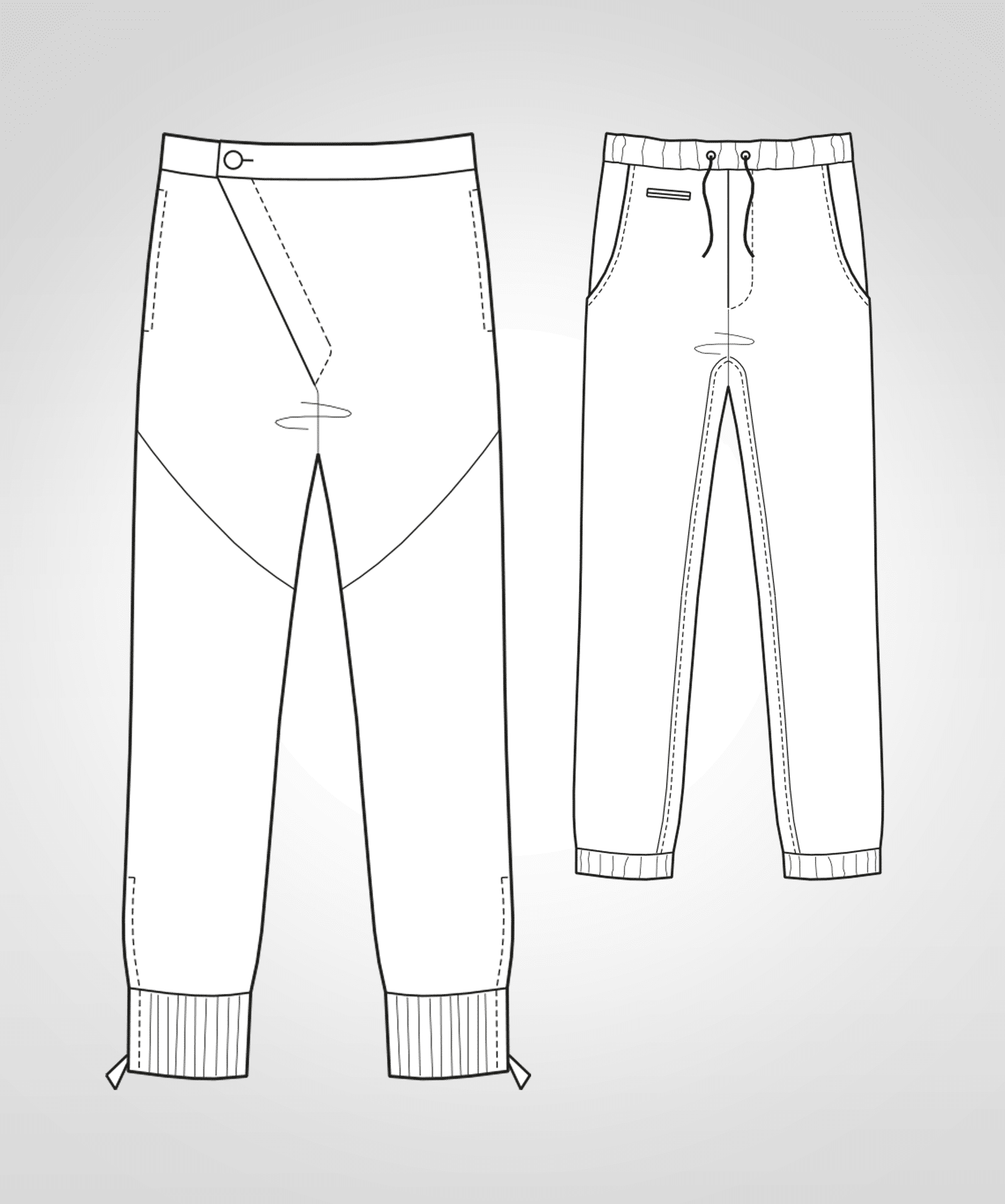 The article shows the pattern construction of relaxed pants. The complete article also includes the Basic Trouser Block for Joggers and Casual Trousers.
You find the complete instruction for a pattern construction in the e-dossier Pattern Making for Relaxed Pants. A translation is available from our customer service.

Basic Trouser Block for Joggers and Casual Trousers
The waist measurement remains unconsidered, since the pants are finished with an elastic waistband. The waist measurement has to be approximately the width of the hip measurement depending on the amount of stretch in the fabric. If the waist measurement is larger than the hip measurement, the pattern must be extended accordingly.
Find the trousers basic block an all the pants designs shown in the following article in the e-dossier.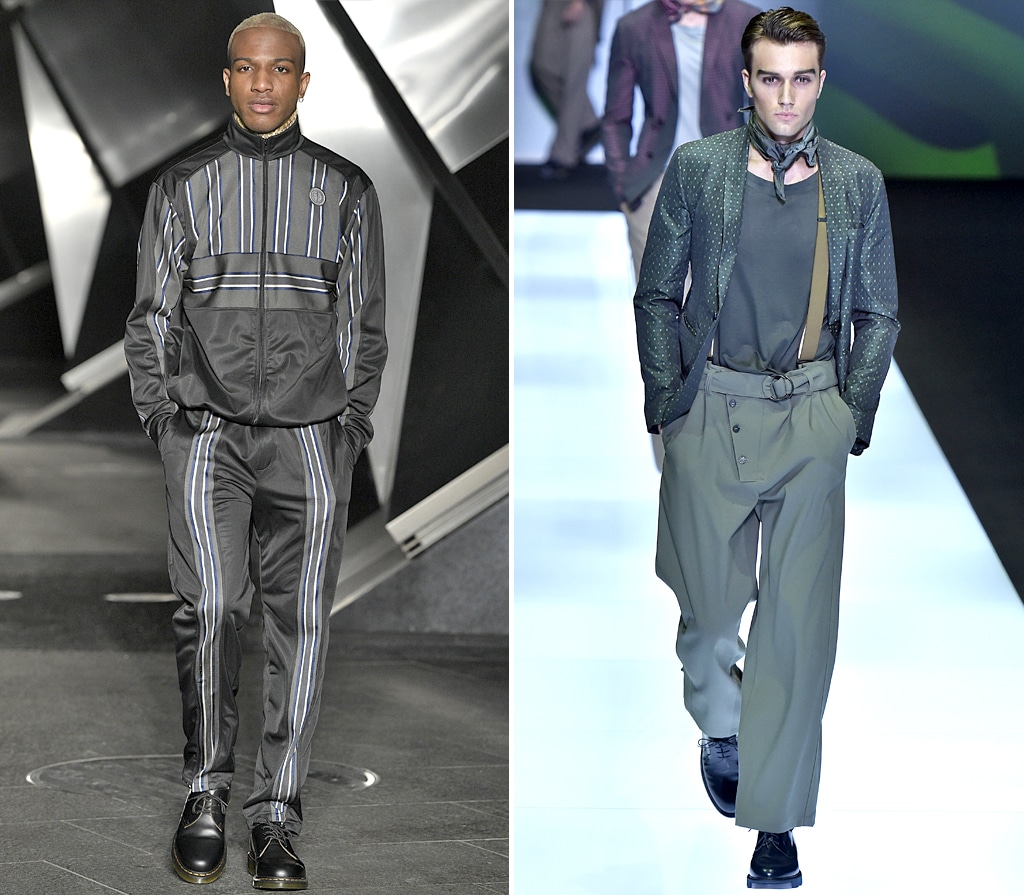 Ankle Pants with Patch Pockets
Design 3054 – Template: Basic Casual Trouser Block in Size 50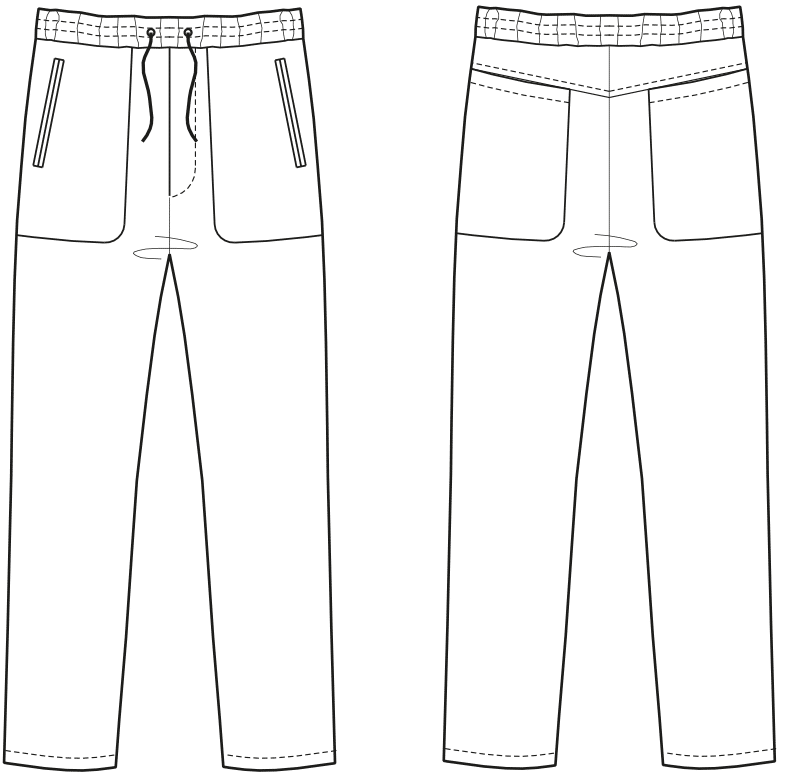 • Drawstring waistband
• Faux front fly
• Back yoke
• Front patch pockets with double-welt pocket
• Back patch pockets
• Cropped length
Front and Back Pattern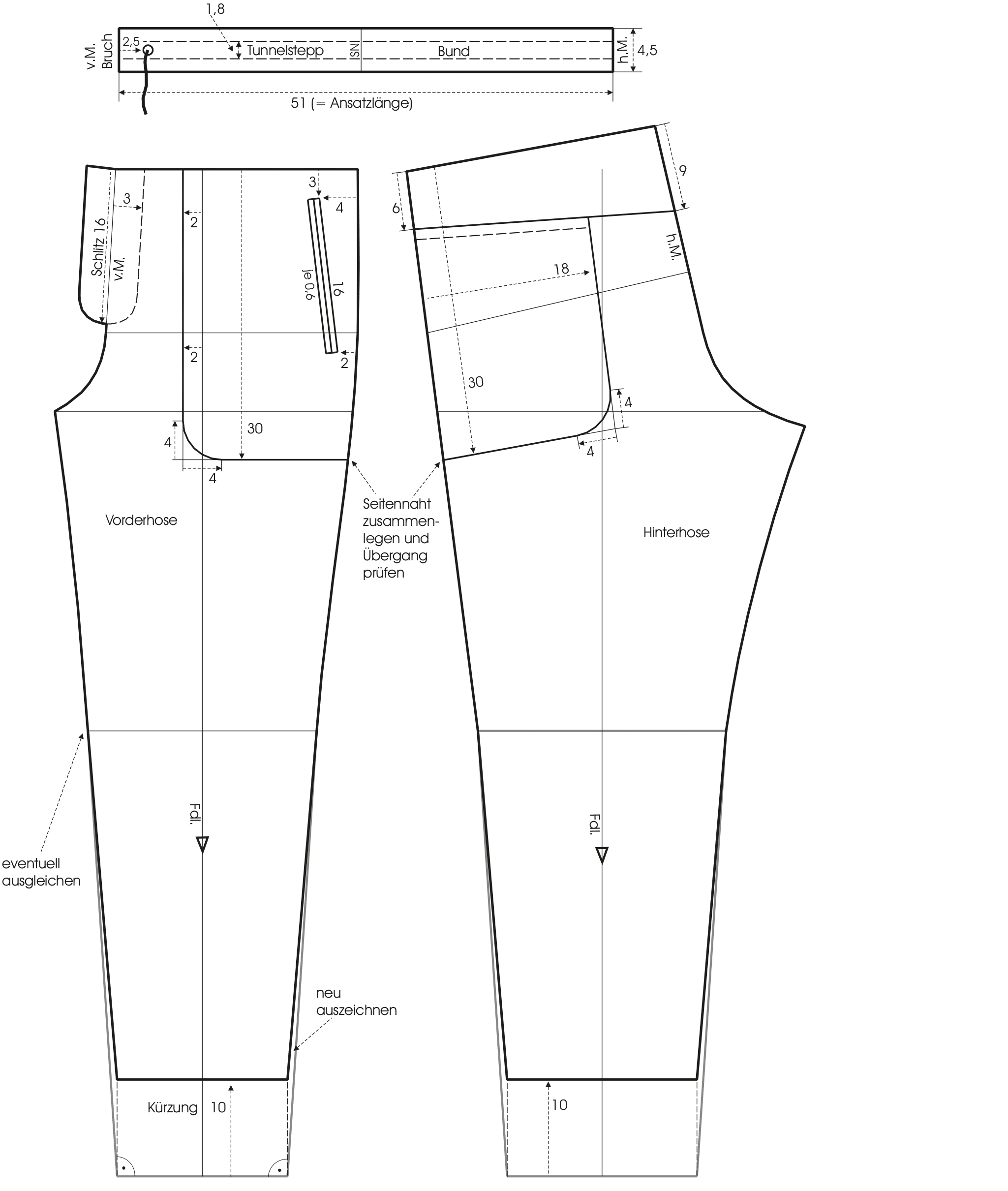 Shorten the length around 10 cm. Keep the same hem width and draw the new side seam and inseam from the hem to the knee line. Blend the seam transition at the knee. Mark the front fly 16 cm long. Mark the stitching line for the front fly. Add the underlap and the fly facing as shown in the illustration. The front fly will be sewn shut. Sew the underlap and the fly facing together. Draw the patch pockets on the front and back pattern as well as the back yoke as shown in the illustration. Mark the  double welt pocket entry on the front patch pocket. Draw the welts 6 mm wide.
Mark the pocket entry of the back pocket at the yoke line. Mark the grainline along the creaseline. It is important to use a fabric with sufficient stretch to be able to pull on the pants with the draw string waistband (stretch at the waist should be more than the hip girth). Draw the 4.5-cm wide waistband 51 cm long according to the waistline seam length. The waistband is finished with 4-cm wide elastic in addition to the drawstring. Mark the eyelets and topstitching for the drawstring.
Chino Pants with Inseam Panel
Design 3055 – Template: Basic Casual Trouser Block in Size 50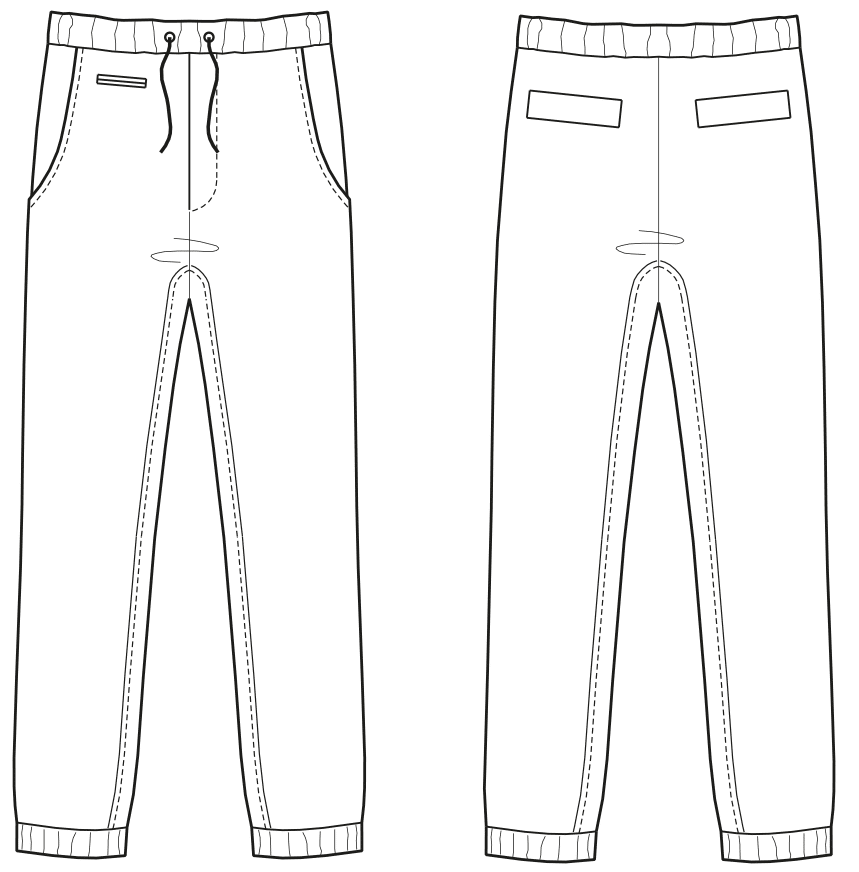 • Drawstring waistband
• Faux front fly
• Low crotch
• Inseam panel
• Front pockets with curved pocket entry
• Welt pockets on back pants
• Double-welt coin pocket on front pants
• Hem cuff with elastic
Pants with Asymmetrical Front
Design 3056 – Template: Basic Casual Trouser Block in Size 50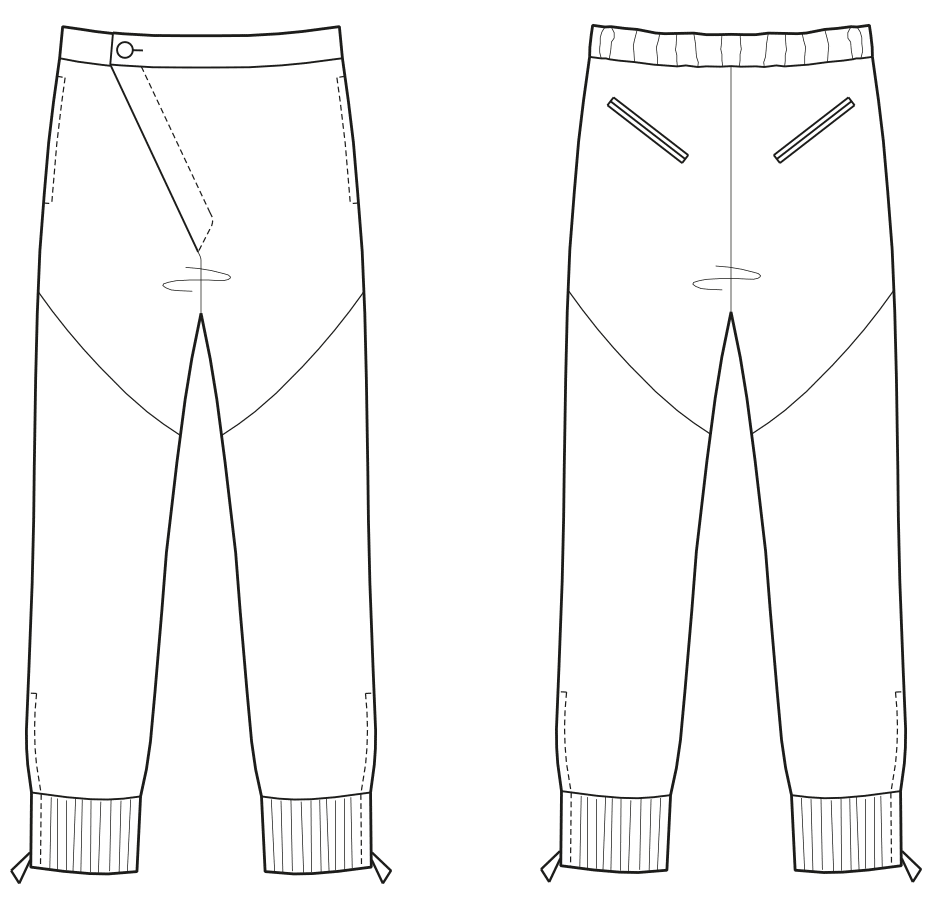 • Elastic at the back waistband
• Regular waistband at the front
• Slanted front fly
• Low crotch
• Slanted style seams
• Front sideseam pockets
• Double-welt pockets on back pants
• Rib cuff at hem
• Sideseam zipper
Jogger with wide Rib Cuffs
Design 3057 – Template: Basic Casual Trouser Block in Size 50
breiter Strickbund mit Tunnelzug
vertiefter Schritt
Hinterhose mit Passe
Gerundete Schubtaschen vorne
aufgesetzte Taschen hinten
Knieteilung mit ergonomischer Form
breiter Saumbund aus Strick
Classic Chino
Design 3058 – Template: Basic Casual Trouser Block in Size 50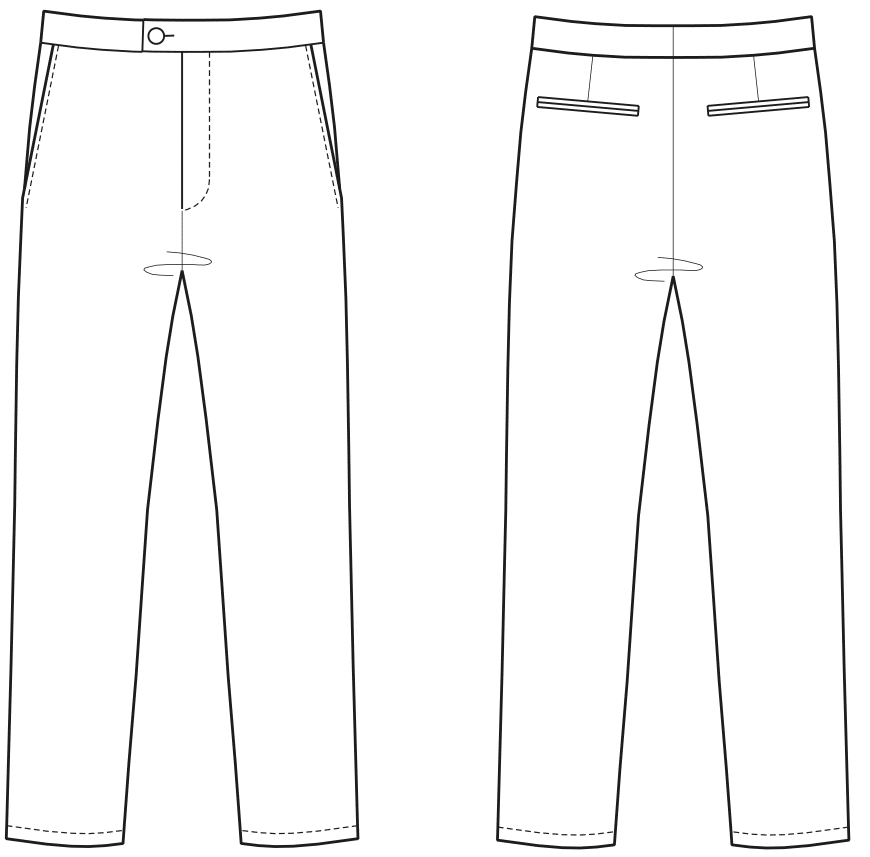 • Regular waistband with extension
• Back dart
• Slanted front pockets
• Double-welt pockets on back
• Regular length
PDF Download: Patternmaking Techniques Jeans-Basics for Men
instructions for the pattern construction
TOC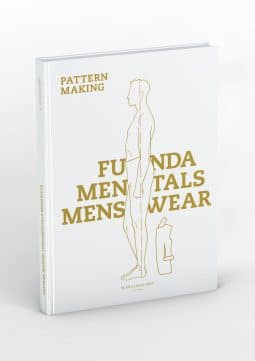 Download Book Men Fundamentals Menswear
Download: Fundamentals Menswear
You may also be interested in