Metric Patternmaking for Dresses and Blouses
Metric Patternmaking for Dresses and Blouses
Constructing a Dress with Inverted Pleat
Template: Basic Dress Pattern in Size 40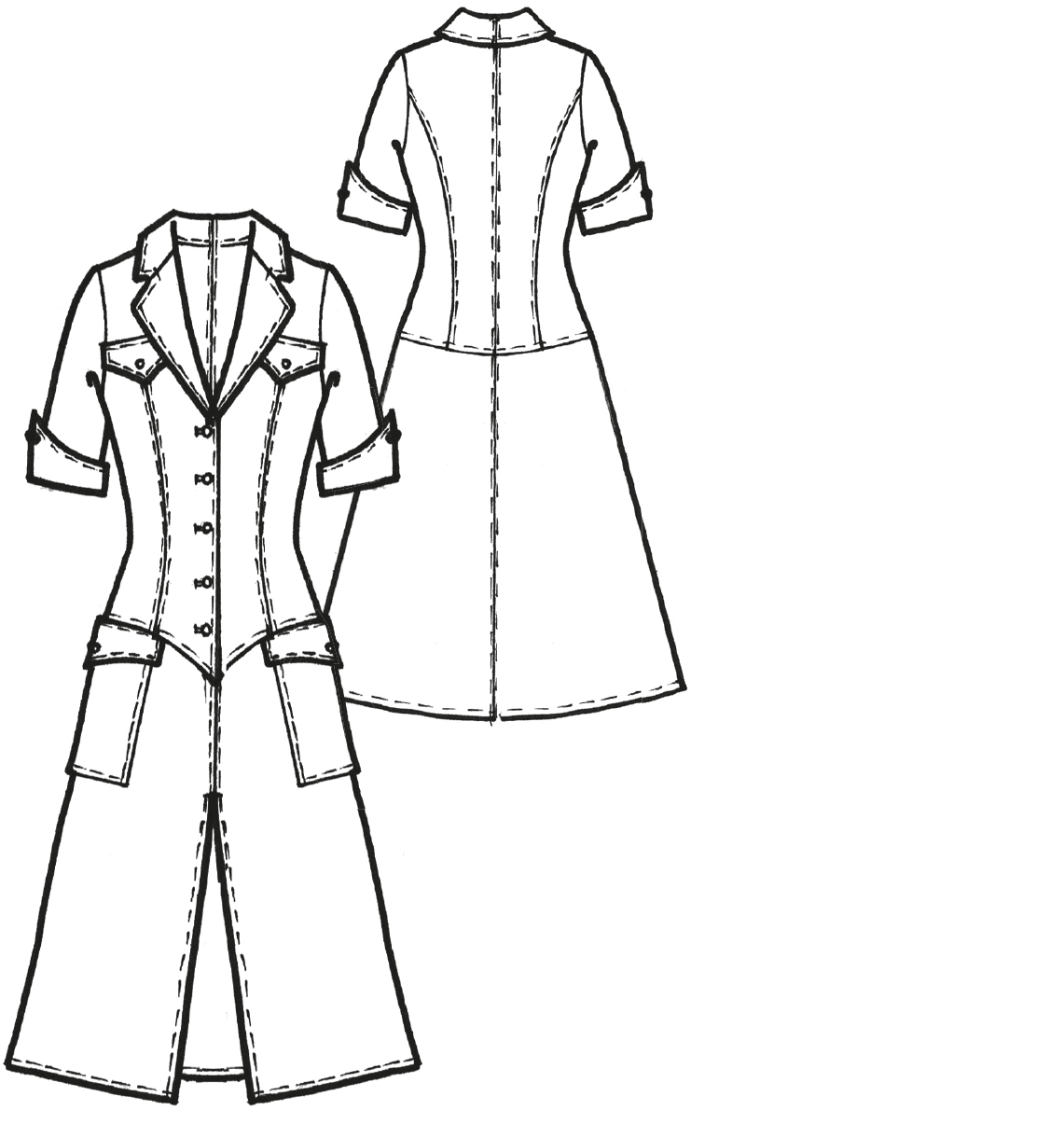 Front and Back Pattern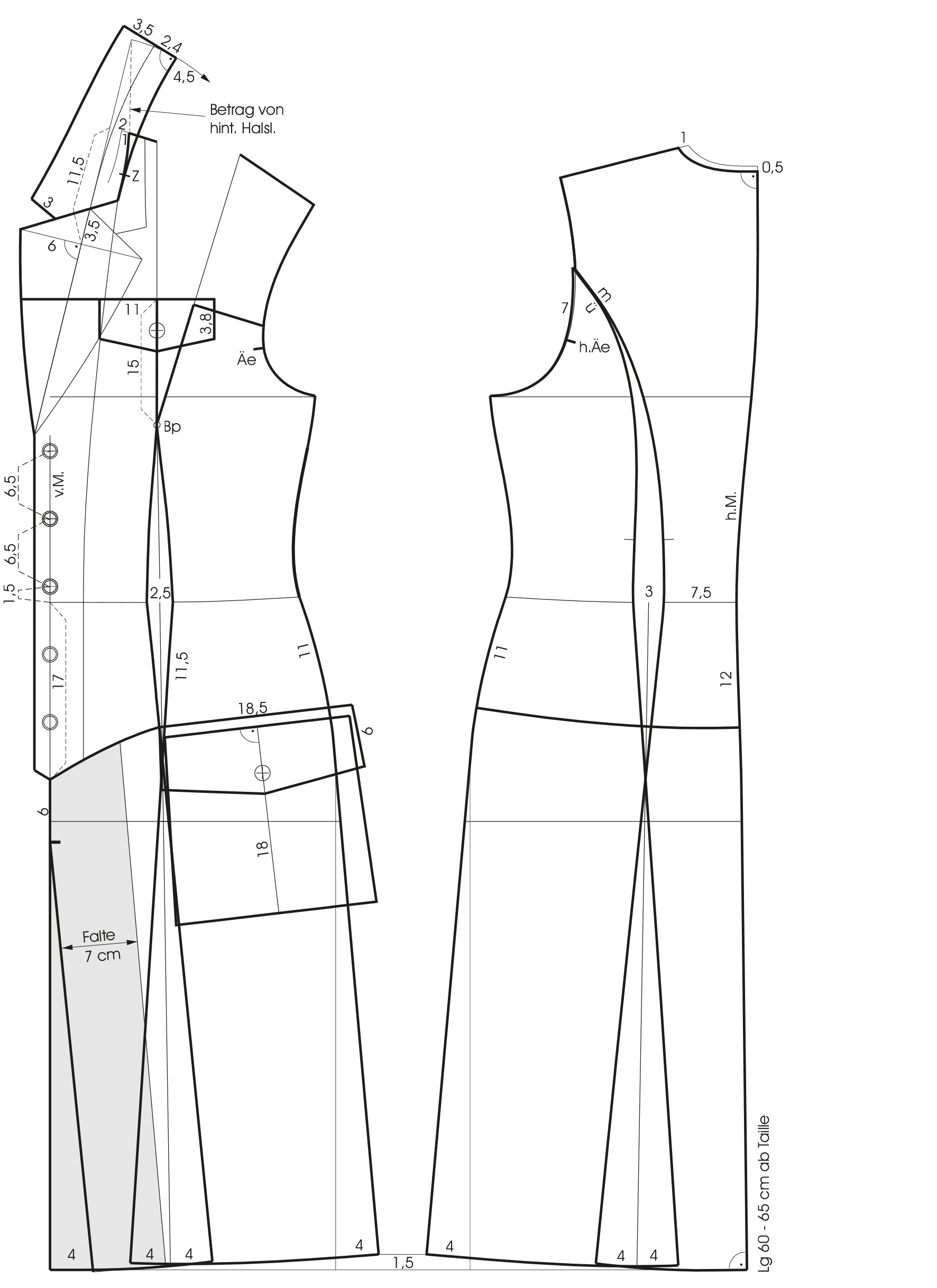 Mark the finished length at the centre back with 60 cm to 65 cm. Draw the back waist dart as shown in the illustration. Transfer the front waist dart from the basic pattern. Lengthen the dart middle lines to the hem and extend the hem 4 cm to the left and right. Extend the hem 4 cm at the sideseam. Raise the hem 1.5 cm at the sideseam and draw the new hemline. Mark the hip yoke 11 cm below the waist at the sideseam and draw the pointed hip yoke as shown. Add 1.5 cm parallel to the front for the buttonstand and mark the button positions. Lower the neckline 0.5 cm at the centre back and 1 cm at the shoulder. Mark the beginning of the lapel break at the front as shown in the illustration. Draw the lapel break 2 cm away from the lowered shoulder point. Measure the lowered back neckline. Extend the lapel break upwards and transfer the back neckline length from the neck point to the extended lapel break. Draw a circular arc with pivot point Z over the extended lapel break.
Mark pivot point Z around 3 cm to 4 cm below the shoulder. Measure 4.5 cm for the collar roll along the circular arc to the right. Draw the collar seam to the neckline and draw the collar back perpendicular to the collar seam. Complete the collar shape and the lapel as shown. Mark the front yoke 15 cm above the bust point. Draw the front and back panel seam according to the illustration. Equalize the seam lengths. Draw the patch pocket and the pocket flaps as shown. Mark the begin of the inverted pleat 6 cm below the hip yoke. Draw the pleat backing 7 cm wide and mark the opening at the hem 4 cm wide to each side.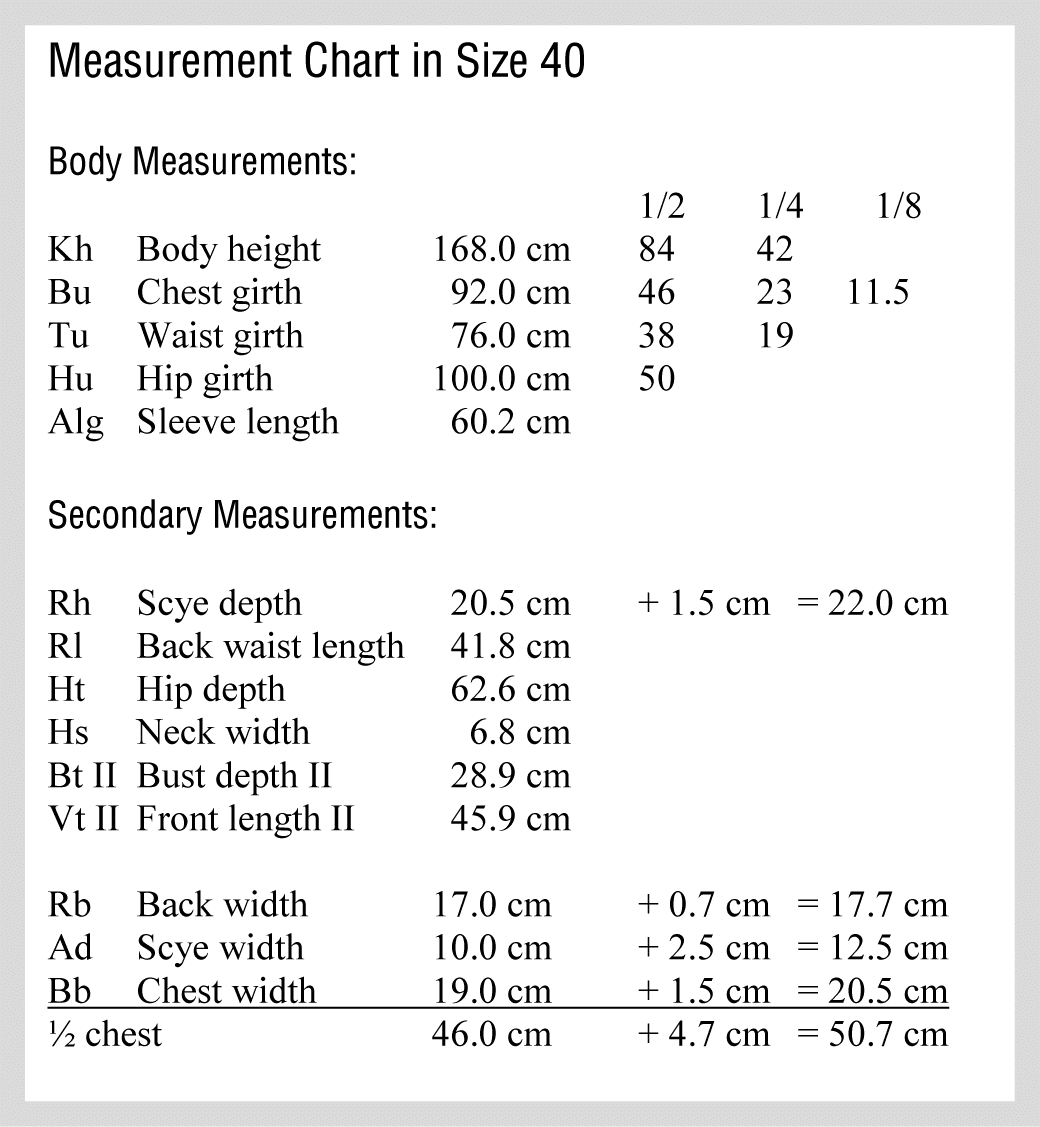 Sleeve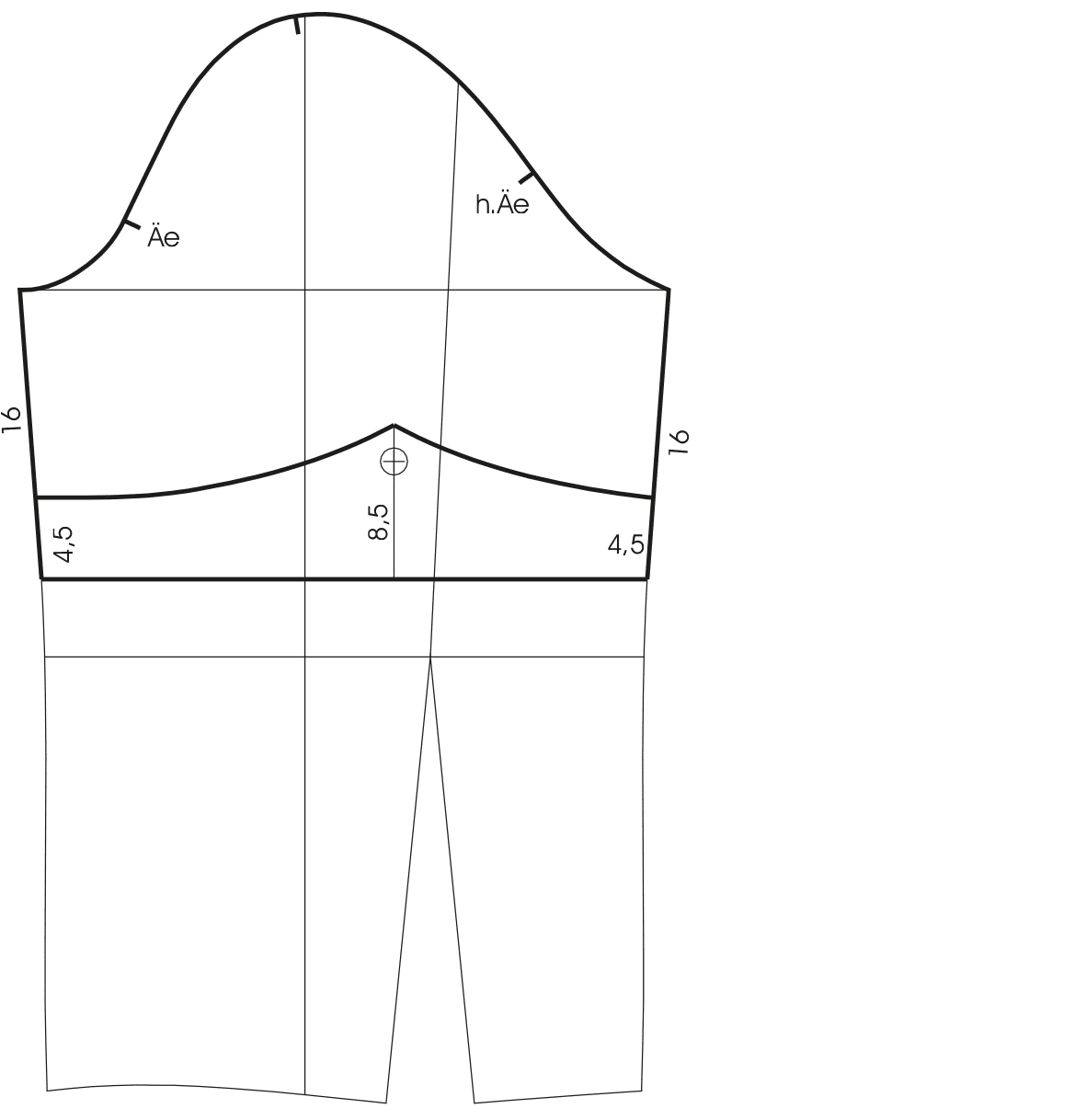 Copy a matching one-piece sleeve in size 40. Mark the sleeve 16 cm long at the sleeve seams. Draw the sleeve cuff as shown.
Finished Pattern Pieces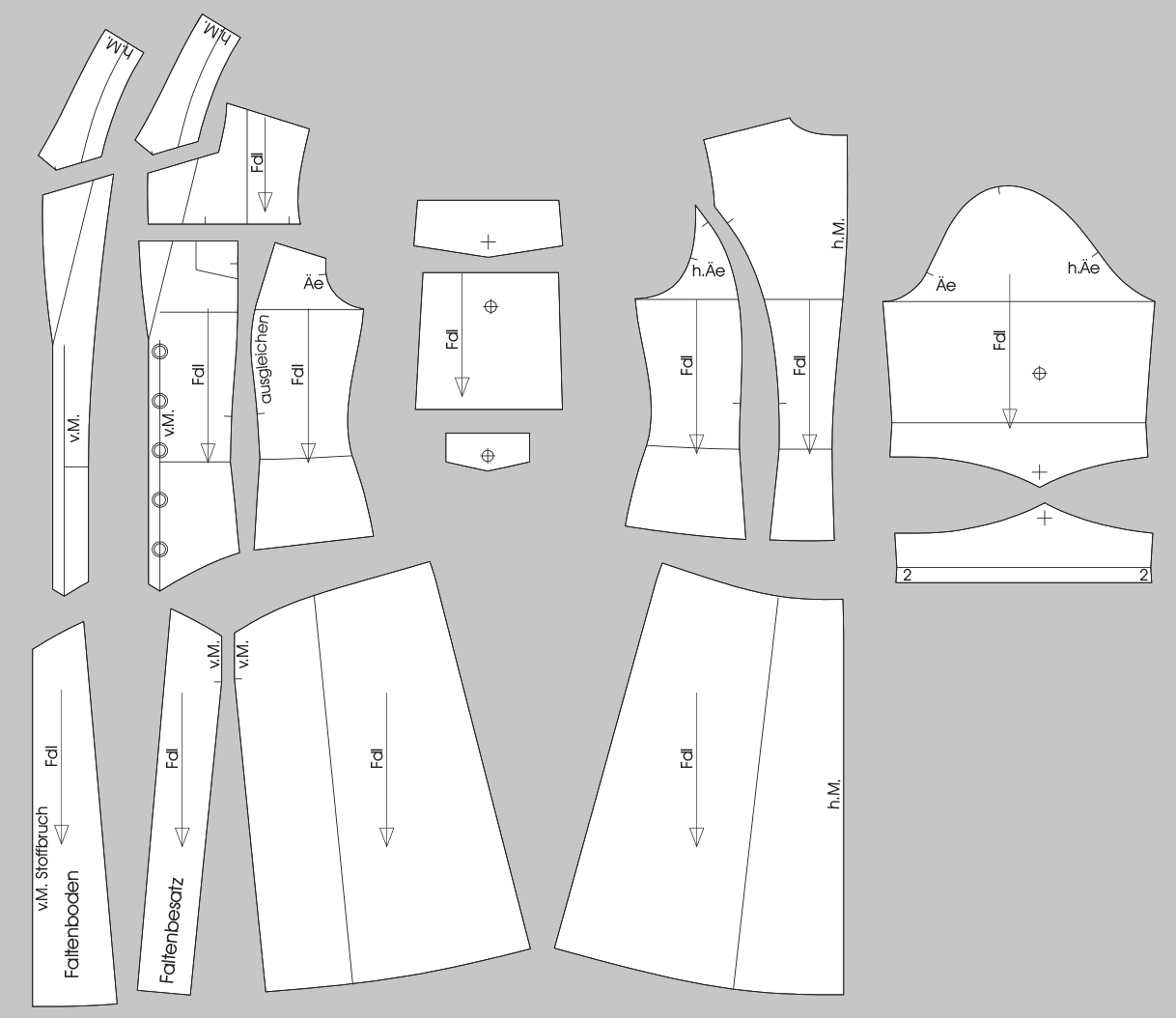 Copy all pattern pieces. Trace a copy of the collar and the front facing. Copy the pleat backing. Trace a copy of the sleeve cuff and mirror the cuff. Close the darts on the front and back skirt. Place the skirt pieces together at the hem. Close the bust dart on the yoke pattern. Blend the seamlines. Mark the grainline.
Download Oktoberfest Dirndl
Oktoberfest Drindl is a download-product
You may also be interested in