Pattern Construction for Shirts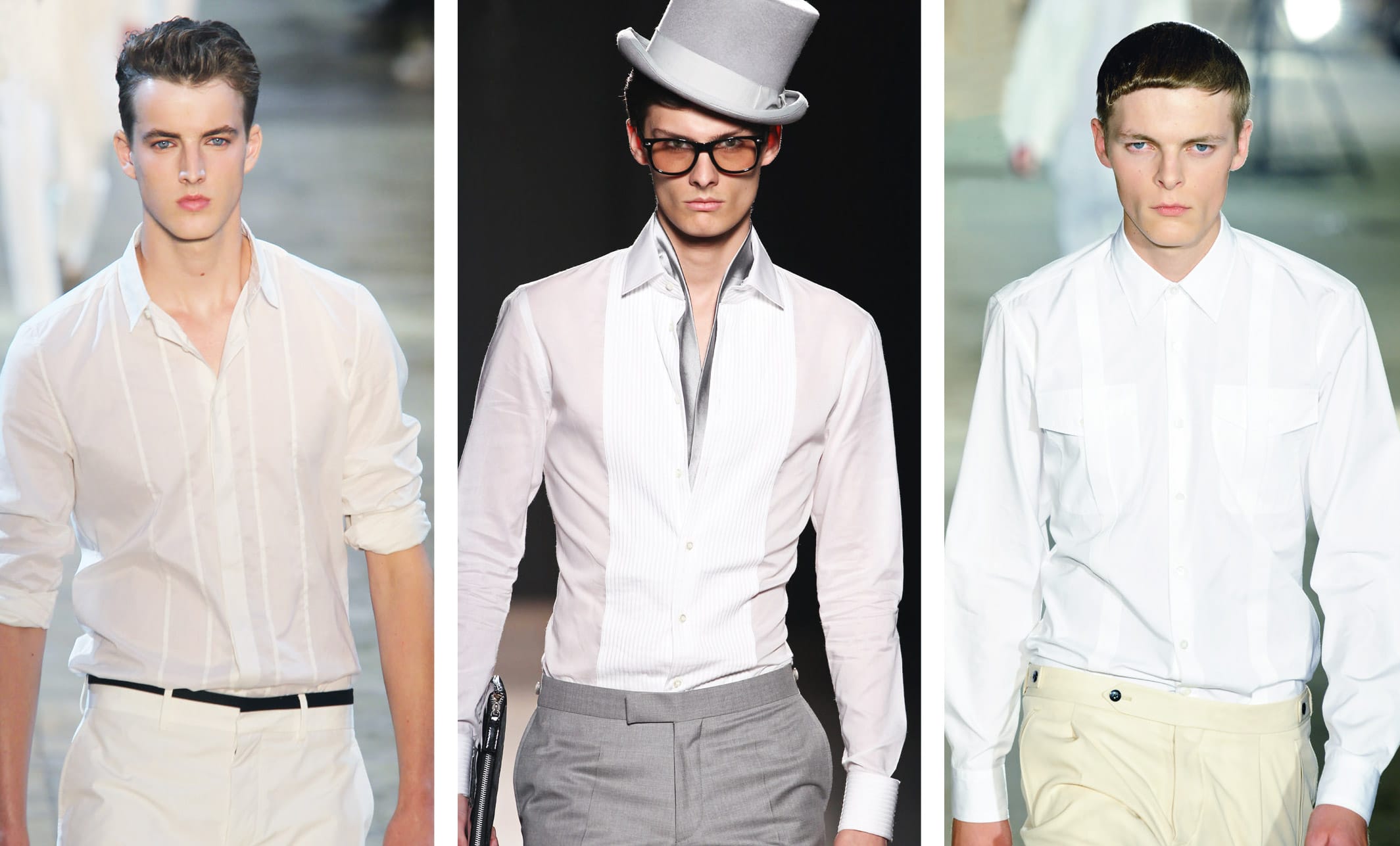 (Photo Credit: Catwalkpics)
This article shows one of the four shirts variations from our journal Rundschau for men 6-7.2015. Also the edition includes two Basic pattern blocks.
Basic Loose-Fitting Shirt Block
Basic Shirt Block for the Athletic Figure
Loose-Fitting Raglan Shirt – Design 6037
Template: Loose-Fitting Shirt Block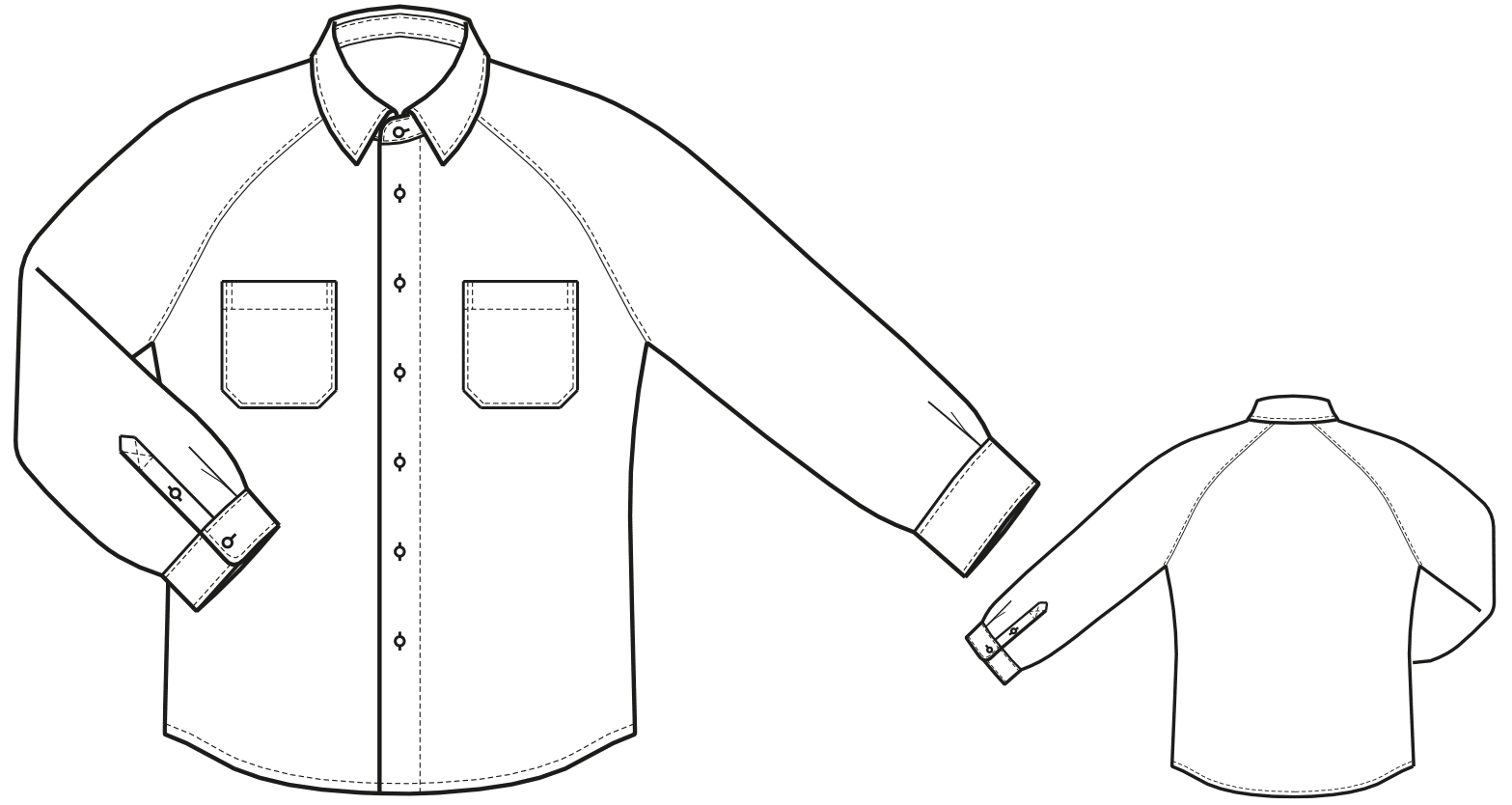 • topstitched Front Placket
• curved Hem
• chest Pockets with Slanted Corners
• cuffed Sleeve
• shirt Collar with Collar Stand
Front and Back Pattern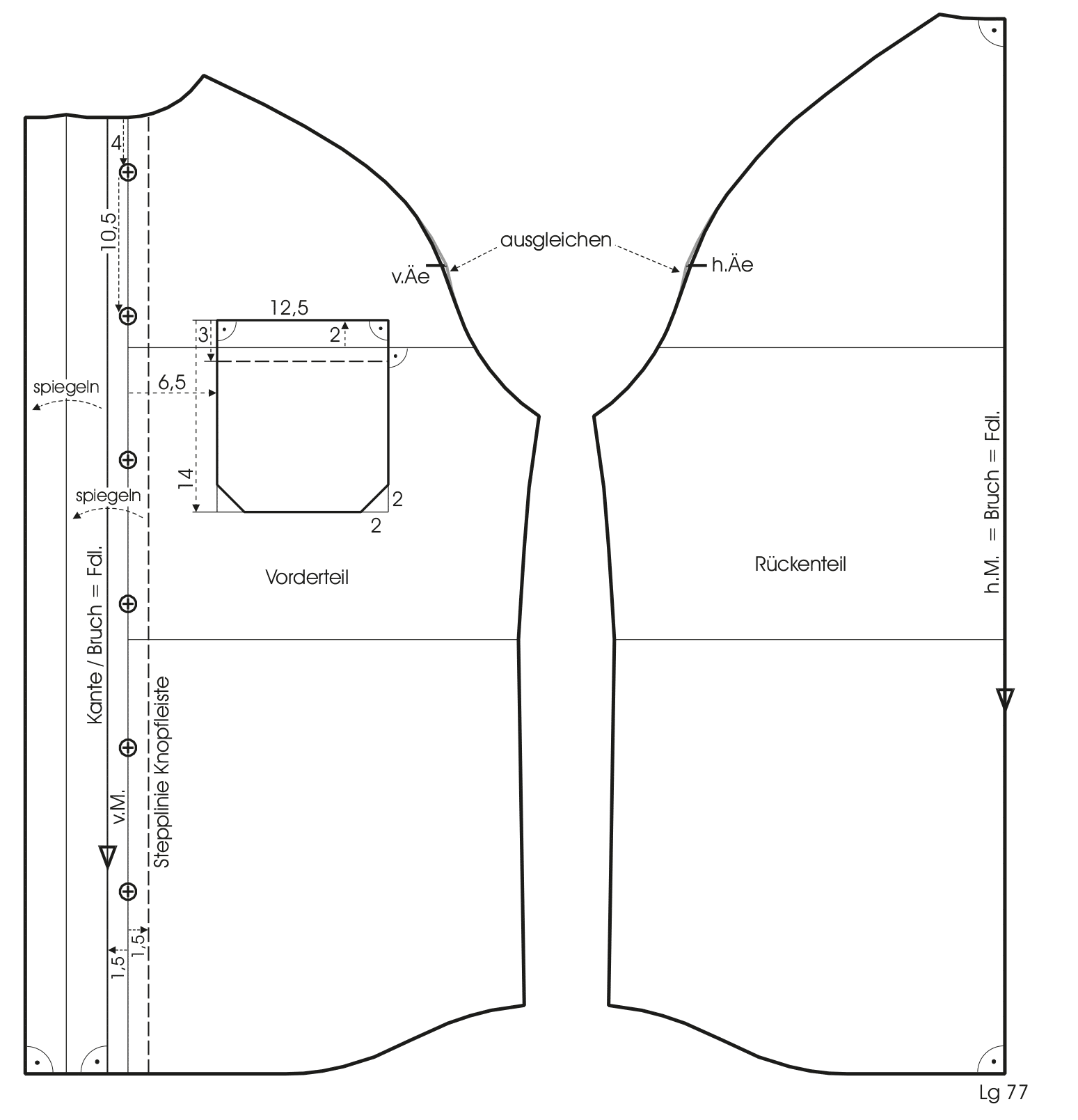 On the front and back pattern, blend the transition of the Raglan seam and the armhole at the armhole notch. Add 1.5 cm overlap parallel to the centre front for the 3-cm wide buttonstand. Mark the stitching line 1.5 cm away from the centre front on the front pattern. Mirror the buttonstand and the neckline shape twice over the front edge.
Press the buttonstand to the wrong side and topstitch the buttonstand. Mark the upper button position 4 cm below the neck line and mark the remaining buttons 10.5 cm apart. Plot the patch pocket as shown in the illustration. Mark the grainline parallel to the front edge and along the centre back.
Sleeve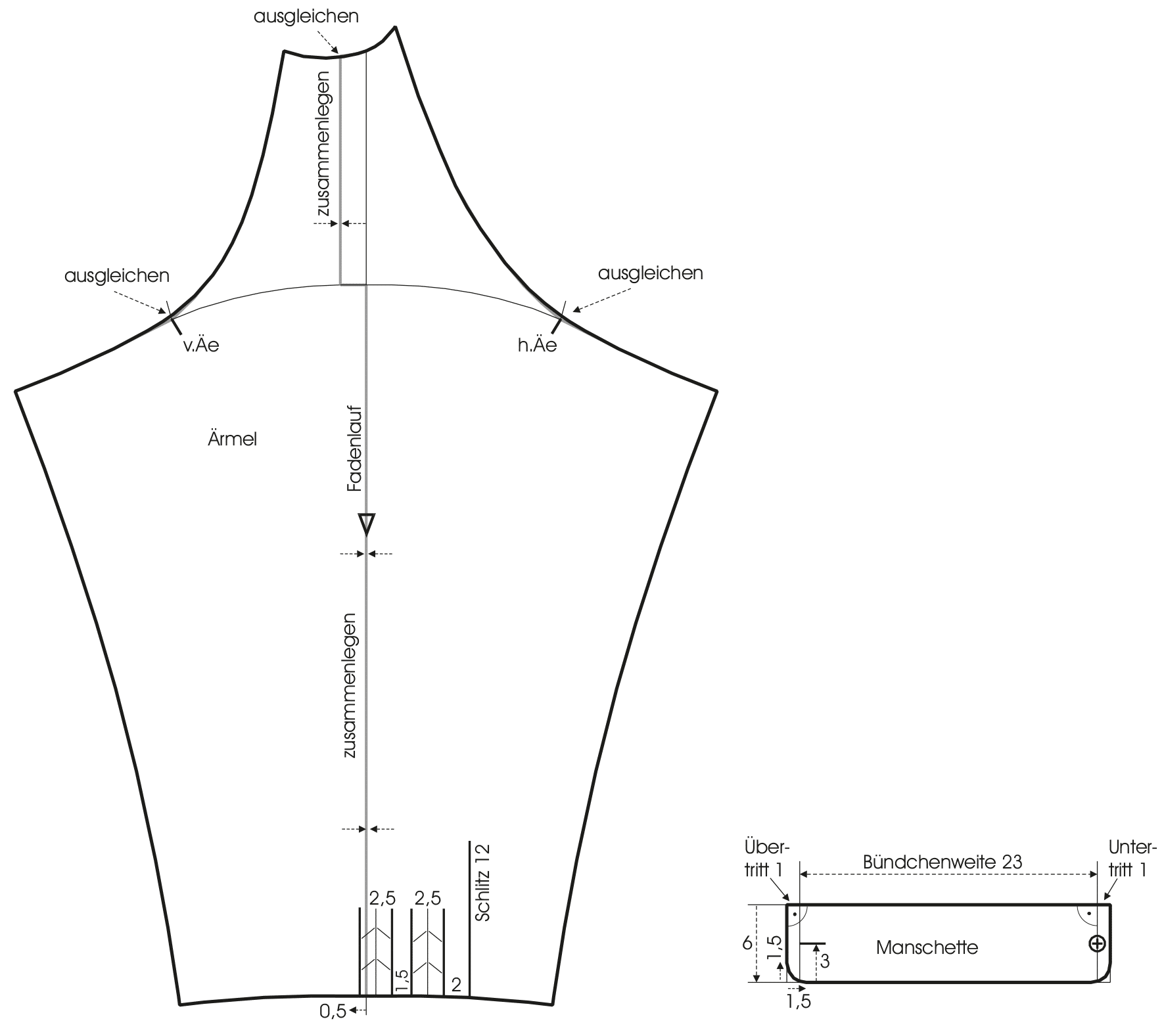 Join the copied sleeve pieces together at the sleeve fold. Blend the seam transition at the neckline. Blend the Raglan seams at the armhole notches. The basic sleeve pattern is already shortened for the sleeve cuff. Mark two pleats with 2.5 cm intake. Mark the slit 12 cm long. Mark the grainline along the centre line. Plot the cuff 6 cm wide with the measured cuff length and add the overlap and underlap as shown in the illustration.
Collar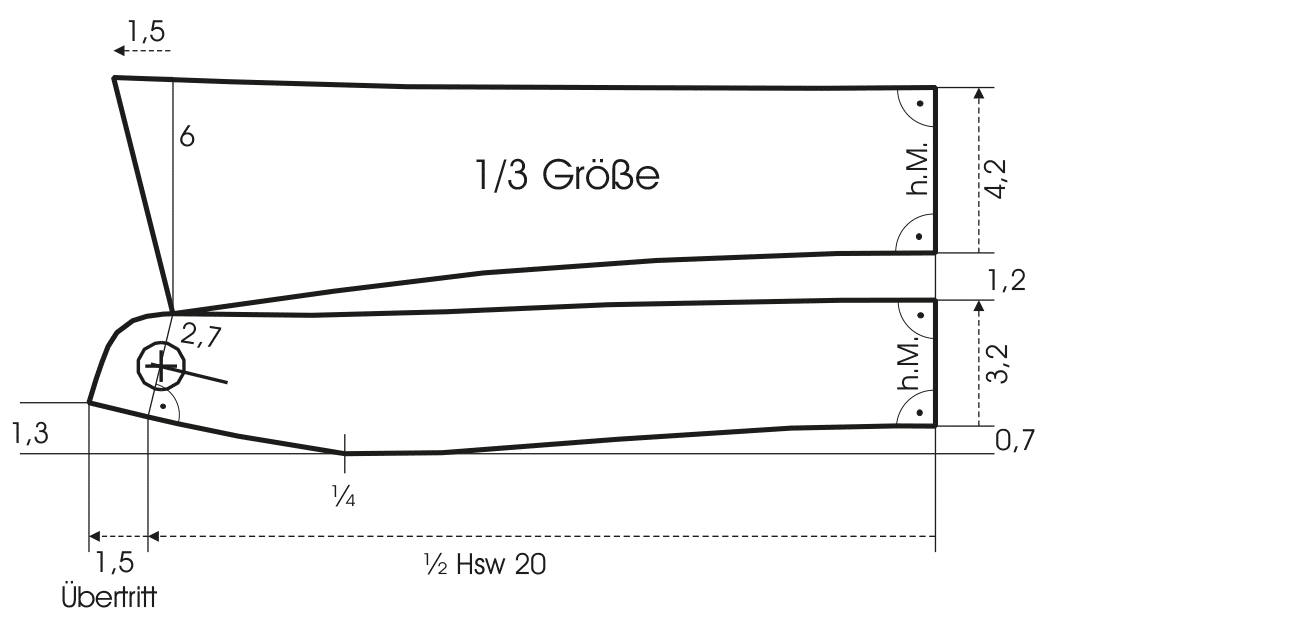 On a horizontal baseline measure ½ of the neckline length and square up at the centre front and back. At the centre back measure first 0.7 cm for the shape of the stand and then 3.2 cm for the collar stand upward. Then measure 1.2 cm for the roundness of the collar and 4.2 cm for the collar width. Draw short perpendicular lines to the left from all points. Add 1.5 cm overlap at the centre front for the buttonstand. Square up 1.3 cm for the collar stand.
Draw the collar line over the ¼-point of the baseline as shown in the illustration. Square up for the centre front of the collar stand and draw the collar stand 2.7 cm wide. Measure the collar width from the centre front upward and square out 1.5 cm to the left. Plot the collar shape according to the illustration. Mark the position for the buttonhole. Measure and compare the collar line and the neckline. Adjust the collar length at the centre back if necessary.
Slim-Fit Raglan Shirt – Design 6038
Template: Slim-Fitting Shirt Block, Size 50 (Neck size 40)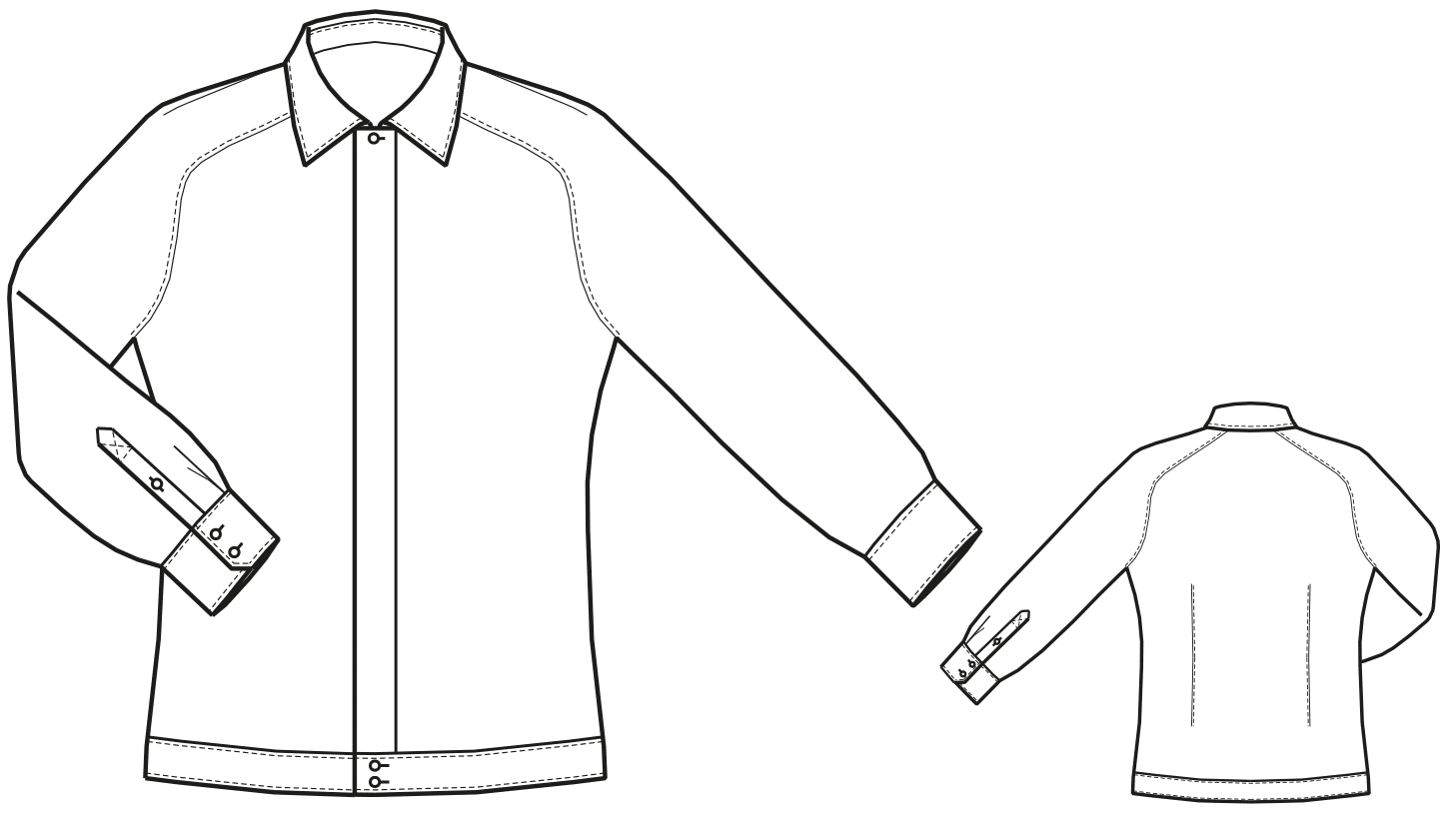 • concealed Front Placket
• attached Waistband
• back Waist Darts
• sleeve with wide Cuff
• shoulder Dart
• convertible Collar with Collar Stand
Shirt for the Athletic Figure – Design 6035
Template: Basic Shirt Block for the Athletic Figure Size 50
• pleated Front Placket
• curved Hem
• chest Patch Pocket
• cuffed Sleeve
• shirt Collar with Collar Stand
• front and Back Waist Darts
Shirt with Style Seams – Design 6039
Template: Slim-Fitting Shirt Block, Size 50 (Neck size 40)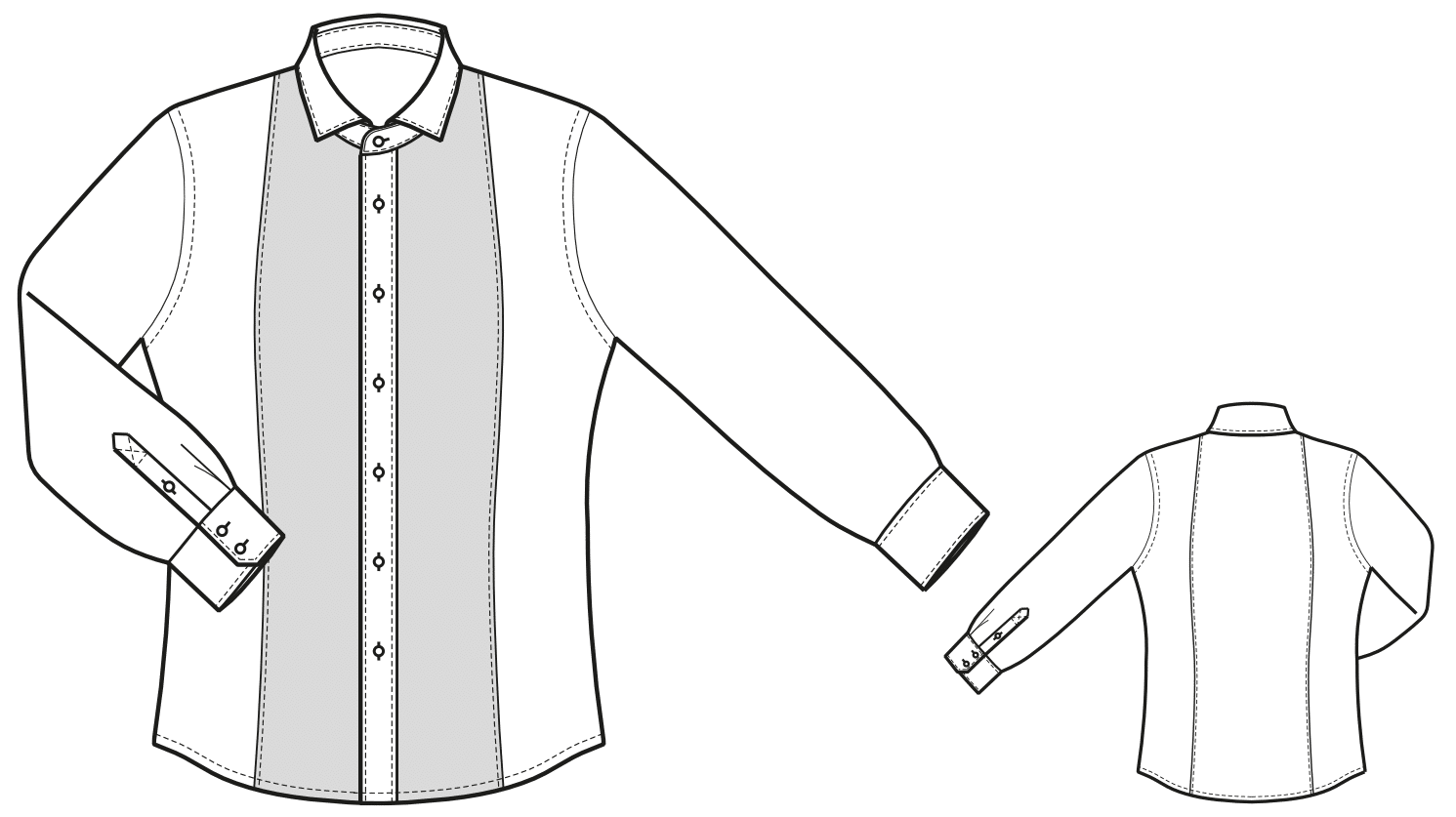 • Pleated Front Placket
• Front and Back Style Seams
• Double-Layered Front Panel
• Sleeve with wide Cuff
• Spread Collar
Other articles for this subject