Sewing a Onesie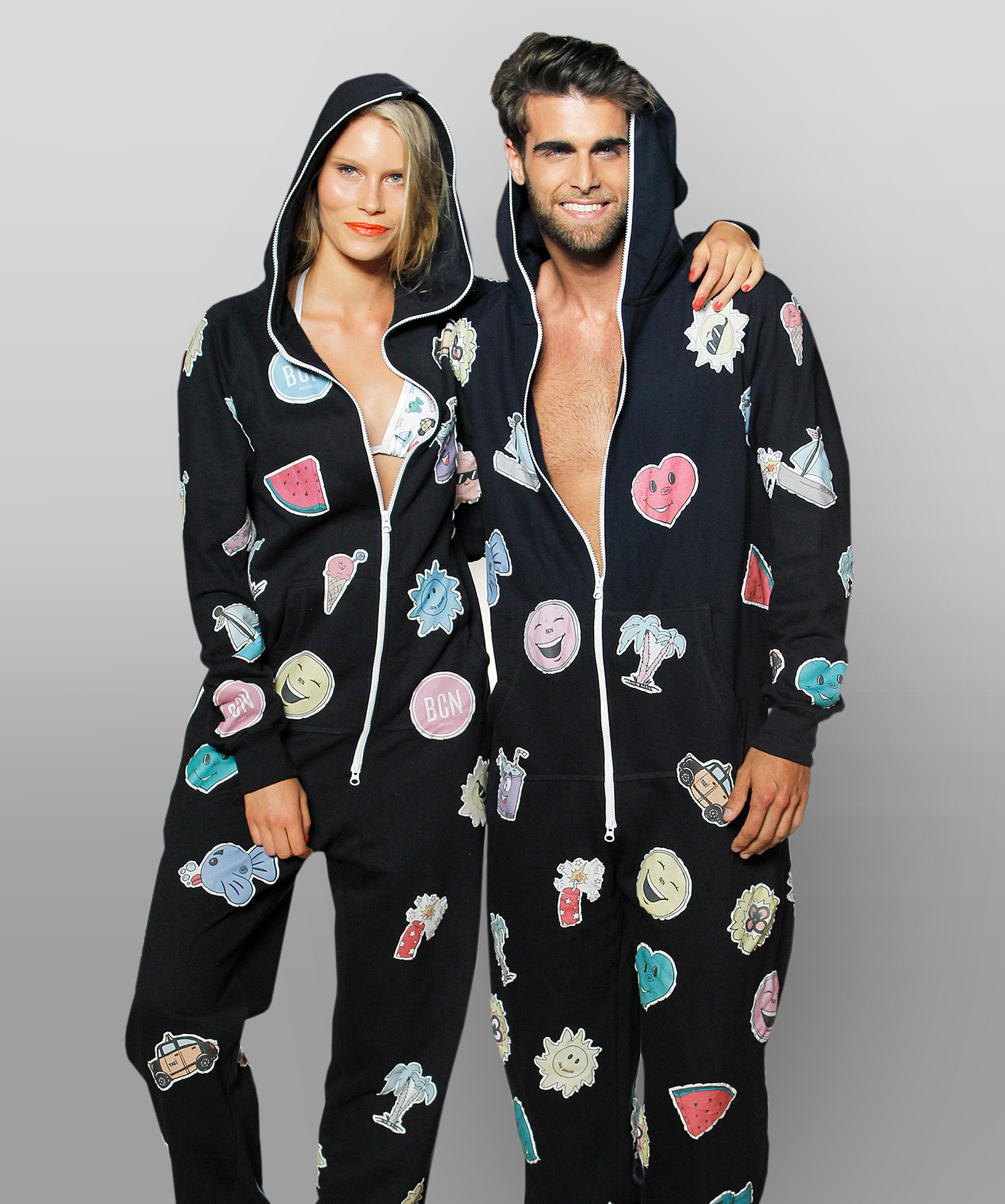 The ONESIE is a comfortable overall, often made of sweat fabric, fleece or plush. The idea of this unisex overalls originates from the Norwegian clothing company One Piece. The Onesie was first marketed as pajamas for adults, but advanced by celebrities such as Ellie Goulding, Cara Delevingne or Katy Perry to a funny fashion hype. Onesies (playsuits) in animal design are particularly popular for children's clothing.
Onesie (Jumpsuit/Overall)
This pattern is shown in the Womenswear Size. 40, but can be transferred to any other size. You can find a basic pattern block with a measurement table and a pattern sheet (in baby sizes 50 – 80, children's sizes 86-98-110-122-134-146 and women's sizes S, M, L) in Damen-Rundschau 9/2015 (to be ordered via our customer service: kundenservice@ebnermedia.de ).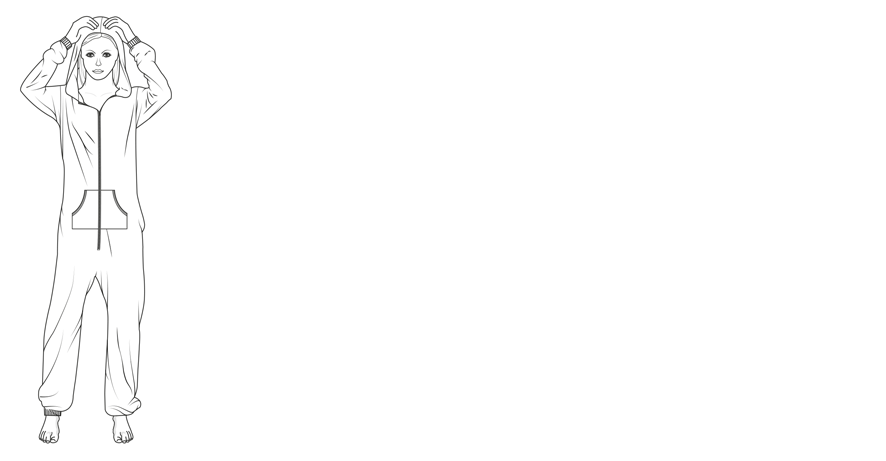 Front and Back Pattern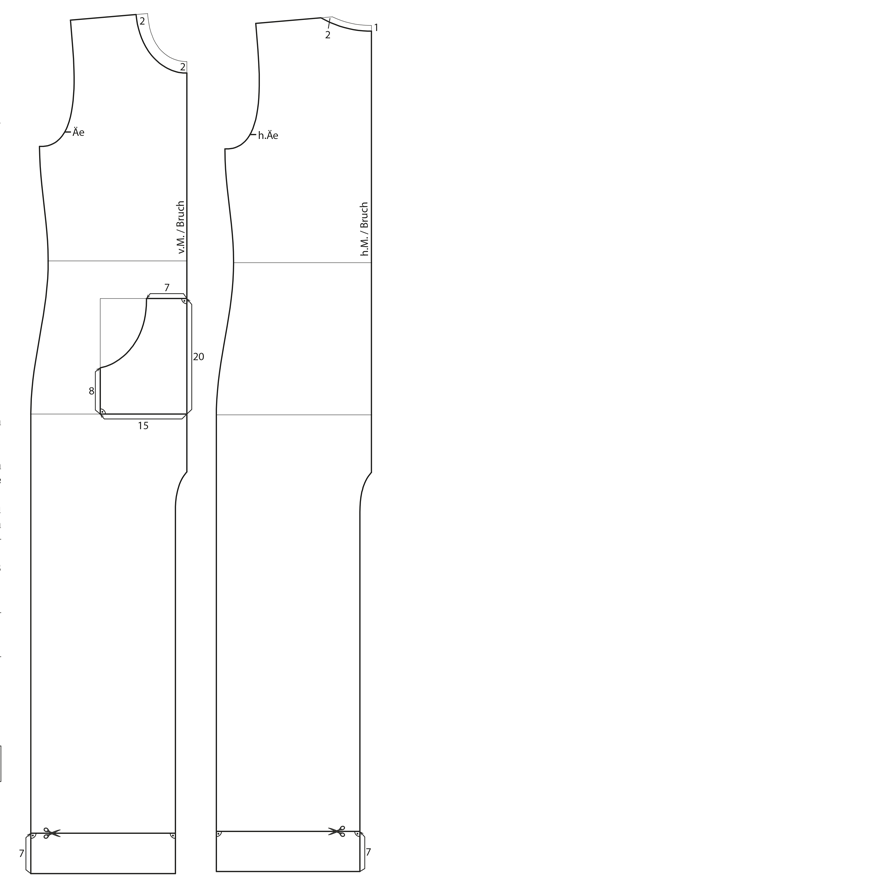 Lower the neck line 2 cm at the shoulder and at the centre front. Lower the neck line 1 cm at the centre back.

Shorten the hem around the cuff width of 7 cm.

Draw the rib cuff pattern according to the ankle girth plus 5 cm ease.

Plot the Kangaroo pocket according to the illustration.
Hood and Sleeve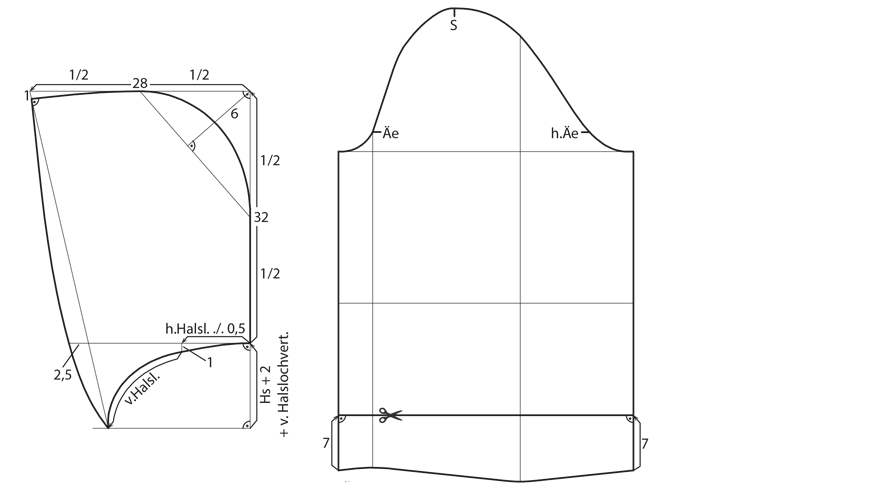 On a vertical baseline, measure the neck width plus 2 cm and the amount that the front neck line is lowered upwards. From this point, measure the hood height 32 cm upwards.
Square out to the left from all points.
Draw the upper line 28 cm long.
Measure the length of the back neck line minus 0.5 cm along the neck width line and square down 1 cm.
Transfer the front neck line shape to the hood pattern from this point to the horizontal baseline using the front pattern as a drawing template.
Draw a guideline for the front edge and shape the front edge of the hood as shown in the illustration.
Mark the halfway points of the hood height and hood width and draw a diagonal guideline.
Draw a guideline perpendicular to the diagonal and draw the hood shape as shown in the illustration.
Den Ärmel 7 cm kürzen, entspricht der Höhe des fertigen Bündchens.
Die Länge des Bündchens mit Handgelenkumfang Hgu + 5 cm Zugabe festlegen.
Shorten the sleeve around the cuff width of 7 cm.
Draw the rib cuff pattern according to the wrist girth plus 5 cm ease.
Finished Pattern Pieces
Copy all pattern pieces and mark the grain lines.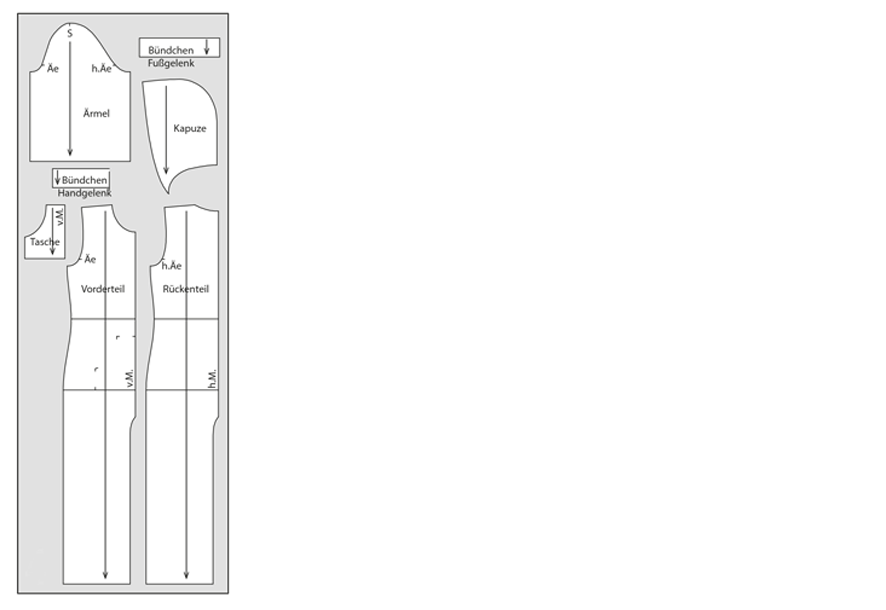 Two overalls in sizes 36 - 46.
TOC
Further instructions for pattern construction and patterns for sewing overalls and jumpsuits can be found in our online shop.