Facts on Women's Golf Wear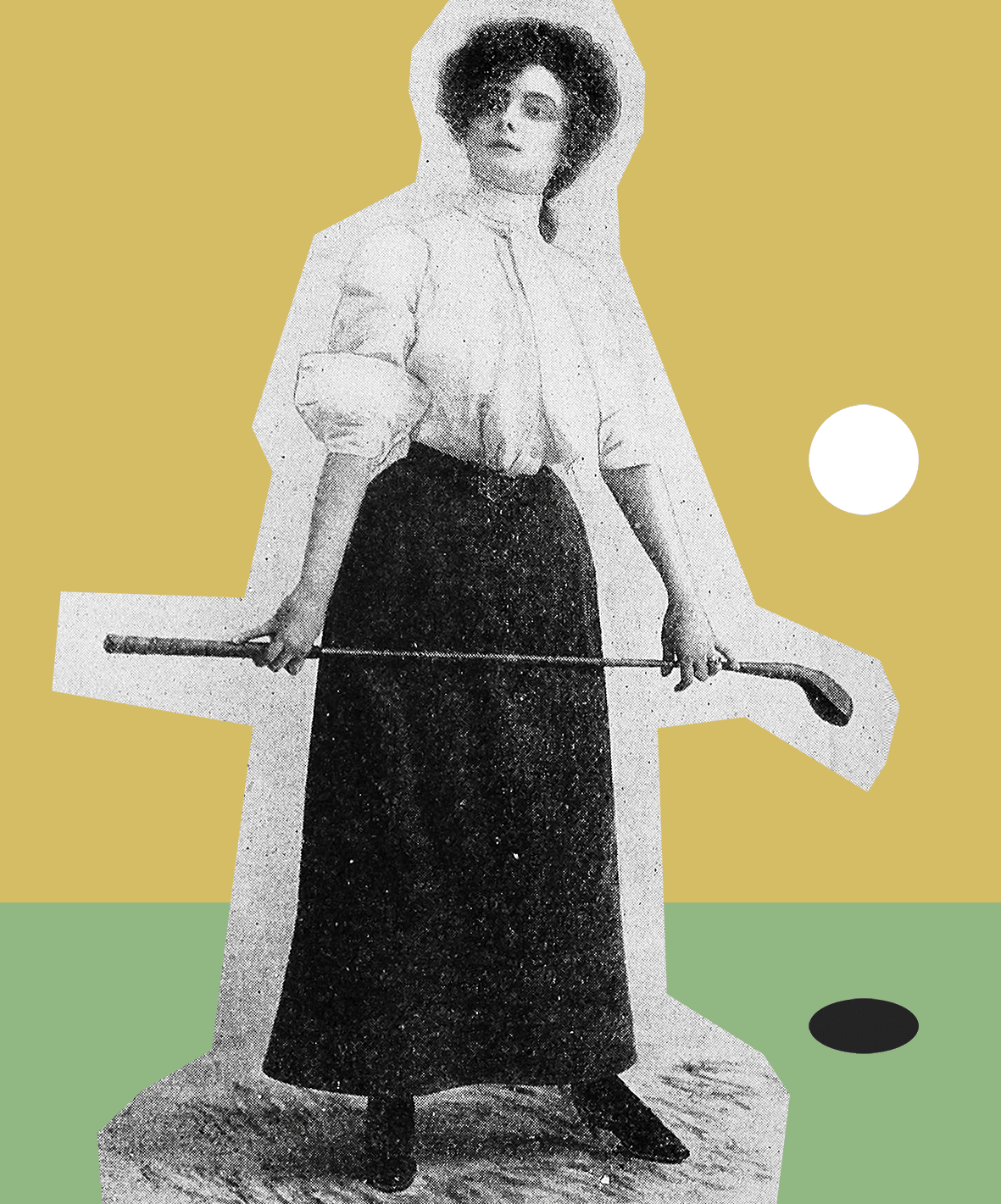 Golf is considered one of the oldest sports. The modern form of the game is believed to have been developed in the 15th century. Rumour has it that the Scottish term »golf« would stand for »Gentlemen Only, Ladies Forbidden«. However, Katherine of Aragon, first wife of Henry VIII, swung the golf club, as did Mary, Queen of Scots. According to a more likely explanation the word »golf« is derived from the golf club, which is a stick or shaft with a thick end.
PDF Download: Pattern Making Golf Clothing
Instructions for the pattern construction of golf clothing for women
TOC
What was fine for the ladies of high nobility has long been taboo for women of the bourgeoisie: golf was a male domain, golf clubs were a man's world. This gradually changed towards the end of the 19th century when non-aristocratic female golfers founded the first women's golf club, the »Ladies Golf Club of St. Andrews« in 1867. However, it wasn't until 2014 that women were able to become members of the founding father of all golf clubs, the timehonoured »Royal and Ancient Golf Club« of St. Andrews. They were allowed to tee off on the Old Course but not to enter the clubhouse. Women's golf has become increasingly popular: In 2017, 34 percent of all golfers in Germany were female.
If you want to cut a good figure on the golf course it is necessary to observe some important rules of dress code. Those were created for traditional or practical reasons. While many modern clubs have loosened their dress code, the following points must be observed in any case:
Trousers
Blue jeans of any kind are generally not allowed. However, modern facilities now tolerate denim models as long as they are not tight-fitting, deep-fitting or torn. Ideally, the trousers should be comfortable cloth trousers, either knee-length or ankle-length. Professional golfers are only allowed to wear long trousers during a tournament, while in their free time, shorts or skirts are also allowed. The sports skirt must not be too tight or flared.
Shirts
The shirt must always be tucked into the waistband of the trousers or skirt. It may be sleeveless for the ladies. All shirts and tees worn on the golf course must have a collar. Allegedly this rule is based on the assumption that collar shirts offer better protection against wind and sun. This makes the polo shirt by far the most popular piece of clothing on the golf course.
Footwear
The special spikes on the golf shoes provide a better grip when teeing off. Those who do not own golf shoes with plastic studs may in most cases choose comfortable sneakers with flat soles. It is important that the shoe profile is gentle on the turf and does not leave any marks.
Headwear
A cap is worn to protect against wind and sun, but never with the shield facing backwards as this is not in accordance with traditional etiquette. Good manners also include taking the cap off in a clubhouse.
Functionality
Since a game can often drag on for several hours and different weather situations, the functionality of the clothing is particularly important. Wearing comfort plays a major role. For this purpose, functional textiles should be used to ensure elasticity and regulation of body temperature.
Colours
Although golf wear used to be limited to colours such as grey, beige or white, you will nowadays encounter colourful designs on the course. Daring patterns add a twist to rather conservative and simple designs and cuts. Especially popular at the moment: models in bright, popping colours like Pink.
Pattern Construction of a Sportive Golf Combi
Classic style, elegant design combined with sportive patterns – to this golf outfit for ladies you will find instruction for the pattern construction in the E-Dossier Pattern Making Golf Clothing . Comfort and convenience are very important here – the sleeves of the jacket are cut in shape and have an attached lever arm length. The pants have a pre-shaped cut knee area and shaped back trousers. It's always important to wear the right attire whenever you're out on the golf course. The fabric for both, jacket and trousers should be highly functional, breathable and water-repellent. The trouser fabric should also have a small stretch content. The patterns are body hugging and absolutely fashionable.
This pattern contains four yoga pants in sizes 36-48.
TOC
Further instructions for pattern construction and patterns for sewing sportswear can be found in our online shop.