Cocktail dresses Pattern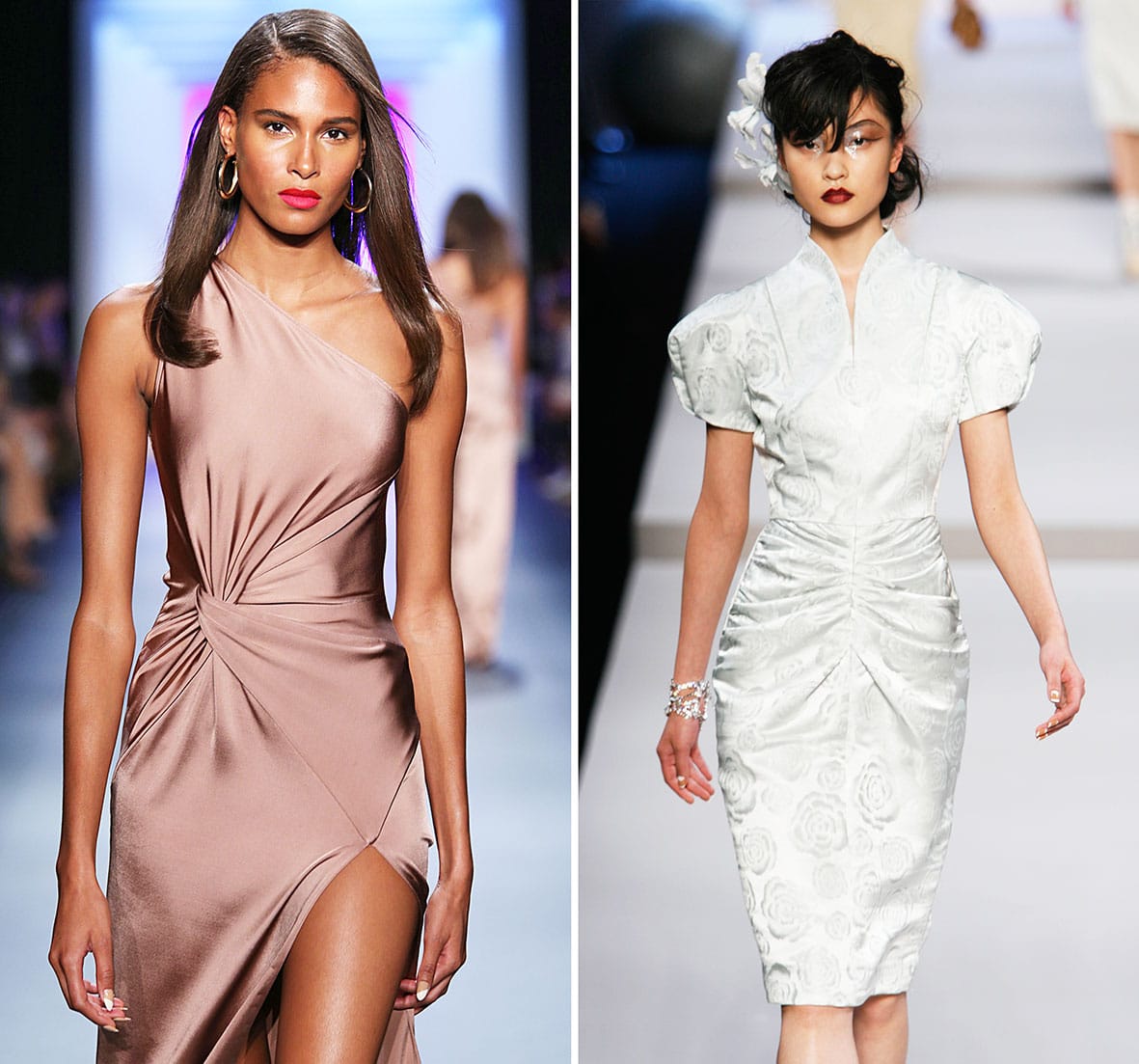 The cocktail dress is an elegant dress for smaller, festive occasions such as casual receptions, dinner or cocktail parties.  It owes its name cocktail dress (robe de cocktail) by Christian Dior. He designed it at the end of the 1940s as an elegant dress to be worn in the early evening, at the so-called cocktail hour.
In contrast to the long evening dress, the cocktail dress reaches up to the calf at most and usually has a more discreet décolleté and a silhouette close to the body. Originally the large evening dress reaches down to the bottom. Meanwhile, you can find shorter "evening dresses" more and more often in the shops. A cocktail dress is less opulent and formal, but more festive than a dress for the day. It usually has a slightly playful, youthful touch. The evening gown, on the other hand, has an elegance that gives the wearer a certain maturity.
The cocktail dress can appear in many different forms: Whether as "The little black one" in form of the classic sheath dress with U- or V-neck, dress with jacket for the lady, as a chic A-line dress, light summer dress made of chiffon or as in the version shown here as off-shoulder dress with great flounces. Noble fabrics like silk, lace, chiffon, velvet or brocade give each cut its character. But also stretchy fabrics like silk jersey or velvet stretch are popular materials to sew your new favourite dress. Trendy patterns, sexy cut-outs or documentary placed rhinestones or sequins give the party dress that certain something.
This pattern sheet "Cocktail dresses" contains two models in the sizes 36 to 46. The technical drawing, the detailed description and the size table give you an insight into the models. In this article we suggest suitable fabrics. The calculation of the fabric consumption helps you to procure a suitable material.
Dress 1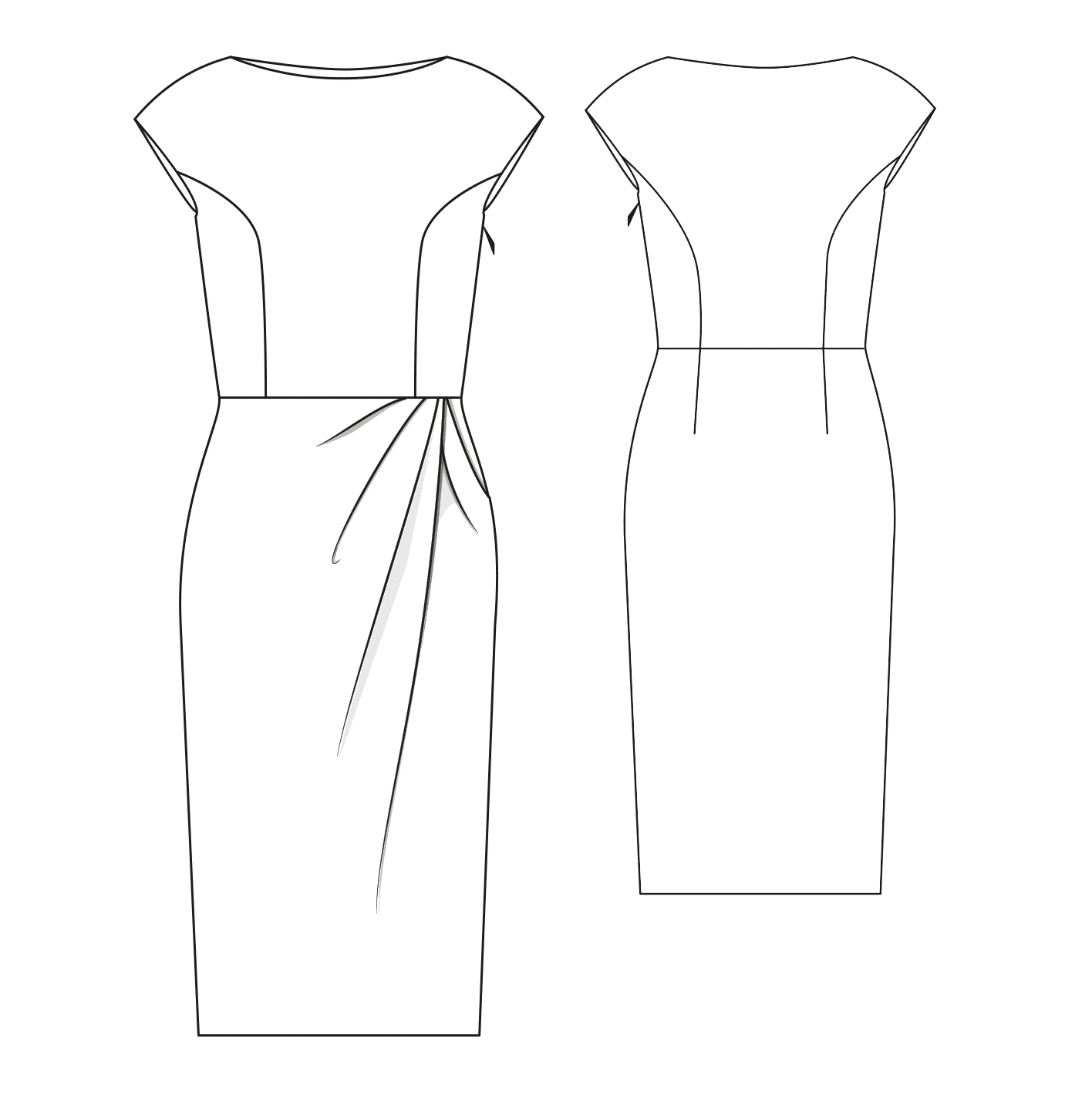 (Photo Credit: S. Lindner)
Dress details
Vienna seam

Overcut shoulder
One-sided pleated section in skirt
Set skirt shape
Zipper in the side seam
Size chart

Pattern pieces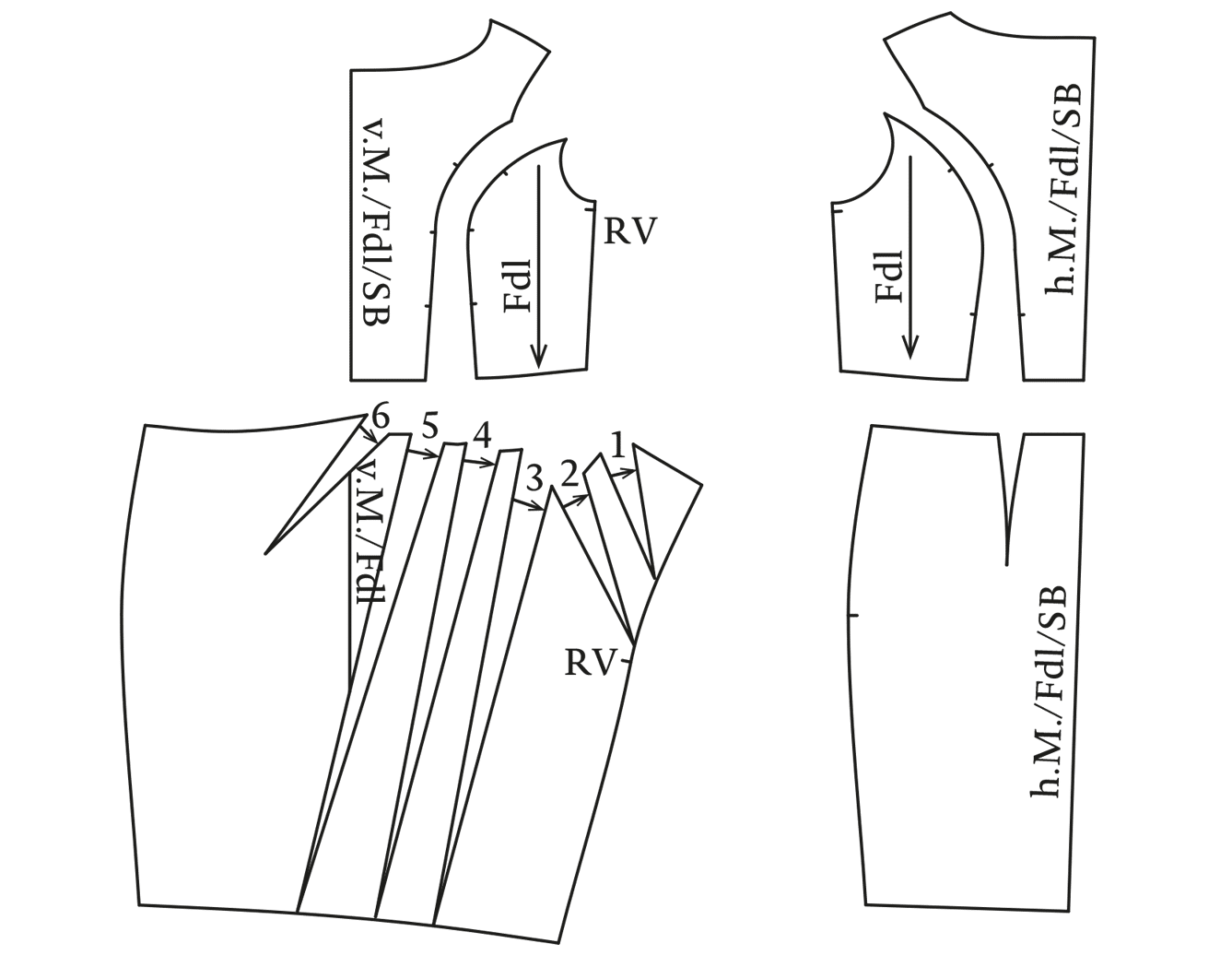 Material consumption in m
Gr. 36: 1,03 m
Gr. 38: 1,04 m
Gr. 40: 1,04 m
Gr. 42: 1,60 m
Gr. 44: 1,61 m
Gr. 46: 1,61 m
Processing tips
For better suturing and ironing results, cut in the addition at the Vienna seam.
Material recommendation
Crêpe-Georgette, Viskose, Silk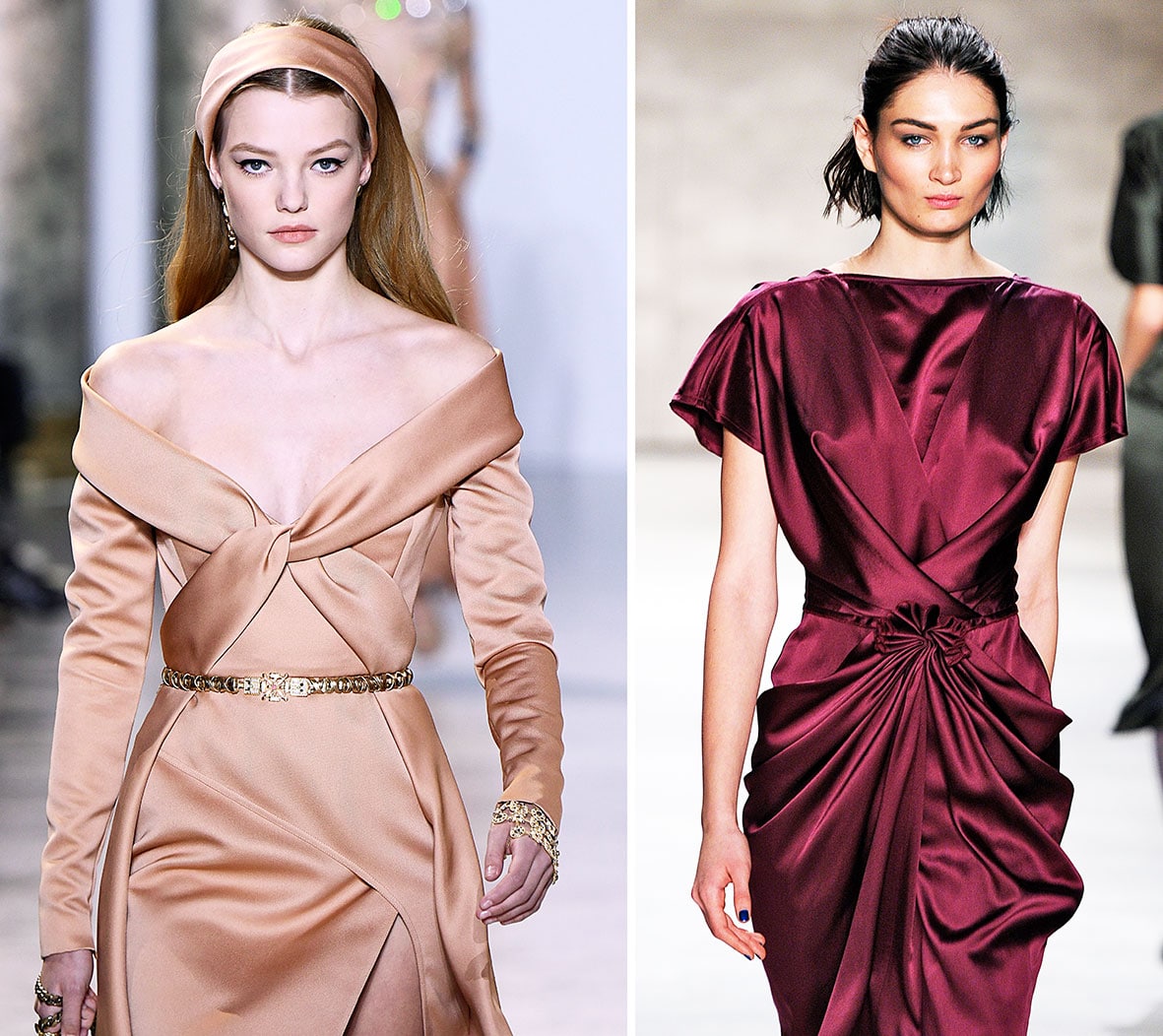 Model 2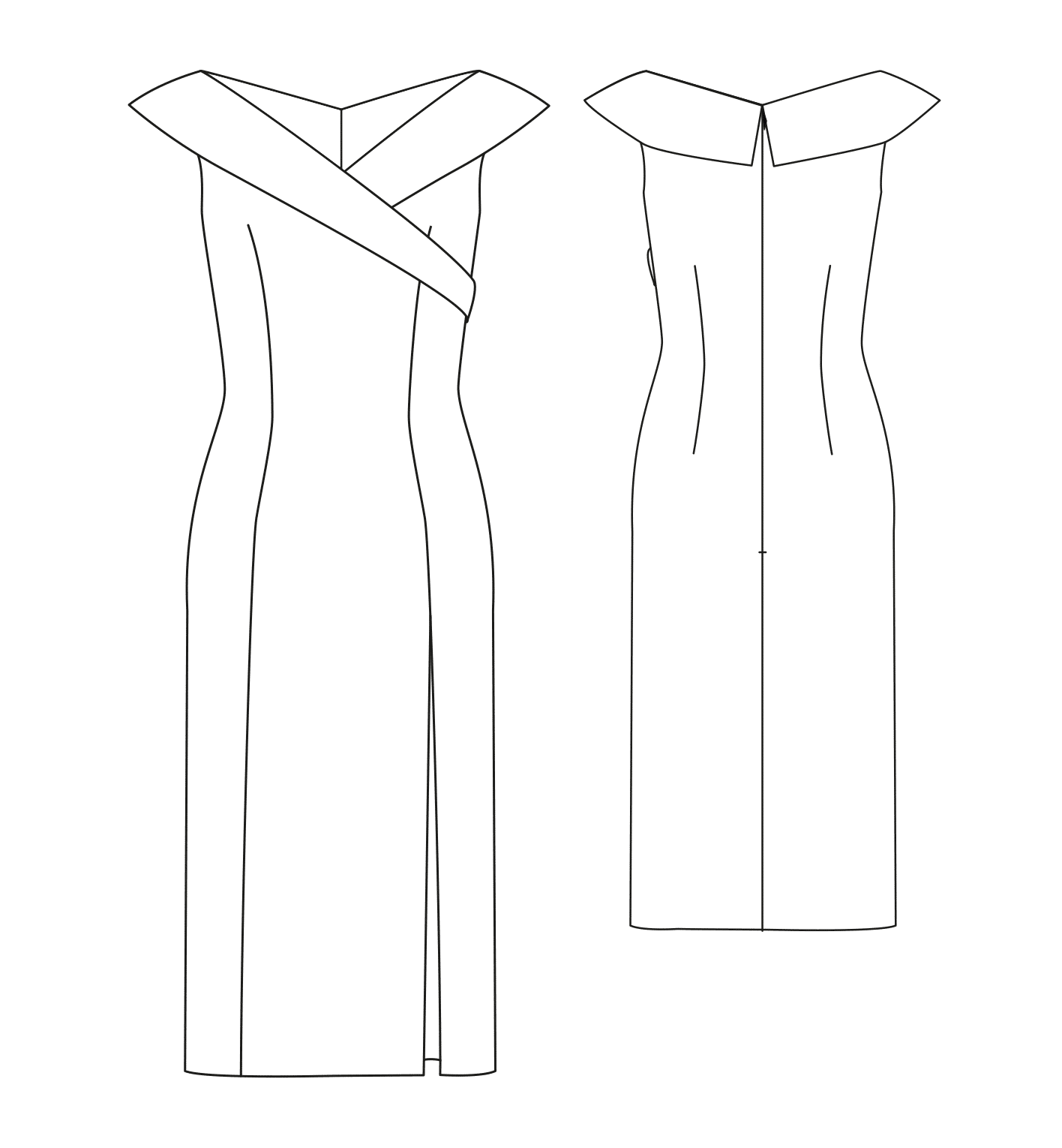 (Photo Credit: S. Lindner)
Dress details
Shawl collar
Waist seams in the front
Leg slit
Zipper in the back
Size chart

Pattern pieces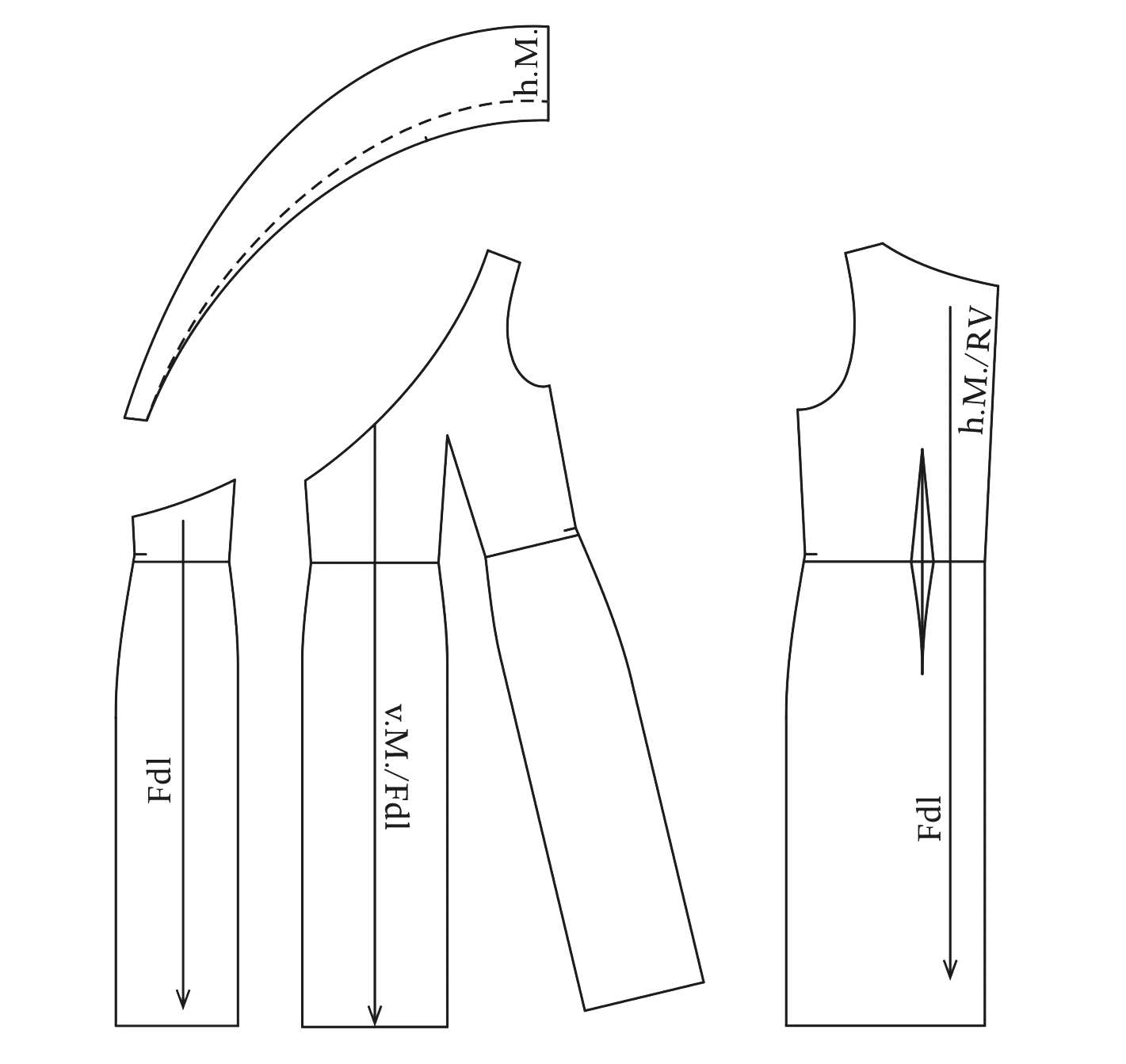 Material consumption in m
Gr. 36: 1,97 m
Gr. 38: 1,99 m
Gr. 40: 2,19 m
Gr. 42: 2,31 m
Gr. 44: 2,32 m
Gr. 46: 2,34 m
Processing tips
For a better stand fix the collar with interlining.
Slit protection with interlining
Material recommendation
silk, wild silk, chargeant, lace, tweet
Rundschau für Internationale Damenmode 1-2.2019
Schnitt-Technik: Abend- und Cocktailkleider +++ Porträt: Talbot Runhof +++ Kostüm: Antonia Sautter Venedig
TOC
This Pattern Sheet can be found Rundschau für Internationale Damenmode 1-2.2019