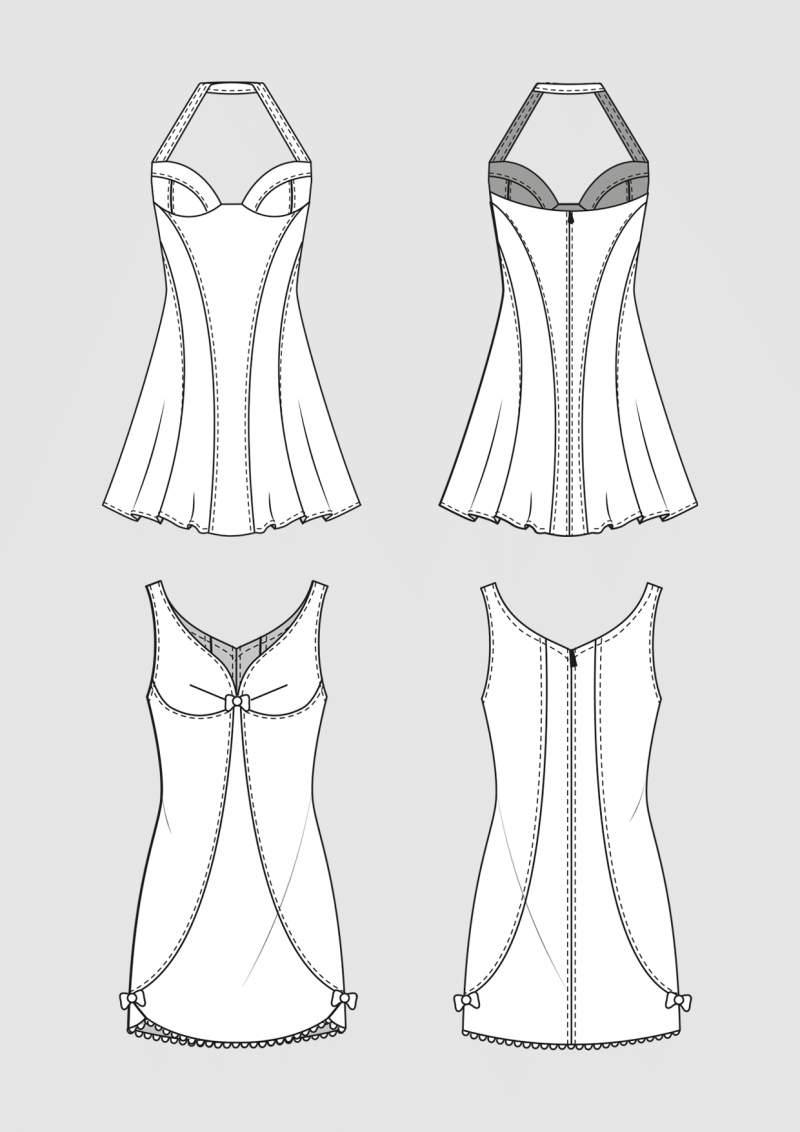 Pattern Negligé
In sizes 34 – 38 – 42 and 36 – 40 – 44. Please note that this is a downloadable PDF document that can be printed out at your local copy shop.
22,00 €
Austria: 22,00 €
Suisse: 24,20 CHF
International: 22,00 €
Sales tax included. |
TOC
Delivery Time: 2-3 Werktage
The pattern contains two short negligees in sizes 34 – 38 – 42 and 36 – 40 – 44.
Negligés look very seductive. They are nightgowns for women who like to make elegant beds. This type of short, playful negligee is also called a babydoll. It is advisable to choose soft, flowing fabrics, they gently hug the body and flatter the figure.
Details on model 1:
(in sizes 34 – 38 – 42)
halterneck
three-piece cup
split seams
closure at centre back
bell-shaped hem
Details on model 2:
(in sizes 36 – 40 – 44)
strappy dress
cup with pleat
dividing seams
closure at centre back
hem with overlap at side seam
Fabric recommendation:
Silk, lace, cotton batiste
Important note on content:
The pattern does not contain detailed sewing instructions. Lining parts and slips must be copied out yourself.
Note on the download product:
This pattern has a size of 99 x 70 cm (original size). The download PDF can be printed out in the copy shop of your choice.
You may also be interested in