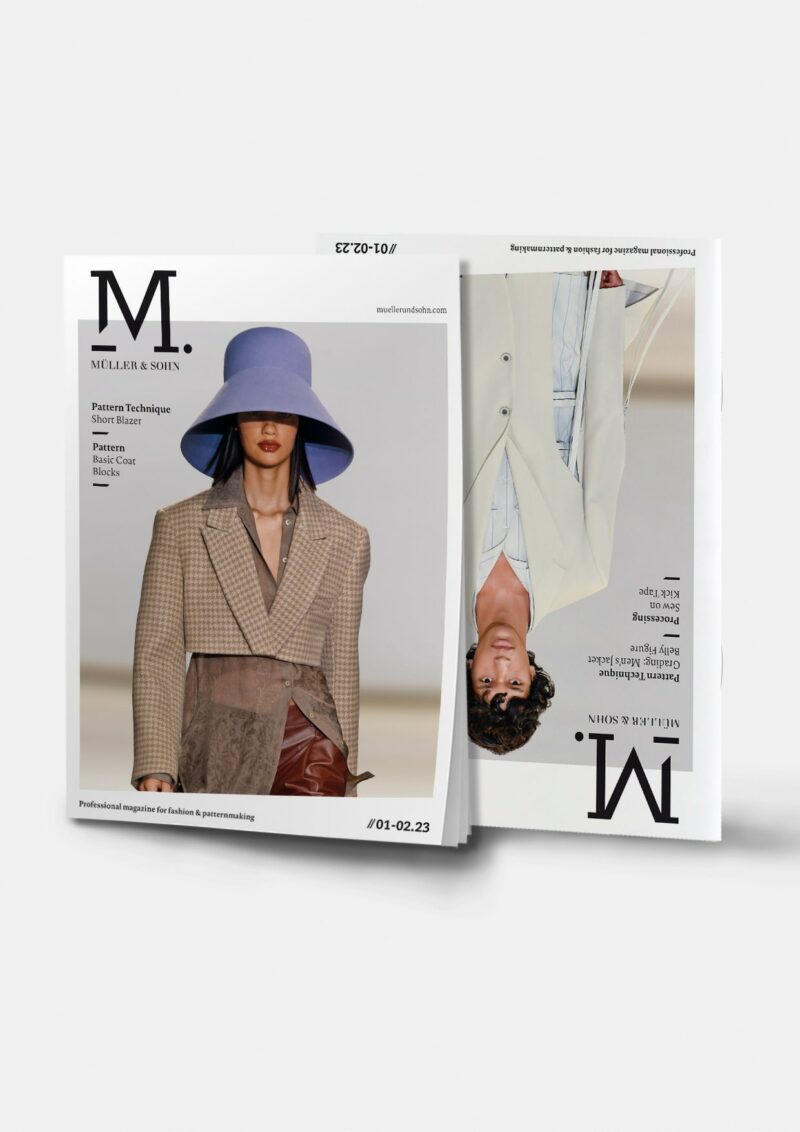 M. Müller & Sohn Magazine 01-02.2023
Professional Magazine for Fashion and Pattern Making // Short Blazer // Grading a Bellyfigure Jacket // Kick Tape // Men's Shirt // Pattern Coat
The magazine specialized in fashion and pattern making is published ten times a year as a turnaround edition with topics on women's and men's fashion. The magazine is available for download in English. Each issue of M. Müller & Sohn magazine contains an enclosed sewing pattern.
On the women's fashion pages we show catwalk looks with emphasis on the hips. Avant-garde designs reminiscent of the courtly dresses of pre-revolutionary France or the hourglass silhouette of the "New Look" from the 50s, by Christian Dior. Wallowing in nostalgia, Frieda Lepold sews dresses as if from a fairy tale. On the following pages, the trained ladies' tailor gives us an insight into her creative work. In the pattern-making section you will find instructions on how to construct four different short blazers. Starting on page 26, editor-in-chief and head of the new M. Müller & Sohn vocational school for fashion and pattern making, Jasmin Clausen, reveals how the start of the school went at the beginning of the new year and what challenges it brought with it. In addition, the lecturer Alexandra Sedelky and some students give their first impressions of their new everyday school life.
On the men's fashion pages, we show you men's shirts with a love of detail. We highlight special variations on sleeves and front design. Then we introduce you to the bespoke tailor Kleegräfe & Strothmann from Gütersloh. For six generations, the company has been firmly connected to bespoke tailoring. In more than 200 years of company history, processing knowledge, cutting expertise and working methods have been passed on and perfected. In the pattern technique, we show the grading of a jacket for the belly figure. We also show you pattern constructions of different cuffs and sleeve slits. This is followed by sewing instructions for sewing on a kick tape to men's trousers. It is hard to imagine classic men's trousers without the kick tape. It protects the fine trouser fabric from rapid wear and tear and provides additional hem stability. We show how to sew the band to the trouser hem. In the article "An industry in transition" on page 24, we look at various projects in the fashion industry that are aiming for a change and more sustainability in the industry.
The enclosed pattern contains two coats for women (in European sizes 36 – 50).
This issue contains 60 pages.
The topics (women´s) at a glance:
Designer Look
Portrait
Pattern Technique
Education
Take off with M. Müller & Sohn in Hamburg
Imprint
Pattern
Basic Coat Block (Loose-Fitting Coat and Waisted Two-Panel Coat)
The topics (men's) at a glance
Designer Look
Portrait
Pattern Technique
Grading of a men's suit jacket for the belly figure
Processing
Industry + Craft
Editorial Team's Tips
Book, podcast and exhibition recommendations
You may also be interested in